Gemini Man is not the first movie to deal with the morality of cloning, and it certainly won't be the last. While real-world science has not perfected human cloning yet, currently hovering at primates, films have tackled the notion for decades. Given that 70 countries have already banned the practice if it ever becomes widespread, it's safe to say society views it as controversial.
Ergo, anyone who practices it is questionable at best, especially when said clones are used for selfish or violent purposes. Clive Owen takes that a step farther in Gemini Man, making him the perfect antagonist in the philosophical debate. Owen plays Clay Verris, the head of a private security organization who has been running Project Gemini in secret for years. While the details are best left to the film itself, what's important is that he wholeheartedly believes his actions are all for the greater good. As the audience views his bloody methods with horror, they must also contend with his well-reasoned arguments and digest his words for themselves.
Gemini Man: Greater Good vs. Personal Evil
The villain's slippery ethical slope became a subject of discussion at the recent Gemini Man press conference. "We're not that far away from what the film is discussing," Owen acknowledged. "There are going to be huge ethical decisions and discussions that people are going to have to have." Hopefully those choices won't be made in a vacuum like Clay's for the sake of innocent lives at stake. But no matter how cruel Clay comes across onscreen, Owen never let it affect him as an actor. As he explained:
"I've never approached any character, or anything I've ever done, as a bad guy or a good guy. You just take on the part, and often the most interesting thing is to play flawed characters. I look at the guy and what he does, and go, 'Okay, what's the way in here?' What's the best way of expressing it?"
The Hero of Your Own Story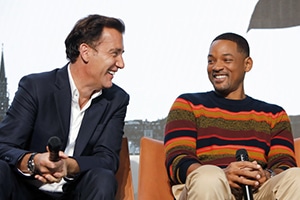 Gemini Man star Will Smith expanded on that by pointing out that a villain is a hero in his own mind. "I've never played a character that's really a bad guy in that sense," the veteran admitted. "But what's great about Clive's perspective is that there's no such thing as a bad guy. The bad guy's the good guy in his story." This point of view is perfectly crystallized in Clay's own story, especially when he gives his classic villainous monologue in the final act of the film. Regardless of how viewers feel about the quality Gemini Man itself, they're guaranteed to engage in debates with their family or friends about who was right.
Smith also summed up the theme of Gemini Man with two simple adages: "We all plant the seeds of our own destruction. We are our own worst enemies." On the one hand, this maps perfectly to the cautionary tale of cloning and technology in general. You make something in your own image, which then turns around and destroys you. But it works specifically for Clive Owen's character, as well. "We make decisions in our lives that set things in motion that we can't blame other people for," Smith continued. If Clay hadn't pursued his shady plot in the first place, his karma would never have come back the way it did. Of course, you'll have to watch the film if you want to know exactly what karma does to him.
You can find more coverage of the press conference here. Don't forget to check out Gemini Man when it premieres on October 11th to decide just how much of a villain Clive Owen really is.