From the moment the first trailer for Gemini Man premiered, it was clear that the story centered on two Will Smiths. As appealing an idea as that is, it was a difficult one to make a reality. Thankfully, director Ang Lee had previous Hulk and Life of Pi experience to help craft Junior believably. But the film would still have been impossible without Will Smith's dedication.
At a recent press conference for Gemini Man, the creation of a digital human was the hot topic. "Junior is not de-aging," Smith explained. Rather than smoothing out his face in post-production, "it's a 100% digital human, in the same way that the tiger in Life of Pi [is.]"
But much like Lee's team studied a real tiger to capture the movements, the flesh-and-blood Smith had to perform Junior in order to recreate his younger self. The most impressive part in the veteran actor's mind was the youthful eyes. "You can't fake innocence," he declared. "Once you know some stuff, it's in your eyes." One such 'stuff' that Smith couldn't unknow is sex, which is a plot point in Gemini Man that the star hilariously snuck into his dissertation.
Praises for Smith in Gemini Man
The rest of the panel had nothing but praises for how Smith pulled it off, though. The eyes may have been digitally drawn, but the emotions were all his. "Will's being very humble in this one aspect," VFX Supervisor Bill Westenhofer announced. "Because there is no magic button we can push to say 'make him look young.' He had to ingest that and be himself at 23." The success of Gemini Man's digital human – the first of its kind – came from a strenuous collaborative process between the actor and the effects team. "We could put the look in, and make sure he looked like his 23-year old self," Westenhofer added. "But the performance and the innocence had to come from him."
Jerry Bruckheimer, producer extraordinaire, also had his piece to say. "You have to understand that when they talk about Digital Will, it's his performance," he pointed out. Smith had to act his role as Henry for a whole scene, then turn around and redo the scene from the totally opposite perspective of his younger clone. And while plenty of actors have gone through a similarly painstaking process, few have had to do it in full mocap gear because the result would be digital. "It was grueling for him to play two parts every single day that [those] two characters were onscreen together."
The Glue That Holds Gemini Man Together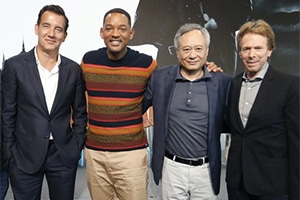 Ang Lee, meanwhile, expressed his fear that marketing for Gemini Man may have endangered Smith and his hard work. Despite carefully laying out the visual clues connecting Henry Brogan and Junior in first half hour of the movie, "the trailer seems to give everything away in one minute. That got me really, really nervous."
Thankfully, there is plenty of runtime to make the double vision palatable, as the confrontations between Henry and Junior are at the heart of Gemini Man. The rest of the cast – Clive Owen, Mary Elizabeth Winstead, and Benedict Wong especially – provide strong support. But the conceit of the film is Will Smith talking to himself for 2 hours, and it would fall apart if he was less than excellent.
The story of Gemini Man has been done before, which is why Smith's nuanced performance is so crucial to its potential success. In order to perfect it, Ang Lee even brought out his star's filmography to point out specific moments from Fresh Prince of Bel Air and Bad Boys that spoke to him. For Smith, the most difficult part was "[going] back to bad acting, because there's an honesty before you learn… what makes people clap for movie stars." That naivete was exactly what Junior needed, so interpreting him required "letting go off all of that stuff."
To find out if Will Smith managed to pull off the double duty as well as the producers think he did, check out Gemini Man when it arrives in theaters on October 11th.