Margot Robbie recently confirmed that Jared Leto's Joker will not be appearing in Birds Of Prey: And The Fantabulous Emancipation Of One Harley Quinn.
In a new interview with Variety, Robbie verified that "Leto's incarnation of the character doesn't appear, not even as a cameo."
There were rumors of a possible Joker appearance in the upcoming film. However, after hearing Robbie's thoughts on Harley Quinn, it's easy to see why he'll be absent.
Splitting Up Harley & Joker in Birds Of Prey
The Bombshell actress says she fell in love with her character while filming 2016's Suicide Squad but ultimately didn't understand why Harley would stay with the Joker, since he "wants to kill her most of the time."
In fact, Birds Of Prey begins with Harley splitting up from the Joker. Robbie is steering Harley Quinn's cinematic future as not only the star of the upcoming film but also as a producer and the founder of her own production banner, LuckyChap Entertainment.
Harley & Her Girl Gang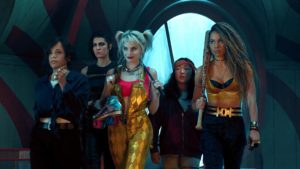 Birds Of Prey writer Christina Hodson says that Robbie's vision for Harley was to have the antihero surrounded by women.
"She really wanted to see Harley with girlfriends, Harley in a girl gang. Harley is such a naturally sociable character. And I think there was just a general longing to see girls together on screen — women being friends."
Sue Kroll, another Birds Of Prey producer, is very pleased with the film and promises that "it's a really fun, badass group of women getting together. It's a ride. It's a crazy ride."
Birds Of Prey: Coming Soon
Birds Of Prey stars Margot Robbie as Harley Quinn, Jurnee Smollett-Bell as Black Canary, Rosie Perez as Renee Montoya, Mary Elizabeth Winstead as Huntress, and Ella Jay Basco as Cassandra Cain.
After a hit is placed on the young Cassandra Cain by Roman Sionis a.k.a. Black Mask (Ewan McGregor) Harley joins Black Canary, Huntress, and Renee Montoya to protect the girl.
Birds Of Prey will debut in theaters on February 7, 2020.