Though Arrow is tragically coming to a close, its legacy lives on in Green Arrow and the Canaries. The spinoff series is set to star Oliver Queen's Stephen Amell) daughter, Mia Smoak (Katherine McNamara), alongside the previous show's two Black Canaries. Dinah Drake (Juliana Harkavy) and Laurel Lance (Katie Cassidy) run the Canary Network in Star City 2040, and new details have emerged about how they will rope Mia into their world.
Before flying out of the nest as its own series, Green Arrow and the Canaries will first find its wings as a backdoor pilot during Arrow's eighth and final season. This is similar to how The Flash, still the CW's highest-rated series after six years on air, once began. Perhaps young Mia will see similar success to Barry Allen?
The Canaries Save Star City
The eponymously titled backdoor pilot will air on January 21st, a week after the "Crisis on Infinite Earths" episode of Arrow, and serve as the penultimate episode of the series. The synopsis was recently released, providing further insight into the Star City of tomorrow – and perhaps how the recent crossover changed it.
"It's the year 2040 in Star City and Mia Queen (Katherine McNamara) has everything she could have ever wanted. However, when Laurel (Katie Cassidy) and Dinah (Juliana Harkavy) suddenly show up in her life again, things take a shocking turn and her perfect world is upended. Laurel and Dinah are tracking a kidnapping victim with direct ties to Mia and they need her help. Knowing it will change everything, Mia can't help but be a hero and she, Laurel and Dinah suit up once again to save the city. Tara Miele directed the episode written by Beth Schwartz, Marc Guggenheim, Jill Blankenship & Oscar Balderrama."
Right off the bat, this synopsis raises some interesting questions. First, Dinah and Laurel very recently interacted with Mia and helped her save the city in 2040, so either plenty of time has passed or the circumstances od Earth-1 have changed. Besides, anyone watching the current season of Arrow knows that Mia's life is far from what anyone would describe as perfect.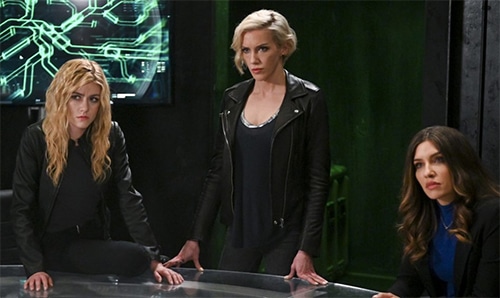 Her father died when she was a child – an event she just witnessed for herself in "Crisis" – and her mother recently disappeared off the face of the Earth to join him. Her friend Zoe was just killed by Diggle's son JJ, and her relationships with almost-boyfriend Connor and recently-reunited brother William couldn't be more rocky if they tried. Not to mention that Star City is near rubble and practically a police state while the neighboring Glades syphon all the resources.
Could it be that the end result of "Crisis on Infinite Earths" is a reboot that changes Mia's life for the better, making an intrusion by Laurel and Dinah unwelcome to her? Or does the youngest member of the Queen-Smoak family adjust surprisingly well to the life she was previously bemoaning after temporarily renouncing the life of a hero?
Given that the original comic book storyline included a merging of Earths, which meant that several characters had conflicting memories and life-altering events snipped away, that sounds likely for Green Arrow and the Canaries. That being said, no mention has yet been made of Oliver and Felicity (Emily Bett-Rickards) appearing in the series – and it's hard to imagine Mia's life being perfect without her parents in it.
What do you make of the Green Arrow and the Canaries synopsis? Do you plan to watch the spinoff, or are you waiting for the backdoor pilot to make an informed decision? Let us know you thoughts in the comments below!