Pretty In Pink is the kind of cheesy teen rom-com that surprises us by how timeless it is. After all, what could be more timeless than high school melodrama?
Pretty In Pink is about a poor girl (with an affinity for pink), who falls in love with a rich guy and how none of their friends are happy about them dating each other. Especially the girl's best friend, who spends the film pining after her. Pretty In Pink is not the best or deepest John Hughes' film. However, what it lacks for originality or substance, it makes up for in style.
The soundtrack is an awesome collection of New Wave (with an iconic Otis Redding assist), that elevates the film at all the right moments. The fashion in the film is not only perfectly 80's, but manages to be ahead of its time. Molly Ringwald's character, Andie, broke the myth that redheads can't wear pink and brought cottagecore to the masses before we even had a name for it.
The new Blu-ray's 4K remaster brings all the details of the film into perfect clarity with vivid colors. That alone would be worth the purchase, but the bonus features make it a must-have for fans of the cult classic.
THAT Infamous Pretty In Pink Alternate Ending
I've always heard stories about the Pretty in Pink's alternate ending, one where Andie actually gets together with her friend Duckie. Thanks to the new Blu-ray, now I've finally seen it.
The alternate ending is now available with behind the scenes footage, cast and crew testimonials, and the hilarious revelation that test audiences actually booed at the original ending.
The Duckie & Andie ending was filmed during original production, but test audiences felt that the ending just wasn't believable. How could these two characters spend the whole film trying to be together and NOT GET TOGETHER?? Unacceptable.
Ringwald herself even confesses that she didn't buy the original ending, because she and Cryer just didn't have that kind of chemistry. Six months later, the ending was reshot with Andie chasing an apologetic Blane (played by Andrew McCarthy) out to the parking lot and sharing a romantic moonlit kiss.
Filmmaker's Focus
There is also a featurette that features the director of the film, Howard Deutch. He recounts working with writer and Brat Pack auteur John Hughes, casting the three leads, and confessing that his favorite scene to shoot was the famous "Try A Little Tenderness" scene with Jon Cryer, as he lip syncs and gyrates across a record store.
Did you know that Kenny Ortega, the guy who choreographed Dirty Dancing and directed the High School Musical films, choreographed that scene?
Isolated Score
It's exactly what it sounds like. An isolated score. However, I didn't realize how little score there actually is in this film.
The majority of the film is set to synth pop classics like the eponymous "Pretty In Pink" by The Psychedelic Furs and the iconic "If You Leave" by Orchestral Manoeuvres In The Dark, that plays over the ending's prom scenes. Andie also works in a record store and frequents a club that always has a live band no matter the night. When Andie and Duckie share a scene driving through town Duckie scans through all the radio stations.
Point is, there's not many scenes that are devoid of music.
It's why watching Pretty in Pink on the "Isolated Score" setting made for one of the more awkward movie viewing experiences of my life. The "Isolated Score" only plays the isolated score which means there's not only no pop music, but also no dialogue. There is no sound that isn't included in the very limited score.
The score is more a collection of short bumper music that transition a romantic interlude into the next scene. These transitions are so short that they would only last for a minute or two at most and it would sometimes be a half hour before the next one.
Knowing how musical the film actually is, it was… weird. If you're a parent, maybe you can compare it to when your normally noisy child is quiet, a little too quiet.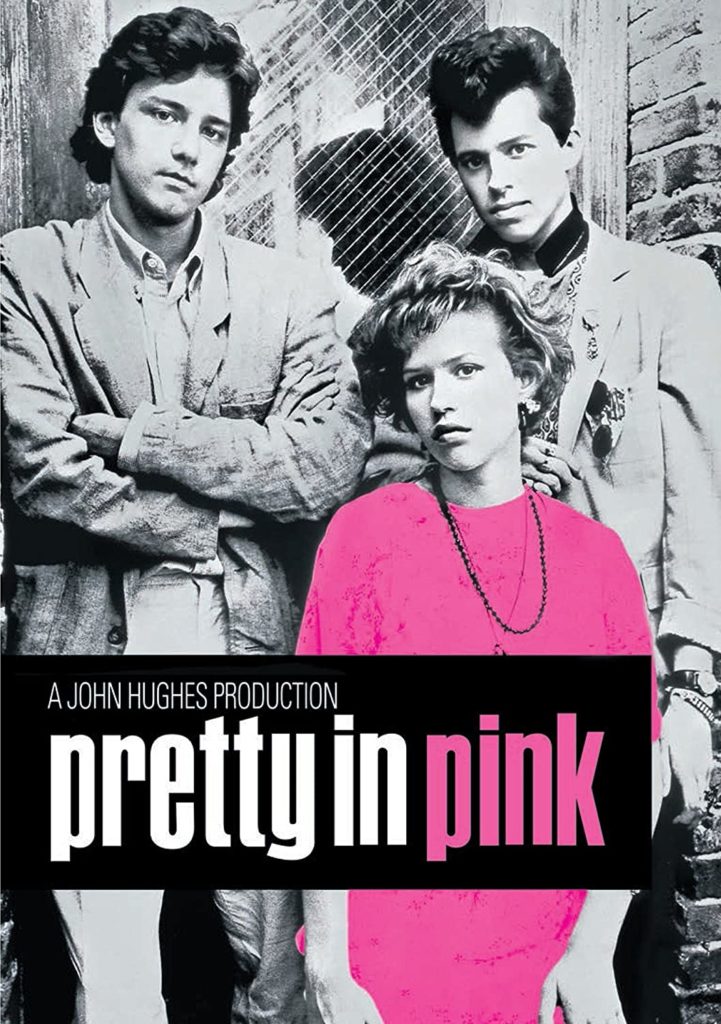 All in all, this Blu-ray is a great replacement for my fifteen year old Pretty In Pink DVD. No disrespect to that old DVD, but its slightly fuzzy quality gave me a sense of nostalgia, while this 4K remaster makes me feel like this cult classic can just be a classic.
KEEP READING: FOLLOWED REVIEW: THE MOST IMPORTANT FOUND FOOTAGE FILM SINCE PARANORMAL ACTIVITY