The new trailer for Birds of Prey highlights the film's soundtrack and a new video, "Diamonds," from Megan thee Stallion and Normani, rocks The Illuminerdi..
The release of Birds of Prey: And the Fantabulous Emancipation of One Harley Quinn is only a few short weeks away and Warner Bros' promotional machine is in full effect. The spin-off from the surprise 2016 hit, Suicide Squad, has captured the imagination of superhero fans as the studios' foray into DC Comics' adaptations has entered a new era. The massive success of Aquaman, Wonder Woman, and last year's Joker, has convinced the studio to take bold and unexpected swings with their superhero franchises and their next release looks to hold true to form.
Warner Bros. and Atlantic Records have combined forces for the upcoming Birds of Prey soundtrack. A newly released trailer features new bits of action and character moments from the film, not yet seen in the marketing campaign. It also makes sure to highlight many of the soundtrack's featured artists including Halsey, Doja Cat, and Charlotte Lewis. This is just the remedy for those looking for something else to hold them over until the movie's imminent release. Take a look at the new trailer:
Actress Margot Robbie's (Bombshell) bold performance brought Harley Quinn character to three-dimensional life in Suicide Squad and since her debut, fans have been eagerly anticipating her return in Birds of Prey. In the film, she finds herself teaming up with an unexpected trio of vigilantes, including Black Canary, Huntress, and Renee Montoya, played by Jurnee Smollett-Bell, Mary Elizabeth Winstead, and Rosie Perez, respectively. In the movie, the brigade of unconventional heroines come into conflict with Roman Sionis aka Black Mask, played by Ewan McGregor (Fargo), and chaos ensues. The movie is directed by Cathy Yan and the screenplay was written by Christina Hodson (Bumblebee) who continues her hot streak.
Birds of Prey Soundtrack List
It's no puzzle why Warner Bros. is pushing the album for Birds of Prey. The soundtrack for Suicide Squad debuted at number one on the Billboard charts and went on to become certified Platinum, with well over a million units sold. Birds of Prey has a unique, colorful palette that seems well suited to the bombast of modern music, so a return to the musical strategy seems like a no-brainer. The soundtrack list has recently been made available, take a look: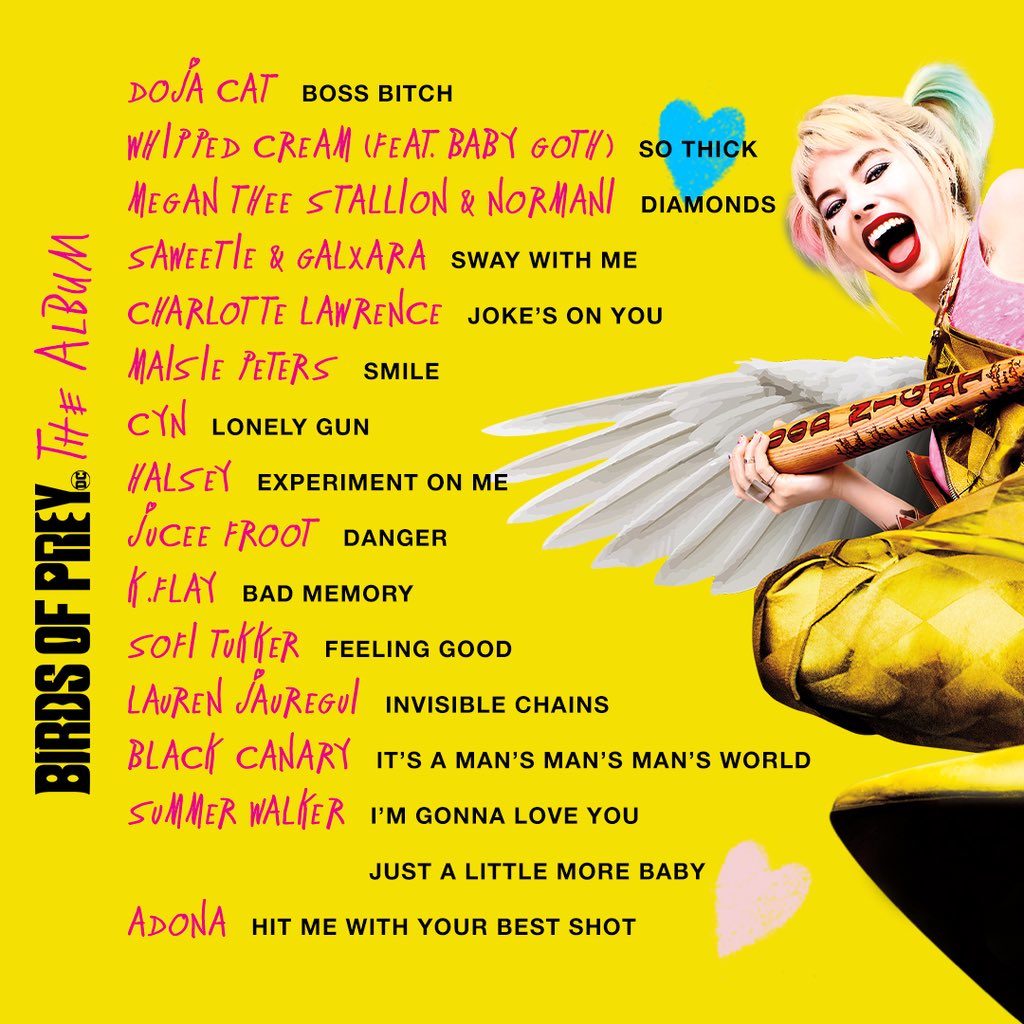 The soundtrack features many of today's hottest up-and-coming stars. It's also worth observing that the all-female led album's tracks all seem deeply connected to either the plot, or suspected themes, in the upcoming film. Songs such as "Joke's On You," "It's a Man's Man's Man's World," and of course, "Boss Bitch," seem to give an indication of the film's no-holds barred attitude. The movie is set to release in less than three weeks, while Atlantic Records has already begun their roll out in earnest. The first video, "Diamonds," made its way online last week and features current hit-makers, Megan thee Stallion and Normani. Check out the first official video for Birds of Prey:
The video is seemingly shot on many of the same sets from Birds of Prey that may one day be seen as iconic. There are plays on the Marilyn Monroe staircase number and the circus themes tied to the lead character. The two artists are clearly inspired by the manic energy of Harley Quinn, complete with their own mallet and baseball bat, the signature weapons of choice for Harley Quinn. It should be fun to see what other videos and music are to come as the movie prepares for its February release.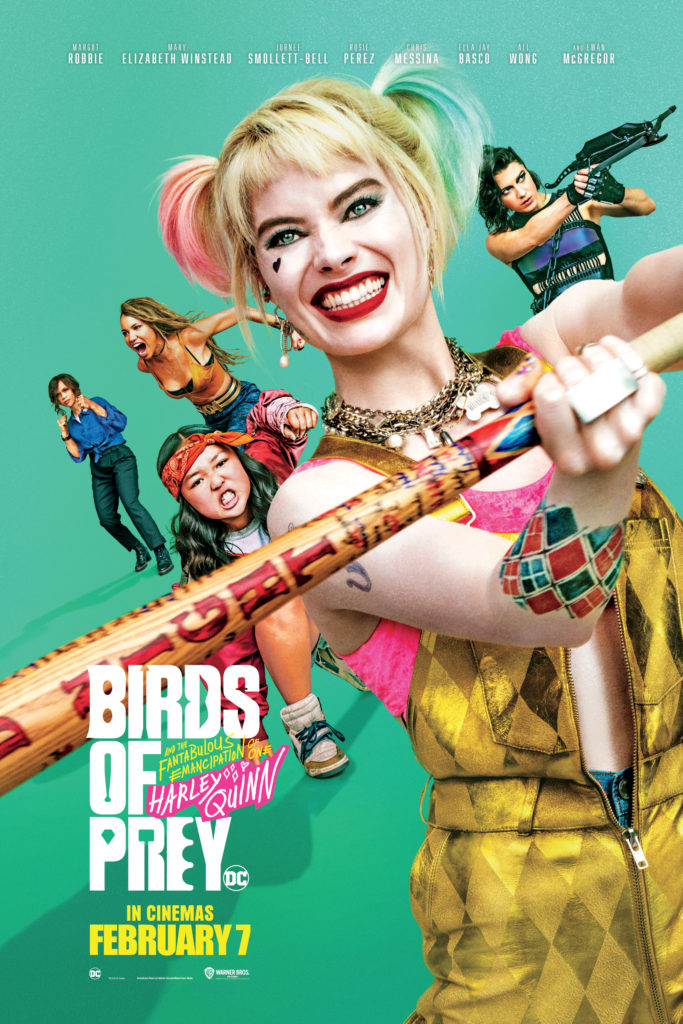 Birds of Prey: And the Fantabulous Emancipation of One Harley Quinn is set for a release in theaters on February 7th, 2020. What do you think of the soundtrack list? Which artists or songs are you looking forward to the most? Let us know in the comments and on our social media!
Source: BOP/Twitter