Last month we brought you exclusive character details for the upcoming Mighty Ducks series coming to Disney's streaming service Disney+. Now, we have our first major casting for the series.
We have exclusively learned that original Mighty Ducks star Emilio Estevez is set to return as Coach Gordon Bombay in the ten-episode, half-hour series. Estevez is one of the series leads, so his role is no mere cameo.
Estevez starred in Both The Mighty Ducks and its sequel D2: The Mighty Ducks. He also appeared in the franchise's third outing, D3: The Mighty Ducks, but due to scheduling conflicts, his role had to be reduced to a cameo. So it is good to see that he his returning to a starring role. As of now, it is unknown if any other actors from the original films will also return for the series.
Emilio Estevez's Co-Stars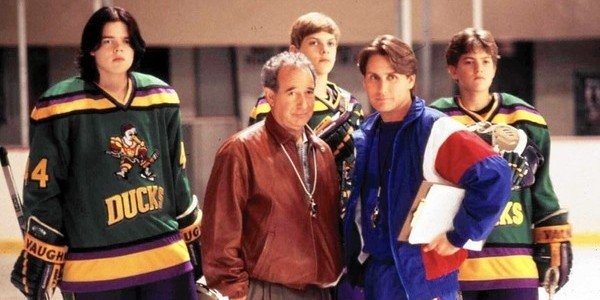 The series focuses on a 13-year-old boy who gets kicked himself off the junior division Mighty Ducks team. He and his mom decide to start their own team, finding players, a coach, and a place to play. The original film focused on a reckless young lawyer Gordon Bombay who, after getting arrested for drunk driving, was forced to coach a kids' hockey team for his community service.
Take a look at some of the character breakdowns below, with others available as well:
Koob: A shy kid who always plays video games.
Nick: Likes to pretend he has his own imaginary tv show.
Mary: Only described as the popular girl both on the team and at school.
Lauren: An unpopular girl who likes to wear wings and a cape at school and pretend she's a fairy-magician. Try to be friends with the more popular Mary but she ignores her.
Cuban Fury director James Griffiths has been tapped to direct all the episodes. The show is set to begin filming this March in Vancouver, Canada, and is expected to wrap in June. Original trilogy screenwriter Steven Brill and original producer Jordan Kerner are on board, while Josh Goldsmith, Cathy Yuspa, George Heller and Brad Petrigala will all executive produce the series with Brill.
Are you looking forward to The Mighty Ducks and Emilio Estevez's return? Let us know in the comments below.