The internet went abuzz when Deadline officially confirmed The DisInsider's initial report that Rick Moranis is coming out of retirement to appear in the Honey I Shrunk The Kids sequel, Shrunk, opposite Josh Gad.
Now, we here at The Illuminerdi have obtained exclusive character breakdowns for the upcoming film. Not only do they describe the family members that Shrunk will be following, but they also provide quite a little more insight into the film's plot. And, of course, the characters in question include both Josh Gad's pivotal role of Nick and Rick Moranis' return to playing Wayne Szalinski.
RELATED: MS. MARVEL TO ADD INHUMAN SUPPORTING CHARACTER TO THE NEW DISNEY+ SERIES
Meet the Shrunk Family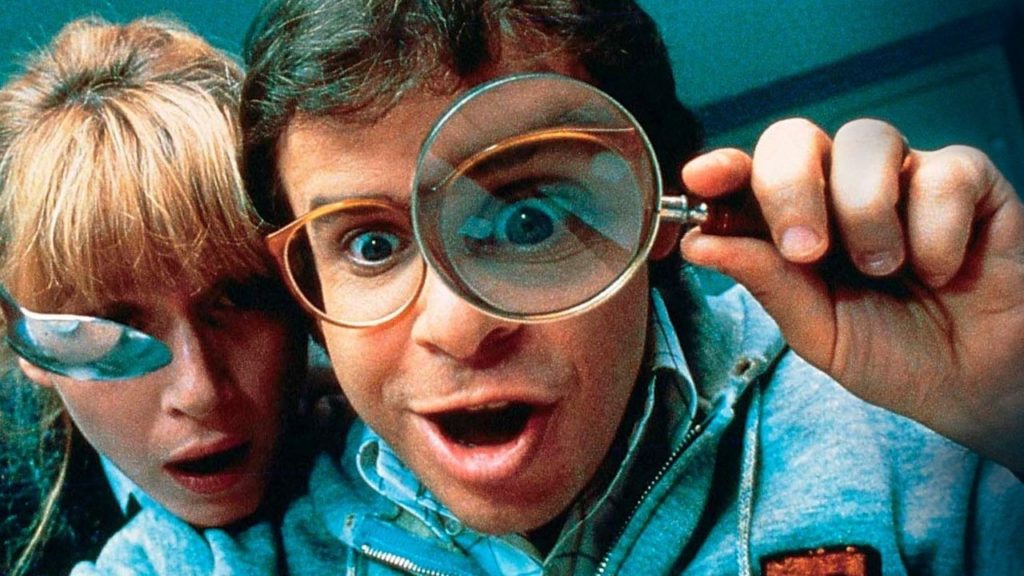 Nick Szalinski (Gad): Wayne's son, who is now a husband to Fay and father to two children, Maddie and Theo. Nick still has PTSD from the hijinks of the original film and the resulting demise of his mom. He's a bundle of nerves, dissatisfied and uneasy, with a propensity to pamper his children.
Amy Szalinski: Nick's carefree and energetic, more established sister, who took a different path from Nick after their mother's death and chose not to put down roots. Instead, she enjoys her life working for a magazine and homeschooling her girls.
Maddie Szalinski: Nick's oldest child. Splindly and feeling strange about it, she has her grandpa's knack for peculiar creations, showing them off without anyone else's permission on her Youtube channel to a little crowd. She would obviously cherish nearer connections to him, but his tense relationship with her dad has made that difficult.
Theo Szalinski: The opposite of athletic, with glasses and a little on the heavy side. He's a tentative, masochist self-tormentor who has predicted his passing in a huge number of situations. He's prohibited from eating sweets due to a slight weight complex.
Wayne Szalinski (Moranis): Mindful that the family ties have worsened after over time, but apparently hesitant to go up against anybody straightforwardly. He has been tinkering alone in his attic for a considerable length of time, managing the sadness of losing his wife. At the point when we initially meet him, he has inadvertently shrunk himself and is flying around in a similarly tiny drone, continuing the vicious cycle of experimentation that has placed his family in danger plenty of times.
Wayne eventually reveals that he locked himself away to come up with a solution that would shrink his wife's cancer, and that the guilt consumed him after he ran out of time. Over the course of the film, the truth comes out and the family wounds begin to heal.
RELATED: PRODUCTION START FOR MARVEL'S SHE-HULK UNCOVERED
Back To Its Honey Roots
Joe Johnston, who directed the original Disney cult classic, returns to the director's chair. The story was developed by Josh Gad, Ryan Dixon, Ian Helfer, and Jay Reiss and is being written by Todd Rosenberg and executive produced by Zoe Kent, Sam Dickerman and Alex F. Young.
Released in 1989, the original film centered on a scientist whose children stumble upon one of his experiments in their family's home and end up shrinking themselves down to the size of bugs. Honey, I Shrunk the Kids spawned a 1992 theatrical sequel, Honey, I Blew Up the Kid, as well as a straight-to-DVD continuation, 1997's Honey, We Shrunk Ourselves. Moranis appeared in all three.
Shrunk currently has no release date. However, it seems that the sequel is being made for a theatrical release and not Disney+ as previously reported. How are we feeling about this particular sequel, and the Mouse's penchant for remakes in general? Is Disney hitting the mark or aiming too small? Let us know your thoughts in the comments below.