LITTLE WOMEN
In the late 1860s, burgeoning author Jo March (Saoirse Ronan) looks back on her and her three sisters' Massachusetts childhoods, and the events and relationships that helped shape them as adults.
When this movie was announced, I did not think the world needed another Little Women – and now I've never been happier to be wrong. Greta Gerwig achieved the impossible in this adaptation by extricating Amy (Florence Pugh) from the person Jo imagined her to be and presenting her first to the audience as herself. Not only that, but the interwoven narratives and metacommentary on marriage, art and commerce cast a fresh pair of eyes on a well-worn 200 year old novel. If it wins Best Picture, my excited shock will momentarily cause me to forget what my actual favorite film of the year was. But alas, that is highly unlikely.
Consolation Oscars Include: Writing (Adapted Screenplay), because Gerwig's voice is the film. The fact that she's not nominated for Directing as well is a tragedy akin to Jo selling her beautiful hair for a train ticket.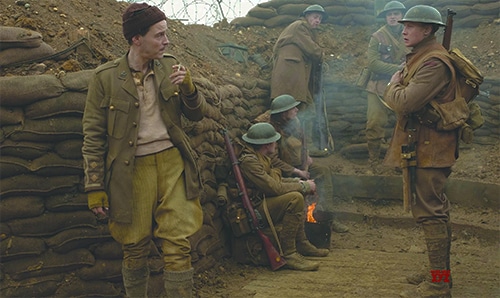 1917
During World War I, two British soldiers are sent on a dangerous mission to stop an attack by the British 7th Division that will result in a massacre by the Germans. Their assignment takes on extra urgency as one of the young soldiers' brothers is fighting in that Division.
Some films unquestionably belong to their director, and 1917 is without a doubt one of them. From being inspired by the stories his grandfather would tell to being constructed like a single shot, the movie lives and breathes Sam Mendes. And it's an excellently made film to boot, with a heartbreaking and heartwarming courage pulsating at its center. I can't say a bad word against it, because it's one of the best films of the year. I'll tip my hat to it if it wins, but there's yet one more that I think speaks to the present human condition on an even larger scale.
Consolation Oscars Include: Cinematography, Directing, and Visual Effects. Because hello?! They shot it like it was all one!
RELATED: 1917 DROPS MAJESTIC FINAL TRAILER
PARASITE
Greed, class discrimination and a mysterious interloper threaten the newly formed symbiotic relationship between the wealthy Park family and the destitute Kim clan.
It would literally be impossible for me to sing Parasite's praises enough, as everything from Bong Joon Ho's precise direction to the mise en scene of the staircase to the unacknowledged performances of the entire cast work together to create a masterclass in cinema. It's a film that doesn't tell you its genre until you realize it has several – or none at all – and screams the truth of class warfare at you without ever feeling like it's hitting you in the head with a metaphorical scholar stone. So many of the jokes are specifically cultural in nature, and yet the story and its dark humor have crossed the boundaries of language and culture alike. It's so rare to see a movie not made by a dominant society make it so far up this hill that to let it fall back down now would be simply Sisyphean. All the awards for Parasite!
Consolation Oscars Include: I already gave Sam Mendes the Directing award, and it'd just be rude to take it back now. So, that leaves International Feature Film because xenophobia, Production Design because I'm not kidding when I say every single part of that production underscores its theme, and Writing (Original Screenplay) because no one will ever forget "Jessica, Only Child, Illinois, Chicago."
Who's winning your imaginary Oscars? What Let us know in the comments below!