Raya and the Last Dragon finally makes its grand premiere on March 5 through Disney+, in much the same way as Mulan did before it.
And while it's powerful to see another primarily Asian cast bringing a story steeped in Eastern culture to life, this time it is Southeast Asian cultures that are at the forefront. While Disney has gotten some pushback over the voice cast not adhering to the region aside from lead Kelly Marie Tran, there are still some significant characters portrayed by SEA actors.
RELATED: RAYA AND THE LAST DRAGON REVIEW: A MYSTICAL ACTION ADVENTURE FOR ALL AGES
Aside from writers Adele Lim and Qui Nyugen, who are of Malaysian and Vietnamese descent respectively, young actors Izaac Wang and Thalia Tran are also thrilled to be part of such an iconic story set to represent parts of their homelands. At Disney's recent press conference for the film, they shared some of their thoughts on the subject.
Raya: From Kumandra To Laos And Beyond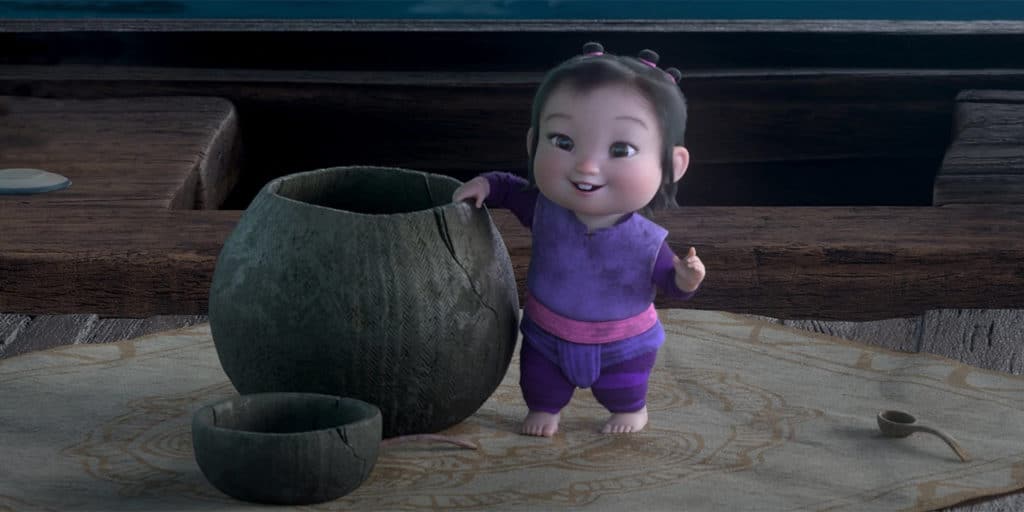 Izaac Wang, who plays the spunky entrepreneur Boun from the land of Tail, wore a traditional pah bieng during the delightful Zoom conference. He explained that it was a Laotian accessory usually worn to ceremonies and at temples, and then went on to express his amazement at the research that went into the Raya and the Last Dragon:
"It's pretty crazy to think that the 450 people who worked on this movie stuffed a bunch of different cultures to this single movie. It's amazing to see all the things that are included in this movie, including the food and some of the weapons that you see, for example the Kali sticks that I saw, which really stood out to me.

And there's a bunch of other different things that I can't even name because I don't even know the name of them because I've been centered around a couple cultures my whole life, and just to see all these different cultures is really amazing to me."
Meanwhile, Thalia Tran plays Baby Noi, a con artist from the land of Talon who runs a gang of half-monkey, half-catfish creatures called Ongis. While her character doesn't speak any language, either Western or Eastern, Raya still resonated for her in a culturally-specific way:
"That sense of comradery and that strength within, that group of people and that sense of family, is definitely something that I related to personally. I know growing up in a Vietnamese family, that family always, always comes first, from the traditions to just everyday life. Family is just such a huge part of it, especially now in quarantine with my family all the time. It's just something that definitely clicked with me. And I'm like, yes, I know what it feels like.

For her to be so young and to have her family turned to stone by the Druun, and her to have to kind of raise herself with the Ongis and that sense of strength that she has to develop, I think that's something that's also very common in Southeast Asian families. I think there's just a lot about Noi that even though she can't speak it into words that people will connect with, hopefully, and I definitely connected with."
Finally, screenwriter Qui Nguyen summed up the most viscerally powerful aspect of the representation found in Raya and the Last Dragon:
I'll only add that I think we're all aware what this kind of movie with heroes that look like this will mean to so many kids and families out there. To have such an A-class group of actors, and to be able to be representatives of that to so many kids is such a dream come true for not just us as filmmakers but just for, like, honestly, the community.
Raya and the Last Dragon arrives March 5 on Disney+. Will you be entering the world of Kumandra to learn more about the warrior princess and her dragon friend? Let us know your thoughts in the comments below.
KEEP READING: WATCH RAYA AND THE LAST DRAGON'S FEATURETTE ABOUT THE REMOTE VOICEOVER RECORDING PROCESS