A new casting call reveals Ms Marvel will be adding two Marvel Comics characters, Red Dagger and the Inhuman Kamran, to the Marvel Cinematic Universe.
The world of Marvel continues to expand in new and fascinating ways. After giving fans their first sneak peek of new MCU shows currently filming, Disney head Bob Iger recently detailed seven new Marvel-based shows in development for their Disney+ streaming service. One of the more anticipated shows in development is Ms. Marvel.
RELATED: MS MARVEL NEW SHOOTING START AND LARGER PRESENCE FOR KAMALA KHAN IN THE MCU: EXCLUSIVE
While the world eagerly awaits the casting of headliner Kamala Khan, there is still an entire show of characters still to be cast. The world of Marvel Comics is vast, and the series could go in a number of directions. We already gave you a look at the leads of the show; now it's time to turn our attention to some of the supporting characters currently being cast.
Ms. Marvel's New Flames
Marvel is currently casting for two male, Muslim supporting characters who are in the 17 to 25-year-old age range. The first character is a familiar face from Marvel Comics, Red Dagger. He's based in Pakistan and is a crimefighter. It's explained that there is an undeniable romantic connection between him and Kamala.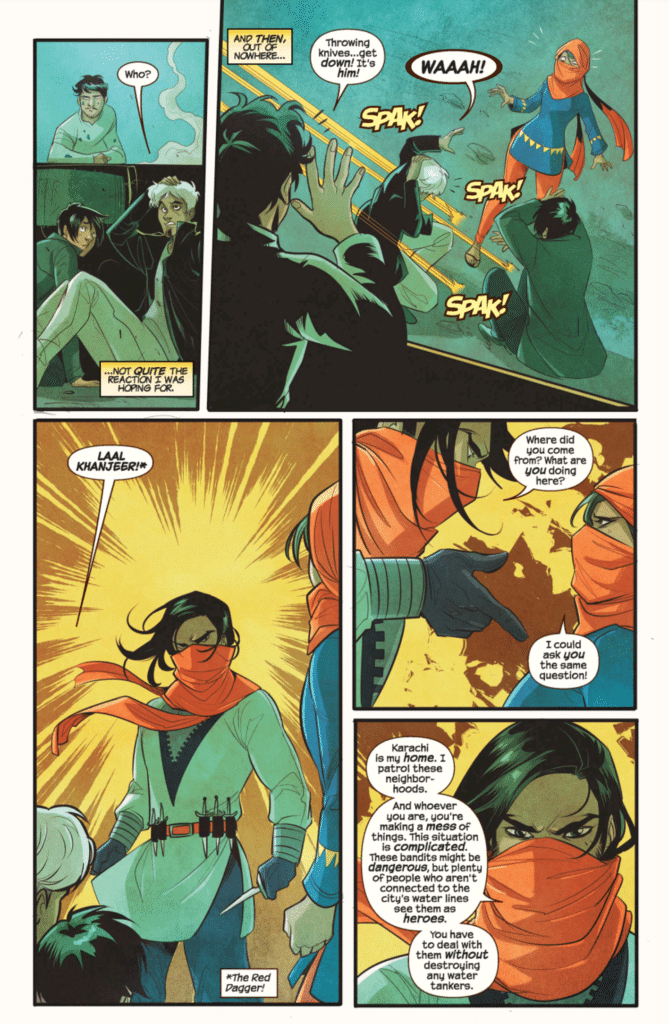 The second is Kamran. He is described as having a friendship with Kamala and her family, He initially attempts romance with Kamala, but he is also being described as a morally corrupt Inhuman. That term, by the way, is specifically named.
Yes, Ms. Marvel will be reintroducing Inhumans into the MCU, if they haven't already appeared elsewhere by that point. This news should be a delight to Marvel Comics fans worldwide. The signs are pointing to a show that's heavily inspired by the comics, which will be showing an entirely new side of the cinematic universe.
One of the biggest fails of the modern Marvel era was the maligned network adaptation, The Inhumans. The ABC show never won over the approval of MCU fans, who have come to expect a high level of production value and storytelling by this point. Kamala Khan's origin ties directly into the Inhumans' mythology in the pages of Marvel Comics, so it's worth noting that a plan is in motion to repackage them to the mainstream.
Who Are Ms. Marvel's Kamran and Red Dagger?
In the comics, Kamran was the centerpiece of a multi-issue arc in which Kamala becomes reacquainted with the MIT-bound hunk after not seeing each other since they were young children. In the run, Kamala is immediately smitten by Kamran who seems to have everything in common with her, including being an Inhuman. He has the ability to charge his body with bioluminescence and then transfer that energy into inanimate objects, which makes them explode into bright light. Kamala is ultimately double-crossed by her crush, so it will be interesting to see how this character is adapted in the series.
Red Dagger, also known as Kareem, also had a long familial connection with the Khan family. His mother and Kamala's aunt were friends since their school years. Kareem lives in Khan's family home in Pakistan and pursues his studies by day, all while operating as a vigilante in Pakistan at night. He lacks superhuman powers but shows an advanced prowess with an array of throwing daggers.
READ NEXT: LEONARDO DICAPRIO IN TALKS TO STAR IN TERRENCE WINTER'S SCRIPTED EVEL KNIEVEL BIOPIC: EXCLUSIVE
With filming on Ms. Marvel only months away, we should be getting even more information on the groundbreaking project for Disney+. What do you hope to see from Kamran and Red Dagger in the upcoming series? How do you think they will fit into the first season? Let us know in the comment section or on social media!