Will we see Haly's Circus and the origin of Robin in The Batman? A recent casting call for circus performers in The Batman has been discovered and speculation is running wild.
Director Matt Reeves is in the middle of production on his new take on the Caped Crusader in the aptly named feature, The Batman. The reboot stars Robert Pattinson as the titular hero, alongside Zoe Kravitz (Selena Kyle/Catwoman), Colin Farrell (Oswald Cobblepot/The Penguin), and Paul Dano (Edward Nashton/The Riddler). This newest version of Gotham City is continuously growing as time goes on and it seems like the foundation is being laid to eventually introduce Dick Grayson.
RELATED: THE BATMAN: FIRST PHOTOS EMERGE; PRODUCTION TO BEGIN IN LONDON SHORTLY
There was a recent casting call that was uncovered by Reddit user u/Crypt0_nite. It outlines that The Batman is casting extras to play circus performers. People familiar with Batman will immediately identify Haly's Circus and Dick Grayson/Robin as the main event in Bruce Wayne's life that involved a circus. Take a look at the casting call: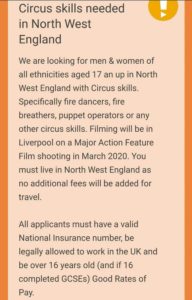 The Importance of Haly's Circus, The Flying Graysons, & Robin
Haly's Circus is a traveling circus that exists in the DC Universe. The circus is home to the infamous act, The Flying Graysons. The Flying Graysons was a trapeze act that the encompassed the Grayson family including John, Mary, and their child Dick.
When the circus came to Gotham, infamous gangster Tony Zucco tried to extort the circus for protection money and to use the crew's equipment to transport drugs. Mr. Haly refused to give in to these demands and Zucco decided to sabotage The Flying Graysons' act. This caused John and Mary Grayson to fall to their deaths during the act. Luckily for their son, Dick, Bruce Wayne was in attendance that night and he adopted the newly orphaned performer. Bruce trained him to be his crime-fighting sidekick, Robin, until he grew up and ventured out on his own as Nightwing.
READ NEXT: THE BATMAN: FIRST LOOK AT ROBERT PATTINSON IN NEW BADASS BATSUIT
Seeing Dick Grayson make an appearance in The Batman would be great! It would set-up for a nice future and maybe we will get an accurate live-action depiction of The Boy Wonder!
What other characters are you hoping pop up in The Batman? Let's talk about it down in the comment section and on our social media!