Director James Gunn is currently splitting time between working at Warner Brothers with the DCEU (where he is directing The Suicide Squad sequel) and with his commitment to finish the Guardians Of The Galaxy trilogy at Marvel. However, it looks like he could be working much more closely with the DC Universe in the future.
Recently the famed director revealed in a tweet that he "seriously considered" directing "at least two" other films for the DC. The director also noted that fans might find out "some day (but not today)" what those other projects were, prompting speculation that said projects are still on the table.
RELATED: THE SUICIDE SQUAD GIVES FIRST LOOK AT HARLEY QUINN IN NEW VIDEO
That got our wheels turning here at The Illuminerdi about what these secret projects might be. So without further ado, here are five DC properties that James Gunn still could potentially adapt for the big screen in the near future.
BLUE BEETLE
Three superheroes, with very different origin stories, have gone by the name Blue Beetle in the DC Comics. Howver, Gunn would probably be wise to look at the most recent iteration of the character, Jaime Reyes, for inspiration.
Reyes, is a Mexican-American Texas teenager who accidentally stumbles upon the magical golden scarab Khaji Da, which bestows him with great power. Reyes would make a great protagonist for a coming-of-age story and is probably the most family-friendly option on this list. A Blue Beetle film centered on Reyes is supposedly already in the cards and if the Suicide Squad sequel does well, it would make sense to hand directorial duties over to Gunn. Who has already proven that he can deliver something similar action, humor, and heart, with his Guardians films at Marvel.
THE LEGION OF DOOM
While the Legion of Doom has technically shown up in live-action on the small screen before, on the CW's Legends Of Tomorrow series, that version of the team had little in common with its comics counterpart. The Legion is a group of the most dangerous supervillains in the DC Universe, led by characters such as Lex Luthor, Cheetah (who will make her DCEU debut in Wonder Woman 1984), Black Manta (a primary antagonist in the Aquaman movie), and a number of Batman villains including The Riddler (who will appear in Matt Reeves' The Batman).
Team members are rapidly making appearances in various corners of the DCEU, it makes sense to bring them together under the guidance of someone like James Gunn. A director who has the proven ability, like with the upcoming R-rated The Suicide Squad, to lean into the team's darker aspects.
CONSTANTINE
One of the most popular and iconic DC characters, the cynical sorcerer John Constantine, would make an excellent candidate. The Hellblazer title lends itself to a dark, gritty solo film exploring the anti-hero's journey, both physically and psychologically. John Constantine is a grungy, disillusioned bisexual Brit caught between Heaven and Hell.
He's the type of character who deserves a film adaptation along the lines of Joker. A brutally intimate, mind-bending adaptation that can get deep into the warlock's head. Gunn hasn't really directed anything along those lines before, but then again, neither had Todd Phillips. It's certainly not out of the realm of possibility.
LOBO
James Gunn seems perfectly suited to take on the story of the ferocious Czarnian bounty hunter Lobo. The intergalactic roadster's violent impulses could earn his origin film a hard R-rating, something that Gunn appears to be leaning towards with his Suicide Squad sequel as well. Originally Lobo was intended as a parody of Marvel's dark and gritty antiheroes, such as Wolverine and the Punisher.
Lobo is also imbued with a hint of meta humor, yet another aspect of the character that sounds very Gunn-ish. However, Gunn could even use Lobo to poke fun at his very own Guardians of the Galaxy franchise, if he so chooses. Much like Guardians protagonist Peter Quill, Lobo is a space-faring pirate surrounded by a group of ragtag misfits. It seems like almost too good of an opportunity for Gunn to pass up on.
JUSTICE LEAGUE DARK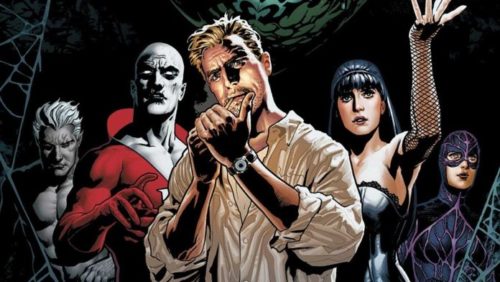 The Justice League Dark has been in long development to the DCEU. Recent reports seem to indicate that director J.J. Abrams' production company, Bad Robot, has signed a deal with Warner Brothers to develop the team's extensive roster of dark, sinister heroes, villains, and anti-heroes, for film and TV projects.
However, there are no directors that have been publicly attached. It's possible Abrams will want to direct some of them himself, but a collaboration with Gunn doesn't sound implausible. Gunn's talent is with ensemble movies, that's why he's directing The Suicide Squad, which should make him a top pick to direct a Justice League Dark team-up movie.
READ NEXT: JAMES GUNN IS DEVELOPING POPULAR BOOK, THE MARTIAN CHRONICLES, FOR TV: EXCLUSIVE
So what do you think of these five theories? Which projects do you want to see James Gunn direct for the DCEU? Leave your thoughts in the comments below.