Is this the way?
The Mandalorian's first season proved to be a massive success for the fledgling Disney+ streaming service. Not only did it unify warring factions of the Star Wars fandom behind a shared adoration for the pint-sized celebrity, Baby Yoda. It also managed to expand the lore of the Star Wars franchise dramatically, while garnering good publicity, reviews, audience numbers, and a slew of Emmy nominations – including wins in several categories. It's not at all surprising that spin-offs are already in development at Lucasfilm.
With the second season of The Mandalorian about to arrive on Disney+, the time is right to start greenlighting these spin-offs and capitalizing on the steadily growing hype. A spin-off series featuring Cara Dune (Gina Carano), one of The Mandalorian's closest allies in season one, could be a good way to grow the franchise and paint a better picture of this somewhat enigmatic mercenary. Dune's journey in season one had her grow from an antihero to a more clear-cut heroine, helping to protect Baby Yoda from Imperial forces. Now, new reporting from LRM Online suggests that a spin-off might just be in the works.
That being said, while The Mandalorian is hugely popular, Cara Dune herself is a bit of a divisive figure in the fandom Largely thanks to some real-life drama that went down recently. Actress Gina Carano attracted a fair deal of controversy with a series of statements made last month on her Twitter that were dismissive of the need to quarantine to help prevent the spread of COVID-19, and were seen by many as condescending and offensive towards people in the trans and nonbinary community.
RELATED: THE MANDALORIAN SEASON 2 EXPANDS INTO A LARGER, LESS ISOLATED STORY
In response to the backlash, Carano doubled down on her stance rather than apologizing or using the opportunity to learn. With this controversy still lingering over the upcoming release of The Mandalorian's second season and Carano expected to continue playing the character going forward, many fans have already (and understandably) expressed their disinterest in the idea of a Cara Dune led spin-off.
COULD OTHER CHARACTERS FROM THE MANDALORIAN CROSS OVER?
For those who make the decision to stick with it, there are interesting possibilities to look forward to from a spin-off focused on Cara Dune Rumor has it that Carano had good chemistry with fellow actress Katee Sackhoff, one of her co-stars in the second season of The Mandalorian. If so, it's possible Sackhoff could have a large supporting role in Carano's own spinoff. Sackhoff is playing Bo-Katan Kryze, a Mandalorian leader from The Clone Wars animated series (Sackhoff also voiced the character on the show for several seasons) who will make her live-action debut in The Mandalorian this year.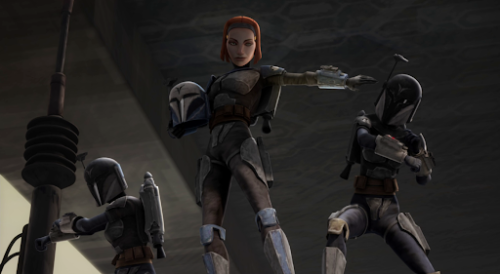 We don't know yet whether the rumored Cara Dune led series will follow Dune's adventures before or after season two of The Mandalorian. It's possible that her and Bo-Katan could already be best buddies and the spin-off will explore when, where and how they met. Another way could be that she meets Bo-Katan for the first time in The Mandalorian and the two decide to team up and head from one streaming series to another. Either way, Bo-Katan fans will be happy to see the character get so much exposure and Clone Wars fans will be excited to see more animated favorites making the transition to live-action.
RELATED: HBO MAX GREEN LANTERN SERIES GETS GREENLIGHT AND NEW DC COMICS LEADS REVEALED
As for what we're likely to see of Cara Dune herself, it's probable that the spin-off will explore some of her origin story, which is still mostly cloaked in secrecy. Her background on the planet Alderaan could allow us to see more of the planet (home to Bail Organa and Leia Organa), prior to its destruction by the Empire's Death Star in Star Wars: A New Hope.
Her later work with the Alliance and as a solo operative might have caused her to cross paths with any number of characters from Star Wars lore. And of course, Pedro Pascal's Mandalorian mercenary Din Djarin could easily find reasons to run into her again. Especially if she'll be working closely with Bo-Katan, one of his own people, in the near future.
So what do you think? Do you plan on supporting a Gina Carano-led Cara Dune spin-off? Would the inclusion of Bo-Katan and other characters from the deep lore convince you to watch? Leave your thoughts in the comments below.
KEEP READING: STAR WARS REBELS SEQUEL DETAILS AND POTENTIAL RELEASE WINDOW FOR THE BAD BATCH REVEALED
Source: LRM Online