New reports suggest that actor and director Eli Roth is developing a new movie adaptation of the video game Borderlands for Lionsgate studios. This project has been in development at Lionsgate for five years.
Borderlands is a series of action role-playing first-person shooter video games in a space western science fantasy setting, created by Gearbox Software and published by 2K Games for multiple platforms. The series consists of four games: "Borderlands" (2009), "Borderlands 2" (2012), "Borderlands: The Pre-Sequel" (2014), and the latest one "Borderlands 3" (2019). Also a spinoff episodic graphic adventure game "Tales from the Borderlands"(2014 to 2015).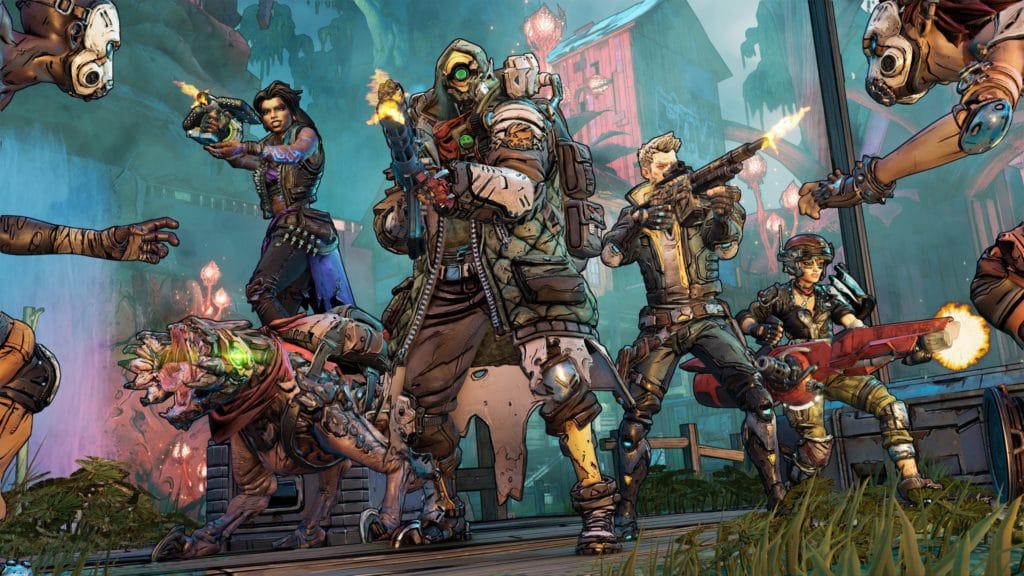 The game is set in the distant future, in which four "Vault Hunters" travel to the distant planet Pandora to hunt down an alien vault, rumored to contain advanced alien technology. The hunters find themselves battling the local wildlife and bandit population, but ultimately attempt to stop the head of a private corporation army from reaching the vault first. The series has sold more than 57 million units around the globe, including over 22M units of Borderlands 2. Borderlands 3 hit shelves last September and has already sold 8 million copies. The third game was honored with the award for Best Multiplayer Game at Gamescom.
RELATED: VIDEO GAME DEVELOPER QUANTIC DREAM MAKES BOLD MOVE TO SELF-PUBLISH AND GO INDEPENDENT
Eli Roth's Take On Borderlands
Director Eli Roth has signed onto the film joining Chernobyl writer Craig Mazin and produceNew reports suggest that actor and director Eli Roth is developing a new movie adaptation of the video game Borderlands for Lionsgate studios.rs Avi and Ari Arad, Erik Feig and Strauss Zelnick . The film's executive producers are Randy Pitchford, executive producer of the "Borderlands" video game franchise and founder of Gearbox Software, and Strauss Zelnick, chairman and CEO of Take-Two Interactive.
Roth offered little detail about the project, which has been in the works since 2015. He celebrated the news by tweeting a picture of his face cropped onto one of the game's shirtless and heavily muscled "psycho" bandits.
So excited to be part of the @Borderlands family! Thank you @GearboxOfficial @Lionsgate @DuvalMagic, @picturestart, Arad Productions and everyone for welcoming me in. See you on Pandora! pic.twitter.com/UspqIcoerF

— Eli Roth (@eliroth) February 20, 2020
Eli Roth is an actor, writer, producer and director. He directed Horror films like Hostel 1 and 2 (2005, 2007) , action film Death Wish (2018) and fantasy film The House with a Clock in its Walls (2018). He will be an interesting fit for this movie. Hoping this movie will change the trend of video game adaptations and opens door for new ones.
Roth said, "I'm so excited to dive into the world of Borderlands and I could not be doing it with a better script, producing team, and studio. I have a long, successful history with Lionsgate – I feel like we have grown up together and that everything in my directing career has led to a project of this scale and ambition. I look forward to bringing my own energy, ideas, and vision to the wild, fun, and endlessly creative world of the game. Randy Pitchford and everyone at Gearbox have been incredibly supportive of my ideas – it really feels like a perfect storm of creators coming together. We are out to make a new classic, one which the fans of the game will love, but also one which will find new audiences globally."
Lionsgate Motion Picture Group President Nathan Kahane said "With Eli's vision and Craig's screenplay, we believe we have cracked the code on bringing the anarchic world of Borderlands to the big screen in a big way that will be a fresh, compelling and cinematic event for moviegoers and fans of the game,".
"I'm incredibly proud we can bring this beloved video game to theaters for our fans around the world. Eli and Craig, already accomplished and remarkable visionaries, will be amazing stewards of Gearbox's innovative Borderlands characters and stories," said Pitchford.
The setting does create a very interesting playground for a storyteller to come in and tell a really cool and epic kind of movie. The games gives a nice setup to do an adventure movie.
What do you people think of this news? Do you feel Roth is a perfect fit to bring the game to cinema? Let us know in the comments.
Source: Deadline