It's time for Dragonzord Power! Hasbro is continuing their Lightning Collection with a new Power Rangers Green Dragon Dagger set for release.
Hasbro has been putting their best foot, and the bar has been raised with this. The Dragon Dagger will be the first Power Rangers prop replica released by them.
RELATED: WAVE 5 OF NEW POWER RANGERS LIGHTNING COLLECTION CONFIRMED & LOOKS AMAZING
Calling Dragonzord With The Power Rangers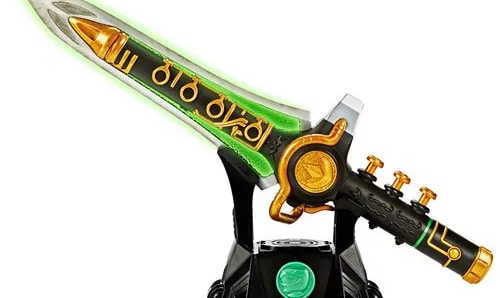 From information gathered from Entertainment Earth, here is what we know about the product:
Hasbro's Dragon Dagger is going to be a different version than those made before. So far, we know that the sounds will include the original Dragonzord call, the ability to remix the tune, and the option to activate power glow effects with a button push.
The design of the dagger will be a premium design. And while it is not known yet if this will be a DieCast metal, it will stand out no matter what. The dagger will include a stand for collectors to have sit proudly on their shelves.
Hasbro has already put the Dragon Dagger up for pre-order through their website Hasbropulse as well as Entertainment Earth, and it will hit retailers in Fall 2020.
As this is the first to be released in the prop replica collection, what other iconic props would you like to see released? Make sure you stay in touch with The Illuminerdi for everything Power Rangers and news and content.