Power Rangers season 28 casting is upon us, and it looks like the casting department is using the same sides that they they used in Beast Morphers. With the recent announcement that the 28th season of Power Rangers would be an adaptation of it's Super Sentai counterpart Ryusoulger, we knew that casting would be right around the corner. Today, NoPinkSpandex released the sides on Twitter along with some shooting info about the 28th season, which is yet to be named.
From the information given, Power Rangers will continue the tradition that Disney started by filming the show in New Zealand. From our interview with past Beast Morphers cast members, the show was looking to skew a tad younger than the previous season and it seems that season 28 will follow suit. Many fans noticed that the sides are the same as the ones from Beast Morphers. The IllumiNerdi can now confirm these are the real casting sides. The casting department is giving these generic sides to see what each performer can bring to the table. We're doubtful that Hasbro/ Allspark Productions even have writers beginning to write scripts for the 28th season as of yet but we can officially say casting is underway.
RELATED: POWER RANGERS STAR WANTS AN ORIGINAL CAST REUNION ON NETFLIX
Here's What Power Rangers Season 28 Is Looking For
POWER RANGERS: A group of Male and Female of all ethnicity teens, 17 – 21 years old to portray 15 – 18 years old high school students. They are all nice looking, charismatic, energetic, and outgoing. All must have positive attitudes and a genuine sense of confidence. They must have SUPER HERO LOOKS with average height and in great physical condition. Must have strong athletic skills such as martial arts, gymnastics, acrobatics or dance.
If you plan on auditioning to get those tapes in soon. The deadline is March 27, 2020. Below, we've put the sides up for you to see.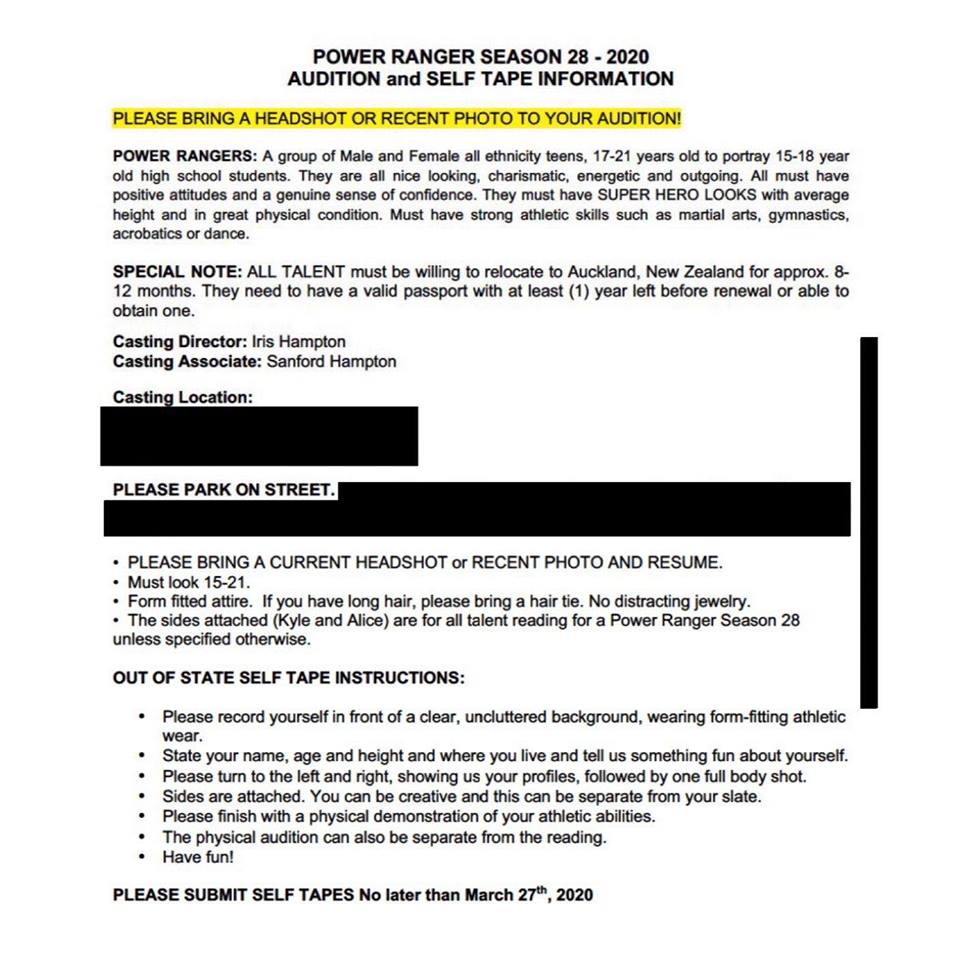 CONTINUED ON THE NEXT PAGE