New movies are coming in this lovely month of March, and there are plenty which we want to see.
Some of the new releases include the new Pixar movie Onward, The Way Back from Warner Bros, a Netflix original movie called Spenser Confidential, Blumhouse Productions' The Hunt, Sony's new comic book-based movie Bloodshot, STX entertainment's My Spy, Paramount's A Quiet Place Part II and Disney's live action remake of Mulan.
RELATED: ONWARD REVIEW; MAGIC STILL IN THE MAKING
Check out the synopsis of each of the upcoming movies below:
Movies In March 2020
Onward
Onward is the latest Pixar animated movie about two teenage elf brothers, Ian and Barley Lightfoot (Tom Holland and Chris Pratt), who go on an journey to discover if there is still a little magic left out there. They do this in order to spend one last day with their father, who died when Ian was too young to remember him. The movie is set in a magical suburban fantasy world with trash unicorns, which is amazing.
Onward is directed by Dan Scanlon, who previously directed Pixar's Monsters University (2013), and is produced by Kori Rae from a screenplay written by Scanlon, Jason Headley and Keith Bunin. The music is by Mychael Danna and Jeff Danna. It stars the voices of Tom Holland, Chris Pratt, Julia Louis-Dreyfus, and Octavia Spencer. Pixar is known for creating magic and pulling audience heartstrings of all kinds of age alike.
Onward release date: March 6, 2020
The Way Back
The Way Back (also known as Finding the Way Back in some markets) is a sports drama film by Warner Bros. pictures about a widowed, former basketball all-star, who has lost his wife and family foundation in a struggle with addiction and attempts to regain his soul and comeback by becoming the coach of a disparate, ethnically mixed high school basketball team at his alma mater.
It stars Ben Affleck, Al Madrigal, Michaela Watkins and Janina Gavankar, and it follows an alcoholic construction worker who is recruited to become head coach of the basketball team at the high school he used to attend. As the team starts to win, he may have a reason to confront his old demons. Director Gavin O'Connor and Ben Affleck teamed up once again for this movie after The Accountant (2016) and written by Brad Ingelsby.
The film was originally scheduled to be released on October 2019. However it was pushed several months to March 2020. Will Gavin O'Connor and Ben Affleck manage to work their magic again?
The Way Back release date: March 6, 2020
Spenser Confidential
Spenser Confidential is a mystery comedy-thriller. The Netflix original movie is about a former police detective who returns to Boston's criminal underworld, to unravel a twisted murder conspiracy. It is directed by Peter Berg and with a screenplay by Sean O'Keefe and Brian Helgeland. It is very loosely based on the novel Wonderland by Ace Atkins.
The film stars Mark Wahlberg, Winston Duke, Alan Arkin, Iliza Shlesinger, Bokeem Woodbine, Cassie Ventura, Colleen Camp and marks the fifth collaboration between Wahlberg and Berg after Lone Survivor, Deepwater Horizon, Patriots Day, and Mile 22. We have to wait to see the chemistry between the duo of Wahlberg and Winston Duke.
Spenser Confidential release date: March 6, 2020
The Hunt
Twelve strangers wake up in a clearing. They don't know where they are — or how they got there. They don't know they've been chosen- for a very specific purpose: The Hunt. In the shadow of a dark internet conspiracy theory, ruthless elitists gather at a remote location to hunt humans for sport. But their master plan is about to be derailed when one of the hunted, Crystal, turns the tables on her pursuers.
The Hunt is Blumhouse Productions' latest Horror/Thriller/Action movie, directed by Craig Zobel and co-written by Damon Lindelof. It is based on the 1924 short story "The Most Dangerous Game" by Richard Connell. The film stars Betty Gilpin, Ike Barinholtz, Emma Roberts and Hilary Swank, with Jason Blum is serving as a producer under his Blumhouse Productions banner.
Both Zobel and Lindelof have said that the film serves as a satire on the profound political divide between the American left and right. It's interesting, and the basic premise of this movie is totally bonkers.
The Hunt release date: March 13, 2020
Bloodshot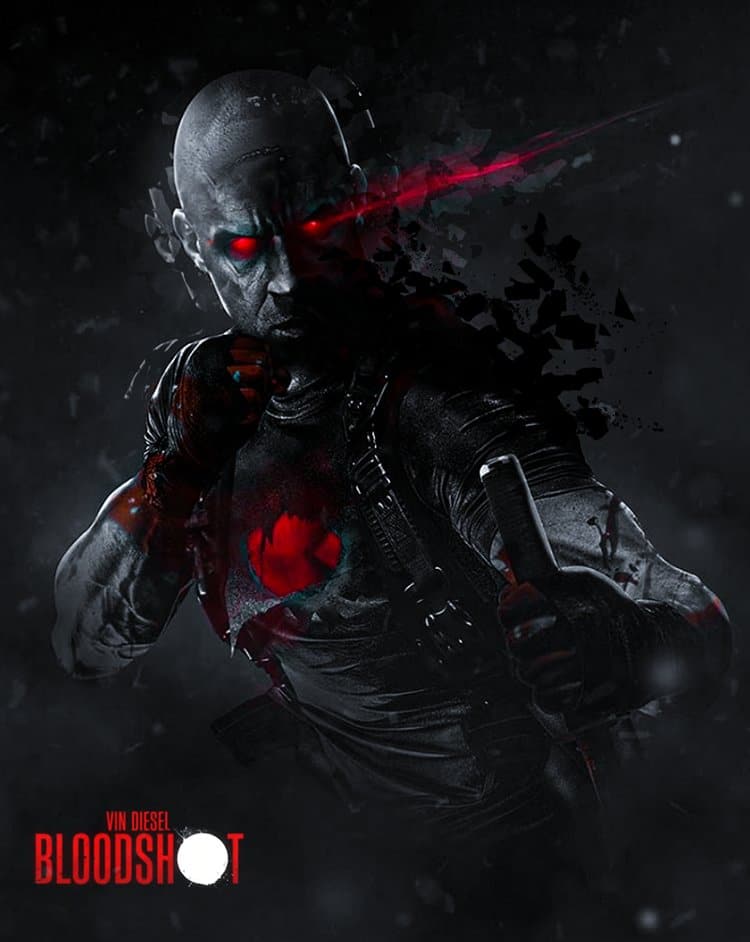 After he and his wife are murdered, marine Ray Garrison is resurrected by a team of scientists. Enhanced with nanotechnology, he becomes a superhuman, biotech killing machine called Bloodshot.
Bloodshot is a superhero film based on the Valiant Comics character of the same name. It is intended to be the first installment in a series of films set within a Valiant Comics shared cinematic universe brought by Columbia Pictures. Directed by David S. F. Wilson (in his feature directorial debut) from a screenplay by Jeff Wadlow and Eric Heisserer and a story by Wadlow, the film stars Vin Diesel, Eiza González, Sam Heughan, Toby Kebbell, and Guy Pearce.
As Ray first trains with fellow super-soldiers, he cannot recall anything from his former life. But when his memories flood back and he remembers the man that killed both him and his wife, he breaks out of the facility to seek revenge, only to discover that there's more to the conspiracy than he imagined. Bloodshot has super strength, speed, and reaction time beyond the limits of a normal human also he can heal instantly. As it is a comic book movie, fans of Bloodshot comics will definitely be excited to see this story on big screen.
Bloodshot release date: March 13, 2020
My Spy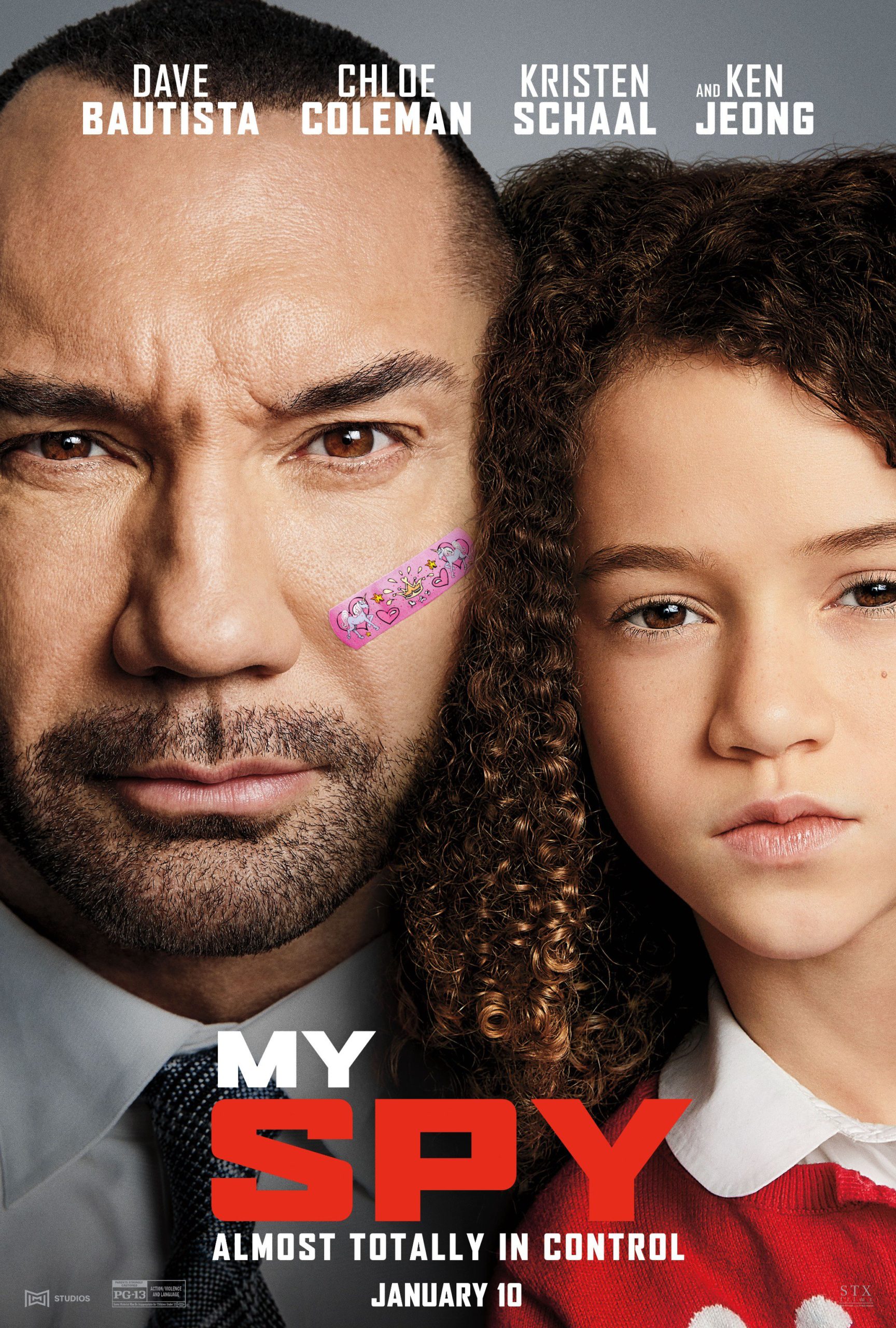 My Spy is an action comedy film by STX entertainment directed by Peter Segal, written by Jon and Erich Hoeber, and starring Dave Bautista, Chloe Coleman, Kristen Schaal, and Ken Jeong. The film follows a CIA agent who must watch over a young girl after he is assigned to protect her family.
Nine-year-old Sophie catches JJ, a hardened CIA operative, spying on her family during a routine surveillance operation. In exchange for not blowing his cover, JJ begrudgingly agrees to show the precocious girl how to become a spy. What at first seems like an easy task soon turns into a battle of wits as Sophie proves you don't need much experience to outsmart a seasoned agent.
My Spy release date: March 13, 2020
A Quiet Place Part II
A Quiet Place Part II is a sequel to the successful horror blockbuster A Quiet Place (2018). The sequel film was also written and directed by John Krasinski and stars Emily Blunt, Millicent Simmonds, and Noah Jupe, reprising their roles from the first film. Cillian Murphy and Djimon Hounsou also joined the cast.
Krasinski also reprises his role from the first film in newly filmed flashback sequences. Following the deadly events at home, the Abbott family led by mother Evelyn must now face the terrors of the outside world as they fight for survival in silence. Forced to venture into the unknown, they realize that the creatures that hunt by sound are not the only threats that lurk beyond the sand path.
Generally sequel to standalone movies would deal with continuation of previous film or a prequel or a story about new characters set in the same world of first movie, but John Krasinski managed to fit them all inside one movie. As we see in the trailers and basic synopsis of this movie the story deals with the beginning, day 1 when the first incident of the creatures happened where we find Evelyn with her two sons at one place and Lee with their daughter at another place. Then we continue the story of first movie immediately right after where the first one ended.
We also deal with Emmet, Cillian Murphy's character, and what his story about. The first movie is well crafted and brilliantly made which bought huge numbers in Box office and it brought lot of praise to John Krasinski as a filmmaker. It is for sure A Quiet Place Part II is one of most anticipated movies of 2020.
A Quiet Place Part II release date: March 20, 2020
Mulan
Mulan is a historical fantasy drama film, which is also an adaptation of Disney's classic animated film of the same name. It is directed by Niki Caro, with the screenplay by Rick Jaffa, Amanda Silver, Lauren Hynek and Elizabeth Martin, and produced by Walt Disney Pictures.
The film is based on the Chinese folk legend, "The Ballad of Mulan". The film stars Liu Yifei as the eponymous character, alongside Donnie Yen, Jason Scott Lee, Yoson An, Gong Li, and Jet Li in supporting roles. To save her ailing father from serving in the Imperial Army, a fearless young woman disguises herself as a man to battle northern invaders in China.
Almost all Disney's live action remakes had a new take and small changes in their story and they are not a direct scene to scene remake. Mulan's live action remake have most and major changes compared to all other live action remakes. Some major characters in the original animated movie like Mushu or Cri-Kee as sidekicks are removed for this but there will be a mythological Phoenix in the movie.
The cast will not be singing songs from the animated film, only instrumental versions of original songs are used as background score. They are trying to offer a movie which is more action packed, cultural significant and closer to the original legend. The character who didn't make the cut is General Li Sheng, Mulan's main love interest and commander of her army troop. He will be replaced by Chen Honghui (Yoson An) who is just another recruit. The romance in Mulan will also change to more classic set-up of rival-to-lovers, as Chen marks Mulan as his biggest competition.
The biggest change in this movie is the integration of new villain Xian Lang (Gong Li) is a powerful witch with the ability to shapeshift into a bird of prey. Mulan is one of much awaited movies of Disney this year. We will have to wait and see the result of another live action remake of Disney classics.
Mulan release date: March 27, 2020
Which movies are you most excited for? Which movies will you be seeing during the month of March? Let us know in the comments below.