It's an exciting month, with numerous tentpole films arriving in July 2022. A heavy load of new movies are coming to theaters, streaming platforms, and video on demand in July that we should not miss. These movies cross a wide plethora of genres, that includes action, romance, drama, comedy, adventure, fantasy, sci-fi, horror, and thrillers.
In July 2022, streaming services are piled with an exciting line-up of films. On Netflix— Hello, Goodbye, and Everything In Between; The Sea Beast; Persuasion; The Gray Man; and Purple Hearts; will be released. On Hulu— The Princess and Not Okay; on Paramount+— Honor Society; and on Amazon— 1Up; Don't Make Me Go; Anything's Possible will be released.
The intriguing VOD releases of the month are Code Name Banshee; 18 1/2; She Will; Art of Love; How to Please a Woman. Some of these are having a limited theatrical release as well. Green Lantern: Beware My Power will be released through VOD & Blu-ray simultaneously.
Paramount's Top Gun: Maverick, which was released at end of May, is the current highest-grossing movie of the year and the first billion grosser of 2022, it crossed $1.19 Billion worldwide so far. It surpassed MCU's Doctor Strange in the Multiverse of Madness which made $954M so far and was released at the beginning of May. After this Jurassic World Dominion is at 3rd, which made $879M so far and The Batman is at 4th, which ended at $770M.
Films that are set to release exclusively in theaters in July are Minions: The Rise of Gru; Mr. Malcolm's List; Thor: Love and Thunder; Paws of Fury: The Legend of Hank; Where the Crawdads Sing; Marcel the Shell with Shoes On; Mrs. Harris Goes to Paris; Nope; DC League of Super-Pets. The Forgiven will be having a limited theatrical release only.
The summer season tentpole movies coming in July are Universal's Minions: The Rise of Gru and MCU's Thor: Love and Thunder. Thor: Love and Thunder is one of the most highly anticipated blockbusters of 2022. It has the 2nd biggest Thursday opening of 2022. Since it is an MCU film and also one of the biggest films of the year, it will definitely be dominating the box office this month.
Check out the synopses and release dates for these new movies below.
NEW MOVIES TO WATCH OUT FOR IN JULY 2022
Minions: The Rise of Gru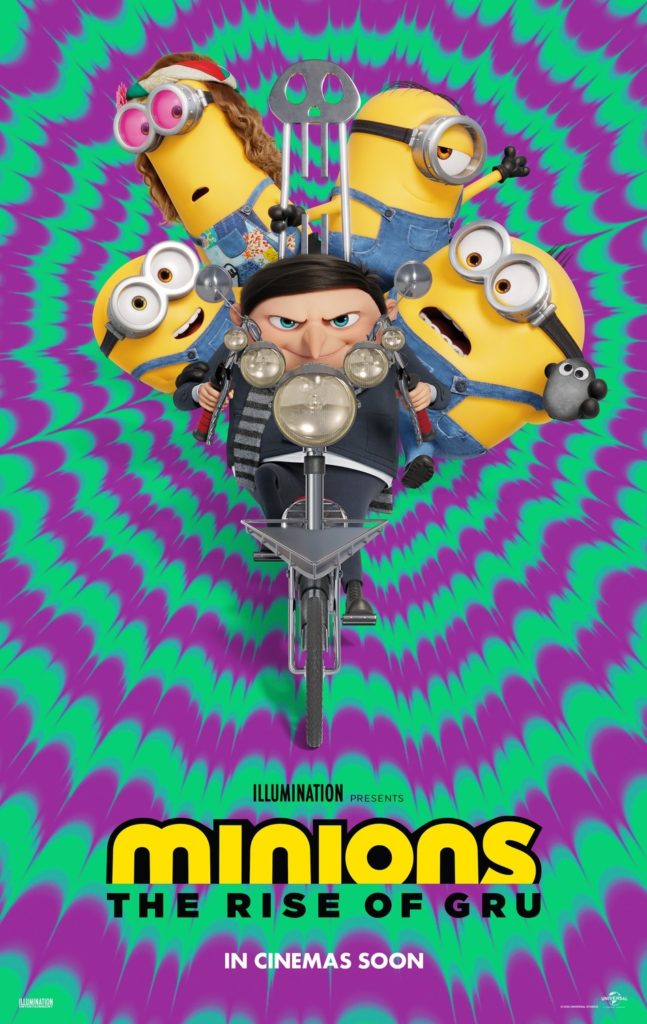 Minions: The Rise of Gru is Illumination's computer-animated comedy adventure film produced by Illumination and distributed by Universal Pictures. It is the sequel to the spin-off prequel Minions (2015) and the fifth entry overall in the Despicable Me franchise. Directed by Kyle Balda, with Brad Ableson and Jonathan del Val as co-directors, and written by Matthew Fogel.
Minions film is the origin story of the Minions and their journey before finally meeting Gru, the sequel focuses on the development of the bond between Gru and Minions and how Gru was like a kid aspiring to become the greatest villain.
The film features Steve Carell reprising his role as Gru and Pierre Coffin as the Minions, with Taraji P. Henson, Michelle Yeoh, RZA, Jean-Claude Van Damme, Lucy Lawless, Dolph Lundgren, Danny Trejo, Russell Brand, Julie Andrews, and Alan Arkin also starring.
Synopsis: In the heart of the 1970s, amid a flurry of feathered hair and flared jeans, Gru (Carell) is growing up in the suburbs. A fanboy of a supervillain supergroup known as the Vicious 6, Gru hatches a plan to become evil enough to join them. Luckily, he gets some mayhem-making backup from his loyal followers, the Minions. Together, Kevin, Stuart, Bob, and Otto–a new Minion sporting braces and a desperate need to please–deploy their skills as they and Gru build their first lair, experiment with their first weapons, and pull off their first missions.
When the Vicious 6 ousts their leader, legendary fighter Wild Knuckles (Arkin), Gru interviews to become their newest member. It doesn't go well (to say the least) and only gets worse after Gru outsmarts them and suddenly finds himself the mortal enemy of the apex of evil. On the run, Gru will turn to an unlikely source for guidance, Wild Knuckles himself, and discover that even bad guys need a little help from their friends.
Minions 2 was originally scheduled for a release on July 3, 2020, but Universal kept delaying this movie for two years due to the pandemic. This is a popular animated franchise so Universal held their ground for a theatrical release instead of moving it to streaming or making it a hybrid release.
The Despicable Me franchise is very successful. It is the highest-grossing animated film franchise and the 15th highest-grossing film franchise of all time, having grossed over $3.7 billion globally. Both Minions (2015) and Despicable Me 3 (2017) made over a billion each. The box office of the new Minions sequel so far is great.
Minions: The Rise of Gru debuted at the Annecy International Animated Film Festival on June 13, 2022, followed by a premiere on June 25 in Los Angeles. Deadline Hollywood reported Universal spent $285 million on promotion and tie-ins for the film, the biggest-ever campaign for a Despicable Me film. It is scheduled to be released in theatres worldwide on July 1.
The film so far has grossed over $258 million worldwide, making it the ninth-highest-grossing film of 2022 and the highest-grossing animated film of 2022. It had the 1st $100 million-plus opening for an animated film since "Frozen 2" (2019). It currently holds a 70% Rotten Tomatoes score based on 165 reviews and a 90% audience rating. This is a must-watch film for everyone especially the fans of the franchise.
Minions: The Rise of Gru release date: July 1, 2022
Mr. Malcolm's List
Mr. Malcolm's List is a period romantic comedy-drama directed by Emma Holly Jones and written by Suzanne Allain, based on her novel of the same name. It stars Freida Pinto, Sope Dirisu, Oliver Jackson-Cohen, Ashley Park, Zawe Ashton, Divian Ladwa, Naoko Mori, Sophie Vavasseur, Danielle Ryan, Sianad Gregory, and Theo James.
Synopsis: When she fails to meet an item on his list of requirements for a bride, Julia Thistlewaite (Ashton) is jilted by London's most eligible bachelor, Mr. Malcolm (Dirisu). Feeling humiliated and determined to exact revenge, she convinces her friend Selina Dalton (Pinto) to play the role of his ideal match. Soon, Mr. Malcolm wonders whether he's found the perfect woman…or the perfect hoax.
The film is set to be theatrically released on July 1, 2022, by Bleecker Street in the US, by levelFILM in Canada, and by Universal Pictures internationally. It so far holds an 81% RT score based on 77 reviews with praise for the entertaining and diversely-cast ode to Jane Austen's works.
Mr. Malcolm's List release date: July 1, 2022
The Princess
The Princess is Hulu's original period action-adventure fantasy thriller directed by Le-Van Kiet and written by Ben Lustig and Jake Thornton. The film stars Joey King, Dominic Cooper, Olga Kurylenko, Allegra du Troit, Ed Stoppard, Alex Reid, and Veronica Ngo.
Synopsis: When a beautiful, strong-willed princess refuses to wed the cruel sociopath to whom she is betrothed, she is kidnapped and locked in a remote tower of her father's castle. With her scorned, vindictive suitor intent on taking her father's throne, the princess must protect her family and save the kingdom.
The Princess is set to be released on July 1 on Hulu in the US, on Disney+ internationally, and on Star+ in Latin America on July 22. The R-rated action flick so far holds a 59% RT score based on 71 reviews. Lead actress, Joey King shines as a credible action star and a princess. This film might be worth checking out even for once.
Read our review for The Princess below!
RELATED: THE PRINCESS REVIEW: A R-RATED MOVIE FOR A PG AUDIENCE
The Princess Hulu release date: July 1, 2022
The Forgiven
The Forgiven is a drama written and directed by John Michael McDonagh and based on the 2012 novel of the same name by Lawrence Osborne. The film stars Ralph Fiennes, Jessica Chastain, Matt Smith, Ismael Kanater, Caleb Landry Jones, Abbey Lee, Mourad Zaoui, Marie-Josée Croze, Alex Jennings, Saïd Taghmaoui, and Christopher Abbott.
Synopsis: Speeding through the Moroccan desert to attend an old friend's lavish weekend party, wealthy Londoners David Henninger (Fiennes) and Jo Henninger (Chastain) are involved in a tragic accident with a local teenage boy. Arriving late at the grand villa with the debauched party raging, the couple attempts to cover up the incident with the collusion of the local police. But when the boy's father arrives seeking justice, the stage is set for a tension-filled culture clash in which David and Jo must come to terms with their fateful act and its shattering consequences.
The Forgiven had its world premiere at the 2021 Toronto International Film Festival. Roadside Attractions and Vertical Entertainment acquired North American theatrical and video distribution rights to the film respectively, with Focus Features and Universal Pictures distributing in the rest of the world and Film4 retaining UK television rights. It is set to be released in the US in limited theatres on 1 July 2022 and will be released in the UK on 2 September. The R-rated film so far holds a 64% RT score based on 87 reviews with praise for the cast.
The Forgiven (in limited theatres) release date: July 1, 2022
Code Name Banshee
Code Name Banshee is Screen Media Films' action thriller drama directed by Jon Keeyes and written by Matthew Rogers. It stars Jaime King, Antonio Banderas, Catherine Davis, Kim DeLonghi, Rose Lane Sanfilippo, Aleksander Vayshelboym, Dylan Flashner, Keil Oakley Zepernick, Wayne Pyle, and Tommy Flanagan.
Synopsis: Caleb (Banderas), a former government assassin in hiding, resurfaces when his protégé, the equally deadly killer known as Banshee (King), discovers a bounty has been placed on Caleb's head. Now they must put the past behind them and join together one last time to fight off the secret CIA-backed killers who threaten to destroy them.
The action film didn't receive great critic ratings but it is worth a watch for action lovers. The lead stars King and Banderas have gotten praise for their action chops. The action flick is set to be released through VOD and in limited theatres as well.
Code Name Banshee (VOD & in limited theatres) release date: July 1, 2022
18 1/2
18 1/2 is Adventure Entertainment's comedy-drama mystery-thriller directed by Dan Mirvish and written by Mirvish and Daniel Moya. It had a limited theatrical release on May 27. It is scheduled to be released through VOD. It so far holds a 76% RT score based on 41 reviews with praise for the cast.
It stars Willa Fitzgerald, Bruce Campbell, John Magaro, Gina Kreiezmar, Marija Juliette Abney, Lloyd Kaufman, Richard Kind, Sullivan Jones, Jon Cryer, Alanna Saunders, Ted Raimi, Catherine Curtin, Elle Schneider, and Vondie Curtis-Hall.
Synopsis: In 1974, a White House transcriber is thrust into the Watergate scandal when she obtains the only copy of the infamous 18 1/2-minute gap in Nixon's tapes.
18 1/2 VOD release date: July 5, 2022
Hello, Goodbye, and Everything In Between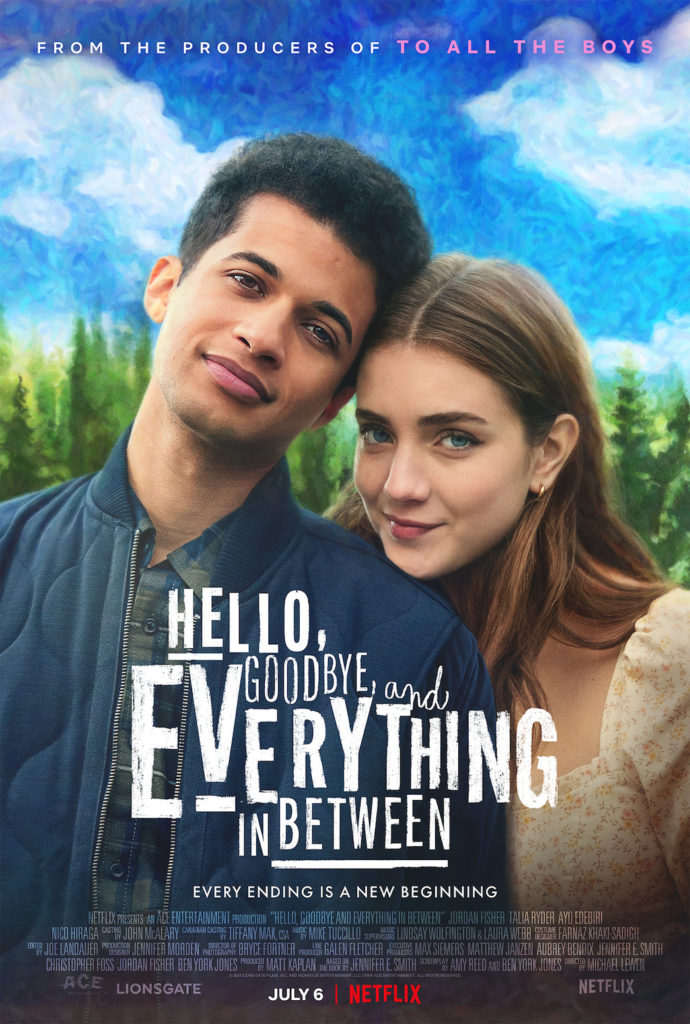 Hello, Goodbye, and Everything In Between is Netflix's romantic comedy-drama directed by Michael Lewen, in his directorial debut, from a screenplay by Ben York Jones and Amy Reed. It is based upon the novel of the same name by Jennifer E. Smith. The film didn't receive many great reviews but it could be a good one-time watch.
It stars Talia Ryder, Jordan Fisher, Nico Hiraga, Jennifer Robertson, Eva Day, Julia Benson, Patrick Sabongui, Sarah Grey, Djouliet Amara, Em Haine, David Lennon, Dalias Blake, and Ayo Edebiri.
Synopsis: After making a pact to break up before college, Clare (Ryder) and Aidan (Fisher) spend their last evening as a couple on one final epic date. As they retrace the steps of their relationship, from their first hello and kiss to their first argument, they edge towards a turning point in the search for answers — should they stay together or say goodbye forever?
Hello, Goodbye, and Everything In Between Netflix release date: July 6, 2022
Thor: Love and Thunder
Thor: Love and Thunder is Marvel Studios' latest comic book film, it is the 29th movie in Marvel Cinematic Universe. It is the fourth Thor film. The fantasy action-adventure superhero comedy movie is directed by Taika Waititi, who co-wrote the script with Jennifer Kaytin Robinson. Produced by Kevin Feige and Brad Winderbaum. This is the 6th film in phase four of the MCU. Thor is the first character in the MCU to get a fourth solo film.
It stars Chris Hemsworth as Thor alongside Natalie Portman as Jane Foster/ Mighty Thor, Tessa Thompson as Valkyrie, Taika Waititi as Korg, Russell Crowe as Zeus, and Christian Bale as Gorr the God Butcher. Another returning cast from the Thor franchise is Jaimie Alexander as Sif, and Kat Dennings and Stellan Skarsgård as Foster's colleagues Darcy Lewis and Erik Selvig, respectively.
Additionally, the Guardians of the Galaxy are featured in the film, with Chris Pratt, Pom Klementieff, Dave Bautista, Karen Gillan, Vin Diesel, Bradley Cooper, and Sean Gunn reprising their respective MCU roles as Peter Quill/ Star-Lord, Mantis, Drax the Destroyer, Nebula, Groot, Rocket, and Kraglin Obfonteri.
Synopsis: "Thor: Love and Thunder" finds Thor (Hemsworth) on a journey unlike anything he's ever faced — a quest for inner peace. But his retirement is interrupted by a galactic killer known as Gorr the God Butcher (Bale), who seeks the extinction of the gods. To combat the threat, Thor enlists the help of King Valkyrie (Thompson), Korg (Waititi), and ex-girlfriend Jane Foster (Portman), who — to Thor's surprise — inexplicably wields his magical hammer, Mjolnir, as the Mighty Thor. Together, they embark upon a harrowing cosmic adventure to uncover the mystery of the God Butcher's vengeance and stop him before it's too late.
Waititi has returned to the director's chair after directing Thor: Ragnarok (2017). He wanted to differentiate Love and Thunder from Ragnarok, seeking to make a romance film and 1980s-inspired adventure. He adapted elements from Jason Aaron's run on the Mighty Thor comic book, which sees Foster take on the mantle and powers of Thor whilst suffering from cancer. The score is composed by Michael Giacchino and Nami Melumad.
The excitement level for this film is huge since it was first announced in 2019 because of several reasons- Hemsworth's Thor is a fan favorite who has been one of the main characters in the MCU since the get-go, fans loved Ragnarok, the return of Portman as Mighty Thor, and villain Gorr the God Butcher. The trailers for this film further increased the excitement. This film will be doing great at the box office.
Thor: Love and Thunder premiered on June 23, 2022. It was released in Australia on July 6 and in the UK, India, Ireland, and New Zealand on July 7. Globally it was released on July 8. The film mostly received praise from critics for its fast-paced fun light-hearted nature, visuals, and cast performances. It currently holds a 68% RT score based on 381 reviews and an 80% audience rating. Like any MCU flick, this is a must-watch for all audiences.
Read our review for Thor: Love and Thunder below!
RELATED: THOR: LOVE AND THUNDER REVIEW – THE WORLD WILL WANT MORE EVEN AFTER 4
Thor: Love and Thunder release date: July 8, 2022
The Sea Beast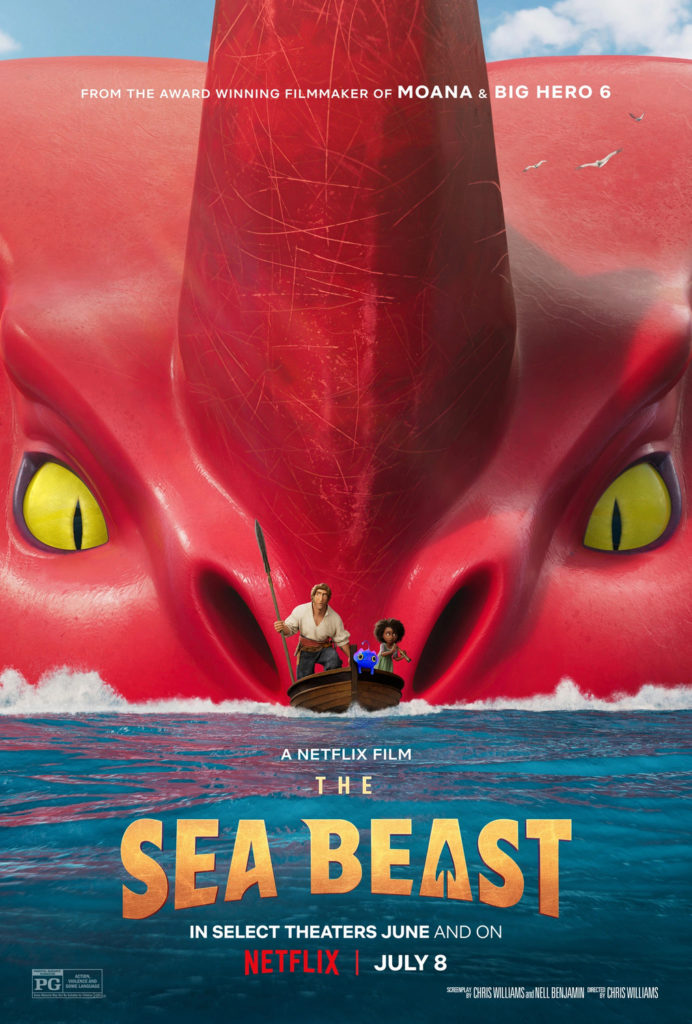 The Sea Beast is Netflix's original computer-animated fantasy adventure comedy film directed by Chris Williams, who co-wrote the screenplay with Nell Benjamin and produced with Jed Schlanger. It was animated by Sony Pictures Imageworks. Williams is the Academy Award-winning filmmaker behind Moana, Big Hero Six, and Bolt.
The film stars the voices of Karl Urban, Zaris-Angel Hator, Jared Harris, Jim Carter, Doon Mackichan, Dan Stevens, Kathy Burke, Helen Sadler, Shannon Chan-Kent, and Marianne Jean-Baptiste. The Sea Beast takes us to where the map ends, and the true adventure begins.
Synopsis: In an era when terrifying beasts roamed the seas, monster hunters were celebrated heroes — and none were more beloved than the great Jacob Holland (Urban). But when young Maisie Brumble (Hator) stows away on his fabled ship, he's saddled with an unexpected ally. Together they embark on an epic journey into uncharted waters and make history.
The Sea Beast had a limited theatrical release on June 24, 2022, and it is set to debut on Netflix on July 8. It received positive reviews from critics and audiences. It so far holds a 95% RT score based on 94 reviews with praise for its great story and fun characters. This is a must-watch film for everyone.
The Sea Beast Netflix release date: July 8, 2022
Read our review for The Sea Beast below!
RELATED: THE SEA BEAST REVIEW: A SPECTACULAR ANIMATED ADVENTURE
Paws of Fury: The Legend of Hank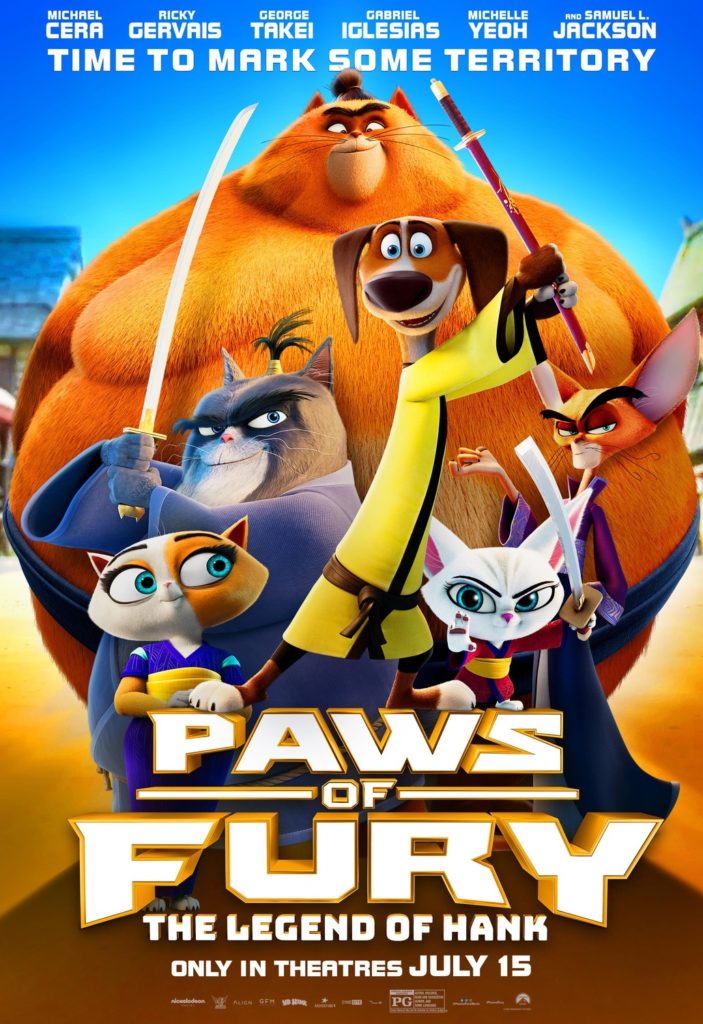 Paws of Fury: The Legend of Hank is Paramount Pictures' and Nickelodeon Movies' computer-animated martial arts comedy film directed by Rob Minkoff & Mark Koetsier, with additional direction by Chris Bailey. Written by Ed Stone and Nate Hopper, the film is loosely inspired by the 1974 Mel Brooks film Blazing Saddles.
It features the voices of Michael Cera, Ricky Gervais, Mel Brooks, Michelle Yeoh, George Takei, Aasif Mandvi, Gabriel Iglesias, Djimon Hounsou, Kylie Kuioka, Cathy Shim, and Samuel L. Jackson.
Synopsis: A down-on-his-luck hound finds himself in a town full of cats who need a hero to defend them from a ruthless villain's evil plot to wipe their village off the map. With help from a reluctant trainer, the underdog must assume the role of fearsome samurai and team up with the felines to save the day. The only problem is — they all hate dogs.
Paws of Fury: The Legend of Hank premiered on July 10, 2022, and is scheduled to be theatrically released worldwide on July 15 by Paramount Pictures and Nickelodeon Movies. It so far holds a 55% RT score based on 38 reviews but its audience rating is at 68%.
Read our review for Paws of Fury: The Legend of Hank below!
RELATED: PAWS OF FURY REVIEW – AN UNCONVENTIONAL FAMILY COMEDY THAT PUSHES THE BOUNDARIES OF A PG-RATING
Paws of Fury: The Legend of Hank release date: July 15, 2022
Where the Crawdads Sing
Where the Crawdads Sing is Sony Pictures Releasing's mystery drama thriller based on the novel of the same name by Delia Owens. It is directed by Olivia Newman from a screenplay written by Lucy Alibar and produced by Reese Witherspoon and Lauren Neustadter.
The film stars Daisy Edgar-Jones, Taylor John Smith, Harris Dickinson, Michael Hyatt, Sterling Macer, Jr., Jayson Warner Smith, Garret Dillahunt, Ahna O'Reilly, Eric Ladin, Jojo Regina, Luke David Blumm, and David Strathairn.
Synopsis: From the best-selling novel comes a captivating mystery. Where the Crawdads Sing tells the story of Kya (Edgar-Jones), an abandoned girl who raised herself to adulthood in the dangerous marshlands of North Carolina. For years, rumors of the "Marsh Girl" haunted Barkley Cove, isolating the sharp and resilient Kya from her community. Drawn to two young men from town, Kya opens herself to a new and startling world; but when one of them is found dead, she is immediately cast by the community as the main suspect. As the case unfolds, the verdict as to what actually happened becomes increasingly unclear, threatening to reveal the many secrets that lay within the marsh.
Where the Crawdads Sing is scheduled to have a wide theatrical release on July 15. It received mixed reviews from critics but Daisy Edgar-Jones was praised for her performance by all. So far it holds a 36% RT score based on 117 reviews but it does have a 96% audience rating so far. This thriller might be worth checking out as a one-time watch.
Where the Crawdads Sing release date: July 15, 2022
Marcel the Shell with Shoes On
Marcel the Shell with Shoes On is A24's mockumentary comedy animated hybrid film directed by Dean Fleischer-Camp, written by Jenny Slate and Nick Paley, and based on a story by Fleischer-Camp, Slate, Paley, and Elisabeth Holm. It is based on a short film of the same name created and uploaded to YouTube by Fleischer-Camp in 2010.
Jenny Slate reprises her voice role as Marcel, an anthropomorphic shell living with his grandmother Connie. Rosa Salazar, Thomas Mann, Lesley Stahl, Conan O'Brien, Brian Williams, Andy Richter, Nathan Fielder, Jessi Klein, Peter Bonerz, Dean Fleischer-Camp as himself, and Isabella Rossellini also star.
Synopsis: Marcel is an adorable one-inch-tall shell who ekes out a colorful existence with his grandmother Connie and their pet lint, Alan. Once part of a sprawling community of shells, they now live alone as the sole survivors of a mysterious tragedy. But when a documentary filmmaker discovers them amongst the clutter of his Airbnb, the short film he posts online brings Marcel millions of passionate fans, as well as unprecedented dangers and new hope at finding his long-lost family. A beloved character gets his big-screen debut in this hilarious and heartwarming story about finding connections in the smallest corners.
The film premiered at the Telluride Film Festival on September 3, 2021, and began a limited release in the US on June 24, 2022, and it is set for a wide release on July 15. It so far holds a 99% RT score based on 113 reviews with praise for the charming and heartwarming story.
Marcel the Shell with Shoes On release date: July 15, 2022
Check out the rest of the July 2022 movies on the next page!