Actor Dave Bautista and director James Gunn reveal their desire to film a Guardians of the Galaxy spin-off movie, featuring Drax and Mantis.
Recently Bautista was asked by Collider about potentially making an appearance in a Disney+ series when he stated the following:
"I wouldn't do a series because Drax as a series would be really rough with the make-up and everything, it would just be too tough. What I would like to do is, honestly, and this is not my idea, I'm stealing this idea, James Gunn had the idea to do a Drax/Mantis movie, and that's what I'd be up for because there's just too much fun there."
RELATED: JOHN KRASINSKI EXPRESSES GENUINE INTEREST IN PLAYING MISTER FANTASTIC FOR MARVEL STUDIOS
This is the first time fans have heard of any such plans. Later on that day, James Gunn further confirmed that he at one point had a plan for a potential Drax and Mantis movie and still hasn't ruled out the possibility of it happening.
Could Drax and Mantis Be Marvel's Power Couple?
A Drax and Mantis movie could definitely be interesting considering it could be the MCU's first romantic comedy, unless you think that Ant-Man and the Wasp makes the cut.
Okay, hear me out. I know a Marvel romantic comedy probably sounds absolutely ridiculous, but in this case it just might work. The two characters had undeniable chemistry in Guardians of the Galaxy Vol. 2. I don't think it'd be too out there to say the spin-off could work. Especially when you consider that most of Drax and Mantis' scenes together have included comic relief.
RELATED: THE FALCON AND THE WINTER SOLDIER SPOILER-FILLED SET FOOTAGE REVEAL NEW VILLAINS & EPIC ACTION
The film could also explore their respective past histories. Scenes involving Drax losing his family and Mantis being taken by Ego when she was a child, could add to the drama and gravitas of the story as well.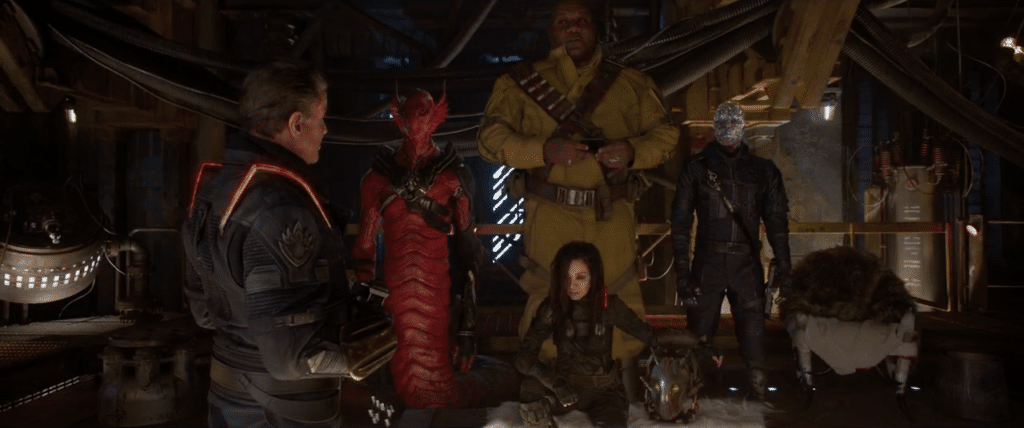 This isn't the first Guardians of the Galaxy spin-off that's been rumored. A potential spin-off involving Rocket and Groot has been passed around for years. James Gunn has also expressed interest in doing a movie based on the Ravagers seen during the end-credits of Guardians of the Galaxy Vol. 2.
RELATED: THE SUICIDE SQUAD GIVES FIRST LOOK AT HARLEY QUINN IN NEW VIDEO
Before any sort of spin-off movie can happen, James Gunn still needs to finish post-production for DC's The Suicide Squad coming out in 2021 and then start work on the third Guardians of the Galaxy movie, which isn't expected to release until Phase 5 of the MCU.
READ NEXT: New Details On She-Hulk's Superheroic Legal Profession & More Cast Members Revealed: EXCLUSIVE
What are your thoughts on a potential Drax and Mantis spin-off movie? Let us know in the comments below and be sure to keep up with us here at The Illuminerdi for more information regarding Guardians of the Galaxy.