Dreamworks has recently announced that the fifth season of She-Ra and the Princesses of Power will be its last. The series has been loved by fans and critics alike and was even nominated for an Emmy back in 2019.
The fifth and final season will premiere via Netflix on May 15. However, showrunner Noelle Stevenson told Entertainment Weekly that they knew their total episode count from the very beginning, stating the following:
"It was tailored to be 52 episodes, the length that it is, and that's a real blessing for a storyteller because it means everything happens when it's meant to happen. The story definitely evolved along the way, from people who worked on it and following the story threads that seemed right and where the characters led us. We set out with a plan, we executed that plan, so it's very satisfying to see it wrap up like this."
RELATED: SUPER SENTAI AND RICK AND MORTY COLLIDE IN NEW ADULT SWIM PROMO
She-Ra's Lasting Power
She-Ra and the Princesses of Power was met with acclaim by critics and fans when it first premiered back in 2018, and the praise continued throughout the series run. The show was praised for its representation of the LGBTQ+ community and the relationship between Adora (She-Ra) and one of the villains, Catra.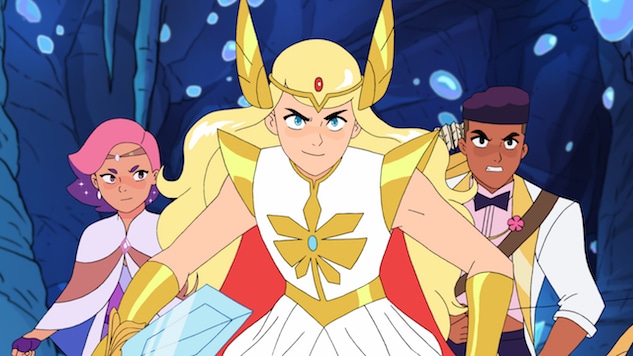 The synopsis of Season 5 is as follows:
"In season 5, the ruthless Horde Prime has arrived and without the Sword of Protection and She-Ra, the Rebellion are facing their toughest challenge yet. In this epic conclusion, unexpected adversaries are confronted and relationships are tested, broken and changed forever. Will Adora and the Princesses of Power be able to save their planet? Or will the universe succumb to the evil might of Horde Prime before love can conquer hate?"
The cast of She-Ra and the Princesses of Power include Aimee Carrero as Adora/She-Ra, Karen Fukuhara as Glimmer, AJ Michalka as Catra, Marcus Scribner as Bow, Lauren Ash as Scorpia, Reshma Shetty as Angella, Lorraine Toussaint as Shadow Weaver, Keston John as Hordak, Christine Woods as Entrapta, Genesis Rodriguez as Perfuma, Jordan Fisher as Seahawk, Vella Lovell as Mermista, Merit Leighton as Frosta, Sandra Oh as Castaspella, and Krystal Joy Brown as Netossa.
The final season She-Ra and the Princesses of Power will be available on Netflix May 15th, 2020. For more information regarding She-Ra be sure to keep up to date with us here at The Illuminerdi.