Phil LaMarr helped define the concept of the Green Lantern for an entire generation of fans thanks to his contributions to the DC Animated Universe.
LaMarr played John Stewart, the dedicated former marine and current Green Lantern, in Justice League and its sequel series Justice League Unlimited. Now almost twenty years since he first took on the role, LaMarr got the chance to reprise it in a new form – as one of the Green Lanterns sent to try and bring down the communist version of Superman in DC's new animated original film, Superman: Red Son.
Phil LaMarr spoke to The Illuminerdi during the premiere of Superman: Red Son to talk about what it's like to reprise the role of John Stewart, and what makes his appearance in this film stand out from his previous appearances.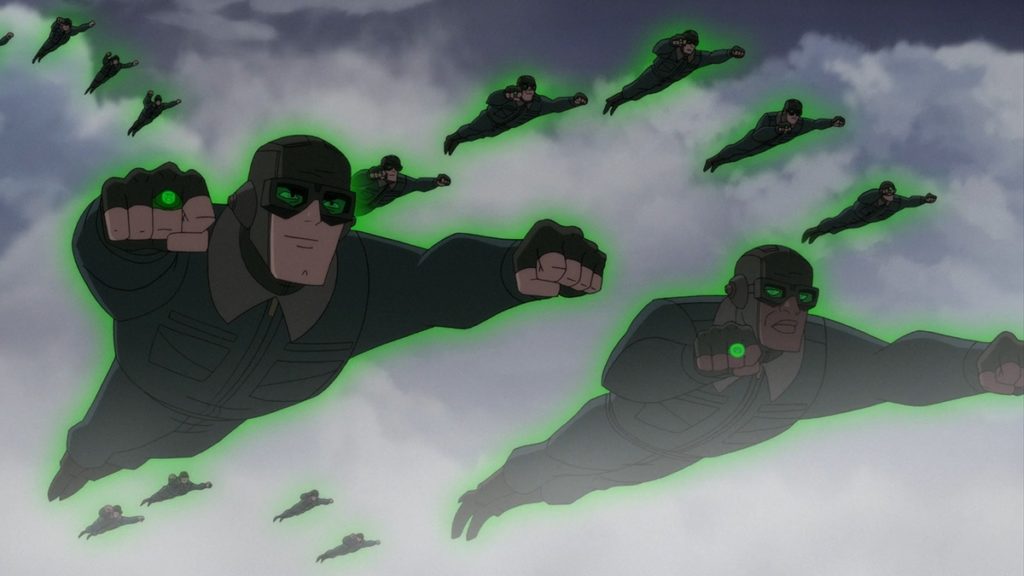 RELATED: MARK RUFFALO SIGNED TO RETURN AS BRUCE BANNER IN SHE-HULK: EXCLUSIVE
PHIL LAMARR ON GETTING TO BE GREEN LANTERN AGAIN
What was it like getting to be John Stewart again?
PHIL LAMARR: It's like coming home. I mean, getting to do it with Bruce Timm, that's the part that's really special to me. The first time I got to play this character, it was under Bruce's production and direction. His level of quality and expertise is so great, and also to be a part of this amazing story.
What was it like getting to bounce John Stewart off of Hal Jordan, who didn't really appear in the Justice League animated series outside of a single cameo?
PHIL LAMARR: It was interesting because on the Justice League cartoon show, John was THE Green Lantern of Earth. I've never done anything where's there's a John and a Hal. In this one, it's interesting because it's a Superman story, it's not really about us. We're just the Corps. So that part is, it's not like it's 'who's Green Lantern 1 and who's Green Lantern 2″, we're all just trying to hold our own against that big Russian.
RELATED: NEW CHARACTER DETAILS FOR LOKI'S LEAD AND SUPPORTING CAST: EXCLUSIVE
How fun was it getting the chance to see your character actually take on Superman?
PHIL LAMARR: Yeah, 'chance'. That's one way of putting it. It's interesting because most of the time in superhero shows, there's not really a level of threat. But in this one, we're going against Superman. So there's actually a sense of urgency and a little bit of fear that you don't really get with Green Lantern usually. It's like 'alright guys, let's go!'
Part of the fun of Elseworlds is seeing classic characters moved to new locations and time periods. Are there any other locations or time periods you'd like to see the DC characters transitioned to next?
PHIL LAMARR: It's funny, because there are so many of those Elseworlds stories, like Batman in 1800s London or the Old West, and a lot of them are wonderful, 'I've always wondered what he'd be like as cowboy Batman' But there are a few that have the power or the imagination of this story.
[Superman: Red Son] forces you to reconsider everything you've ever assumed about what makes Superman Superman. Us nerds in the back of the comic book shop are always going 'what if Aquaman was Airman' but most of those ideas aren't that great.
Directed by DC Animation veteran Sam Liu, Superman: Red Son stars Jason Isaacs, Amy Acker, Diedrich Bader, Phil Morris, Phil LaMarr, Vanessa Marshall, Sasha Roiz, Roger Craig Smith, and Paul Williams. The film is now available digitally and will be released on home video March 17th.
KEEP READING: JASON TODD COULD HAVE SURVIVED IN AN ALTERNATE VERSION OF A DEATH IN THE FAMILY