Kristina Ho plays Betty on Power Rangers Beast Morphers, one half of the brother and sister comedy duo this season. Many fans love her character are even speculating that she may possibly take the mantle as the Green Beast Morpher Ranger.
Our Patreon's for our Illuminerdi made, Power Rangers Cosmic Protectors, recently had the chance to ask Kristina a question and she delivered. To find out more about Kristina check out the video below.
Kristina Ho Answers Fan Questions
RELATED: POWER RANGERS BEAST MORPHERS ABRAHAM RODRIGUEZ PLAYS THE ILLUMINERDI'S RANGER CHALLENGE
Fan Question: The Power Rangers have done crossovers before, notably with the Teenage Mutant Ninja Turtles. Which Turtle do you see yourself spending the rest of your life with and are there any other crossovers you'd like to see in the Power Rangers Universe?
Kristina Ho: If I had to choose one Ninja Turtle to spend the rest of my life with it would definitely be Michelangelo because he's the funny one, duh. And if I have to spend the rest of my life with somebody, why not have fun?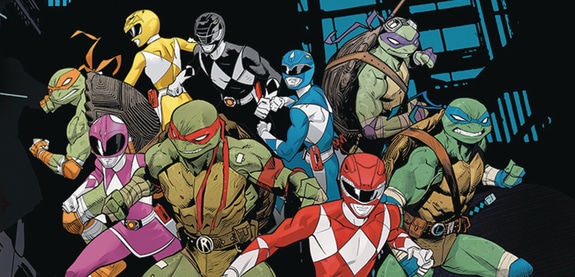 Kristina Ho: And then for the crossover, I can choose anybody to do a crossover with, oh my gosh, in my wildest dreams, it would definitely be Wonder Woman because Gal Gadot is a bad 'B' and she literally filmed while she was pregnant. How amazing? She's literally a superhero in real life. I just thought that movie was so uplifting and so inspiring in so many ways that you've never seen before in an action hero movie, so definitely Wonder Woman.
RELATED:POWER RANGERS LIVE SHOW RECASTING FORMER RANGERS AND INTRODUCING US TO A COUPLE NEW ONES: EXCLUSIVE
Fan Question: Hey guys, so I couldn't think of a good question to ask so I picked out a random card from the game, Truth or Drink, so here's the card. What's something that completely changed your life when you encountered it for the first time?
Kristina Ho: Okay, something that completely changed my life for the first time when I encountered it was when I was at In-N-Out (laughs) and I decided to add extra sauce, extra cheese, and extra onions on to my animal fries, and asking for it well done. That completely changed my life for the better and I'll never go back.
To find out how to become a Patreon to ask a Ranger a question check out Power Rangers Cosmic Protectors. It's an audio comic made by us at The Illuminerdi. It's our upcoming adaptation of the Super Sentai Kyuranger in a completely original story that will bring back former Rangers! Keep coming back for more Power Ranger exclusives and more here at The Illuminerdi!