Patrick Stewart and other fellow celebrities are doing their best to keep spirits up during these trying times.
This quarantine is rough for a lot of people. It means not being able to hang out with family and friends that you don't live with, not going to the movies, and not getting to eat outside of home. There's a lot that you can't do right now.
If you're anything like me, that means that you're online more than you should be and looking for ways to entertain yourself. Fear not! Many of your favorite actors, influencers, and other celebrities are creating content on their own for you to watch from the comfort of your home.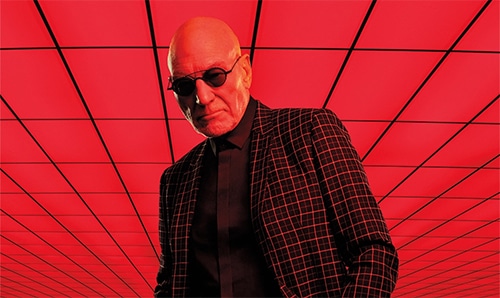 Patrick Stewart
Of course, I'm starting with Patrick Stewart. He's Jean-Luc Picard, Professor X, Gurney Halleck, and many, MANY more. If you're only familiar with him from his work in Star Trek and the X-Men films, you're missing out. Not only is he a legend in both the TV and Film world, he's also a classically trained actor, having started his career with the Royal Shakespeare Company.
Patrick Stewart is digging into his theater roots and is putting out "A Sonnet a Day" via his Twitter. You can watch his latest entry below.
Josh Gad
You might know Josh Gad from any number of things. . , Frozen, Beauty and the Beast, Avenue 5, The Book of Mormon. . . the list goes on and on. . . and on. Gad has taken to his Twitter to read for children. His most recent offering was an excerpt from Artemis Fowl since it was recently announced to be coming to Disney+ instead of getting a theatrical release. Though this one was just an excerpt, he's also fully read shorter books as well.
Samuel L Jackson
I'm not even going to try listing my favorite Samuel L Jackson roles. . . there's just way too many. So instead, why don't you head down to the comments and let me know what yours is. Bottom line, you know who he is, if you don't, you must've been quarantining yourself since before you needed to.

In true Sam Jackson style, his entry has just a few more expletives than the others. If you're concerned about what kind of language your kids hear, this one ain't for them, otherwise enjoy Sam Jackson reading Stay the Fuck at Home by Adam Mansbach, who also wrote Go the Fuck to Sleep. The book is a PSA on why you should quarantine and stay the fuck home.

Unlike the other content in the list, this seems like it's just a one time thing than something he'll continue doing, but we can all hope.
John Krasinski
You know John Krasinski from The Office, A Quiet Place, Tom Clancy's Jack Ryan, and much more. He's taken a slightly different angle and created Some Good News. The channel features Krasinski as a news anchor who's highlighting 'good news' from around the world instead of reminding everyone why they're under quarantine. The first episode features an interview with Steve Carrell where he and John discuss the 15th anniversary of The Office.
Vincent D'Onofrio
Back on Twitter, Vicent D'Onofrio is working to raise money for local food banks. You know this dude from Daredevil, Law and Order: Criminal Intent, Jurassic World, Men in Black, and TONS of other shows/movies. D'Onofrio is recruiting people to do dramatic reading of anything from Edgar Allen Poe to pieces they've written themselves, Check out his Twitter feed to see everything, but here's a taste of what he's done himself.
There's a ton of others who are creating content to help you get through the quarantine, but I just wanted to highlight a few of the ones I've seen that I've gotten drawn into. Do you have someone you think should have been included here? Let us know in the comments!