Coming out of awards season, True History of the Kelly Gang is the first of George MacKay's movies after his spectacular performance in the Oscar-nominated 1917. The film is a biographical western directed by Justin Kurzel, from a screenplay by Shaun Grant. It's based upon the Booker Prize-winning novel of the same name by Peter Carey.
The movie also boasts Essie Davis, Nicholas Hoult, Charlie Hunnam, and Russell Crowe as part of its stellar cast. It had its world premiere at the Toronto International Film Festival in September 2019, and IFC Films has made the movie available to view on-demand starting April 24.
RELATED: CAPONE TRAILER SPOTLIGHTS MENACING TOM HARDY AS THE NOTORIOUS GANGSTER
Australian depicts Ned Kelly in a similar vein to characters like Robin Hood or Jesse James, and he his life has been adapted many times on the big screen. Starting with the 1906 silent film The Story of the Kelly Gang, and followed by Mick Jagger's accidentally funny Ned Kelly in 1970, and the pairing of purposely comedic Ned, and Heath Ledger's respectfully serious Ned Kelly in 2003.
Now comes a trippy and gritty one by Justin Kurzel (Snowtown, Macbeth). He did not have to do much to top those but he gives us the most fanciful version yet.
The Not-So True History of the Kelly Gang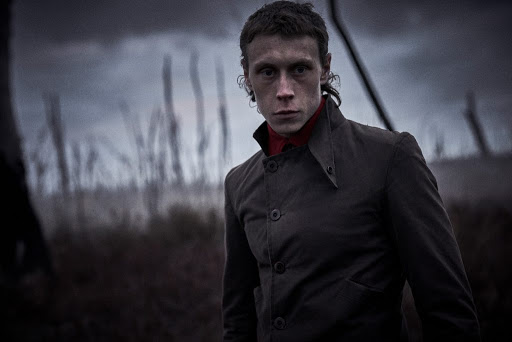 The life of the nineteenth-century Australian bushranger and criminal Ned Kelly has been injected with a loud and aggressive spiritedness. This story is such a fabrication of the known facts concerning the story that the film begins with the statement "Nothing you are about to see is true." This is intended to subvert the expectations implied in the title, but it also inadvertently undermines the narration.
Kurzel didn't just depict the lore of Kelly gang, he also showed the horrors Ned Kelly faced growing up that resulted in the ironclad legend we know him as: a folk hero to some and a murderous crook to others. The story begins in 1867, with 13-year-old Ned (Orlando Schwerdt, who gave a wonderful performance). As a child, he's both nurtured and poisoned by his mother Ellen Kelly (Essie Davis) and her deep well of resentment. His appalling mother harps on his masculinity, wanting him to grow up to be brave but full of mistrust.
Ellen will do anything to provide her family, even be exploited for sex by Sergeant O'Neil (Charlie Hunnam) so he won't shut down her meager shebeen. The Kelly family used to live in a shack far from other people in a desolate plain of dead trees, and Ned's father (Ben Corbett) was an Irish convict who died shortly after being imprisoned by Sergeant O'Neil because of Ned's mistake.
After his father's passing, Ned becomes the eldest male of the family until Harry Power (Russell Crowe) comes into their life. Ned sees Harry as a father figure, but the reality is his mother sells him off to Harry Power for 15 pounds. Ned does not realize what kind of apprentice until he sees Harry kill two men in cold blood. Harry Power is a notorious bushranger who introduces him to the criminal lifestyle and tries to lure him into kill the sergeant. Ned defies Harry's cruelty, though he ends up in jail.
When he emerges, he's a young man filled with righteous anger. He returns home to a new stepfather and his family in chaos. Older Kelly has gone full 1870s punk rock style, yet his rebellion is a reluctant one. He's hesitant to enact revenge against the sergeant who exploited his mother for sex and is easily seduced – in more ways than one – into the louche and elegant world of Constable Fitzpatrick (Nicholas Hoult).
Fitzpatrick treats Ned like a sexual brother-in-arms, goading him to taste excess at a well-appointed country brothel. Ned finds the love of his life, Mary Hearn (Thomasin McKenzie), who has already had a child at a young age. Hoult gives us a sneering upper-class Englishman as Fitzpatrick, the man whose naked lust for Ned's sister Kate (Josephine Blazier) causes trouble. Fitzpatrick promises Ned to free his young brother Dan Kelly (Earl Cave), but instead imprisons his mother for a two years.
Ned Kelly forms a cult of bushrangers with his brother and best friend Joe Byrne (Sean Keenan), soon recruiting many followers. They wear women's dressing gowns as a means of inspiring fear in their enemies. As his brother puts it, " If you wear a frock to a fight, they think you're crazy. And nothing scares a man like crazy." They kill policemen and start riots banks, eventually capturing Constable Fitzpatrick himself.
Anyone who knows the true history of the Kelly Gang knows this will eventually backfire. Kelly himself believes a man can never outrun his fate nor the crimes of his past, and that inevitable truth casts a profound sense of tragedy through the film.
Ups And Downs In True History of the Kelly Gang
The most interesting thing about the movie is the whole story is narrated by Ned Kelly, because Harry taught him that "Every man should be the author of his own history." The movie begins with Ned writing a letter to his unborn child and ends with him reading his story, which is so poetic. The movie also splits into three chapters, to mark the slow shedding of his humanity: "Boy", "Man", and "Monitor" – the latter a term for a kind of fortified warship, as a nod to the real Kelly's famous suit of bulletproof armor.
True History of the Kelly Gang shows the gruesomeness of an outlaw and a police murderer very well, but fails to capture the depth of the characters. George MacKay makes a terrifying and charismatic Ned Kelly, though, delivering an unhinged performance with his physical features and acting chops. He gives his 100% performance as Ned and proves just how a good actor he is.
Other standout performances include The Babadook's Essie Davis, who fiercely represents how Ned's mother turned him into the savage he supposedly was. Charlie Hunnam's role is small one but fun to watch. Russell Crowe's Harry stole the show despite his meager screen time, bringing energy and a blood-soaked western feel to his bushranger character. Nicholas Hoult does put his effort to elevate his shallow character, and he succeeds. Thomasin McKenzie, who shined in Jojo Rabbit, did not get much to do here. She has very little screen time and even less dialogue but delivers a nice performance.
Both Hoult and McKenzie need to more powerful roles, because they've proved that they can deliver great performances in their recent films. One excellent scene that stood out involved Fitzpatrick interrogating Mary on Ned's whereabouts while holding her baby at gunpoint. Both female characters in the movie are shown constantly being abused by male characters, which is contextually accurate but objectionable when they are given no other role while the men in question grimace ominously.
Kurzel is a master of slow-brewing tensions. After taking a dip into the mainstream with Assassin's Creed, he returns to what he does best. This movie feels pretty close to his Macbeth with its slow-paced, impressionistic approach. Unlike previous adaptations of this character, Kurzel adapts Carey's novel while adding fictionalized dramatization of events – like giving the Kelly boys a hand-picked wardrobe.
But unlike his previous brilliant movies, there is little character depth in this. The lack of a bond between the Kelly Gang members is especially noticeable. When Ned loses his brother and friends, we can not sympathize with Ned because of the lack of character depth audience can not connect with the emotion of the scene.
By neglecting plot and dramatic build-up, he fails to tell a convincing story and only focuses brutality of the times and the kind of person Ned is. The feral state of Kelly is represented very well, but after MacKay shows up in the story the movie loses its grip in the narration – despite only entering its groove after Crowe's arrival.
The cinematography by Ari Wegner was perfect for the story. The use of scenery and lighting is good, especially in the scenes that took place around Kelly's house, which are artistically exaggerated. Work from both costume designer Alice Babidge and production designer Karen Murphy is particularly significant. The score was not that mesmerizing, but it worked fine for the story. The dialogues was really strong, particularly Kelly's poetic story narration.
The movie has such potential, but the story felt rushed. It is a good thing that Kurzel wanted to focus on the origin story, but the later portions leave many things unexplored. The last quarter of the movie does not explain why some things are happening, while also testing the viewer's patience. True History of the Kelly Gang is a mixed bag, which some may find very entertaining and some may find boring.
Is this movie worth a watch on April 24? People who generally enjoy movies based on a true story will find True History of the Kelly Gang very intriguing. George MacKay is a rising actor in Hollywood, and his fans should not miss his performance in this.
Are you interested in seeing True History of the Kelly Gang when it comes to VOD? Do you like gritty movies based on true events?Let us know in the comments below.