The newest season of The Clone Wars is rapidly catching up to the galaxy changing events of Star Wars: Revenge of the Sith. With only a couple of episodes left to run, fans of the Disney Plus series are eager to know what happens prior to Order 66. Episode 10 certainly did not disappoint, and we were even treated to an appearance from the villain of Solo: A Star Wars story.
The Impact of The Clone Wars on the events of Solo
The Clone Wars is hurtling along at breakneck speed towards the inevitable season finale and fans are excited. Perhaps, nothing has revved up the base more than the surprise appearance of Dryden Vos.
The face of Crimson Dawn, Dryden Vos ran the crime syndicate during The Clone Wars, as well as the subsequent reign of the Galactic Empire. In Solo Vos, played by Paul Bettany, meets Han Solo after a disastrous Coaxium heist. His appearance in The Clone Wars ties the events within Solo nicely into the canonical timeline of a galaxy far, far away.
RELATED: STAR WARS THEORIES DEBUNKED: SITH ESSENCE TRANSFER AND CLONE PALPATINE
I'm not sure about you, but we love seeing characters from across the extended universe popping up in other iterations of the popular saga. (Also, we can't wait to see if the rumours about Ahsoka appearing in The Mandalorian Season 2 are true!)
Meeting of The Shadow Collective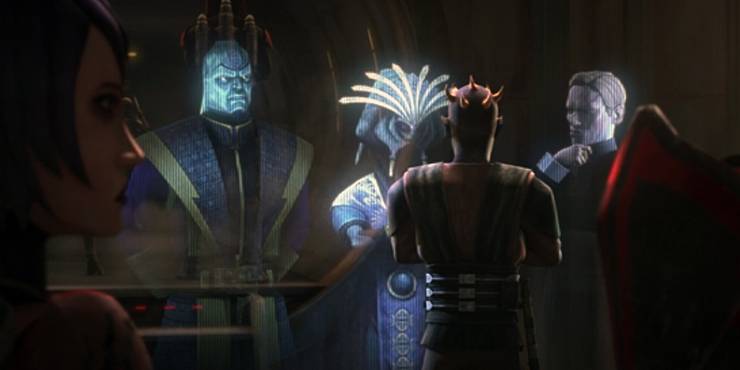 As the final season races towards it epic conclusion, Darth Sidious is set to become Emperor and ruler of the entire galaxy. The episode "The Phantom Apprentice," sees The Shadow Collective meeting with Darth Maul. ComicBookMovie.com and fans were excited to see none other than Solo's Dryden Vos, joined by Ziton Moj and Marg Krim, as leaders of the Black Sun collective and Pykes respectively. Maul suggests that the Syndicate leaders go into hiding as he prepares for battle against the Republic Forces. The nod towards characters from the extended universe such as Sons of Dathomir and Solo, are a nice addition to the series.
RELATED: PROJECT LUMINOUS REVEALED AND DETAILS ABOUT STAR WARS: THE HIGH REPUBLIC UNCOVERED
So not only were lucky fans treated to a glimpse of Kanan Jarrus (back when he was Padawan Caleb Dume) in last week's episode, but this week they are treated to new characters and a cameo within the Shadow Collective.
Will there be more surprise appearances in the penultimate episodes? We can't wait to find out as events head towards the deplorable conclusion of Order 66 and the rise of the Empire. What do you think of the new connections with The Clone Wars? Let us know in the comment section or on our social media.