Chris Hemsworth's Netflix action movie Extraction gained much attention from the audience for its top-shelf action scenes. It is proving to be quite popular among viewers. The film's writer, Joe Russo, has closed a deal with Netflix to write another installment for this new franchise.
Hemsworth reunited with the Russo brothers for this war thriller, which is directed by stuntman-turned-director Sam Hargrave. Extraction marked a good first in the directorial department for Hargrave. Despite getting mixed reviews, it still managed to deliver an entertaining movie. With people around the world sheltering in place because of the Coronavirus pandemic, they're watching the movie in droves.
The film was a massive hit for Netflix, earning Netflix's biggest opening day audience. According to Netflix, the movie is on track to become the most-watched original feature on the streaming service, who are projecting it will be watched by 90 million households within its first four weeks of release.
RELATED: READ OUR REVIEW OF THE FILM
Extraction eclipsed other Netflix originals Spenser Confidential (85 million), 6 Underground (83 million), Bird Box (80 million), and the Adam Sandler-Jennifer Aniston comedy Murder Mystery (73 million). Of course, the Netflix metric changed so Extraction, Spenser Confidential, and 6 Underground got views counted if homes watched for two minutes or more. The others were based on views of 70% or more.
"We can't thank everyone enough for all the incredible love and support for #Extraction! We truly have the best fans in the world," the Russos wrote on Twitter. They also shared the following:
"Tyler Rake is kicking ass. EXTRACTION is well on its way to becoming the biggest-ever film premiere on Netflix – with a projected 90 million households getting in on the action in the first 4 weeks. Thanks to everyone who watched so far!"
Deadline reports that Netflix has closed a deal with Joe Russo to return to write Extraction 2. AGBO, the company run by Joe and Anthony Russo, is putting the pieces together and are optimistic that Sam Hargrave will return in the director's chair and that Chris Hemsworth will reprise his role as mercenary Tyler Rake.
A deal has not been finalized for Hemsworth or Hargrave just yet, with the trade noting that their deals will not be put into place until the script is completed. Hemsworth himself previously talked about film's popularity and the outcry for a follow-up on Instagram:
"It's been a lot of talk and questions about sequels and prequels and all sorts of things and all I can say is 'Who knows?' but with this kind of support, it's something I'd be pretty stoked to jump back into."
"The deal is closed for me to write Extraction 2, and we are in the formative stages of what the story can be," Russo told Deadline. "We're not committing yet to whether that story goes forward, or backward in time. We left a big loose ending that leaves question marks for the audience."
Will Extraction 2 Be a Sequel or Prequel?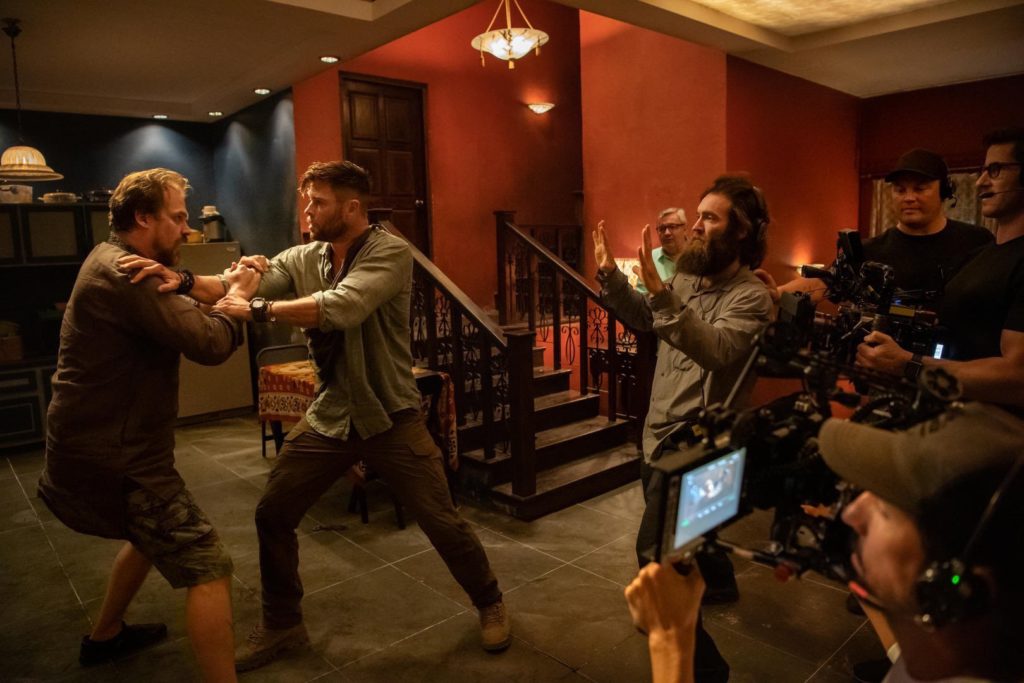 The movie was left with an ambiguous ending that has the Internet talking. The final shot of the film left one character's fate up in the air, the possibility for Hemsworth's Tyler Rake to return, though Russo and Hargrave have both toyed with the idea of making the next installment a prequel rather than a sequel.
In an interview with Collider, Hargrave revealed that he was interested in exploring an Extraction prequel where David Harbour and Hemsworth's characters team up. "There's a lot of potential; it's so interesting. And again, the beauty of an ambiguous ending is that there's a lot of ways you can go. You can go forwards or backwards. Either way, you look on the timeline are very interesting stories."
Russo was pretty vague on whether he was leaning toward a sequel or a prequel. A prequel story with Hemsworth or Harbour will be fun or even a story with Tyler and Golshifteh Farahani's Nik character will be great. We only got a little about the background story of most of the characters. Even though Nik's character looked cool, she didn't get much action to do. Story based on those two characters will also be great.
So a prequel focusing on some undeveloped characters past is one route and they also have another route for continuing the story with moving the story forward to the next mission with a new supporting cast. Whichever route will the Russo pick will be interesting to see.
Whatever the story might be, it must take place in yet another country featuring new locations and fresh talents of that country. Joe Russo shared that the international locations in Extraction played a huge part in the world-building of the film, thus, they will be looking into that aspect furthermore. Joe said that he wishes to tell a story that does not feel completely based in the USA and giving the audience an experience of an international location in the comforts of their home. Joe Russo also expressed how the experience of working on Marvel films, which consist of multiple locations, actually helped while producing Extraction.
The director previously said that he is ready to take the character and the Extraction film franchise in any exciting direction possible. Sam Hargrave can solidify his directing skills even more with this sequel and hopefully get a big theatrical feature film in the near future.
Have you seen Extraction on Netflix yet? Are you excited to get Extraction 2? Which story would most excited you: a sequel or prequel? Let us know in the comments below.