Captain Marvel 2, one of the movies in development under Marvel slate of new projects, is rumored to have director Michelle MacLaren at its helm.
Last month, the updated release dates of MCU's Phase 4 made it clear that the untitled Captain Marvel sequel would be slated for a July 2022 release. Now it seems that Michelle MacLaren is being eyed to direct the sequel, after the departure of the predecessor's team.
RELATED: CAPTAIN MARVEL 2 OFFICIALLY IN THE WORKS; ORIGINAL DIRECTORS CONFIRMED NOT TO RETURN
It was already announced last year at SDCC that Captain Marvel 2 was in the works, but no further details regarding the movie were revealed. It was only a matter of time, however, before the studio began developing the sequel after the first film grossed $1.12 billion worldwide.
Michelle MacLaren: A Super Woman For The MCU?
As Marvel Studios adapted to the pandemic, they announced an updated release schedule for their upcoming movies, including an untitled Captain Marvel 2 which was scheduled to premiere on July 8, 2022. Being two years out from its release date, now would be the time to figure out who will be writing and who should be the director before beginning pre-production on the film.
It has been clear for some time that original directors Anna Boden and Ryan Fleck were not returning to direct the sequel, although it has been suggested that they are still in talks with Marvel Studios to perhaps direct upcoming projects for Disney+. However, the studio was looking for a (solo) female director to helm the sequel. According to The Direct, Michelle MacLaren might be on Marvel's radar for the gig. Though to be fair, they mentioned that 'she's just one name in the mix'.
Michelle MacLaren is an established TV series director and executive producer. She is known for directing episodes of award-winning television shows such as Breaking Bad, Game of Thrones, The Walking Dead, and Westworld. It completely makes sense that the two-time Primetime Emmy Award winner would be a shortlist contender for directing this movie.
MacLaren has only directed one feature-length film in her career. While she was initially set to helm Warner Bros.' Wonder Woman, she dropped out due to creative differences. There's been steady interest from several studios to lock her into a comic book project. She was attached to direct an adaptation of Image Comics' Cowboy Ninja Viking for Universal, which had Chris Pratt and Priyanka Chopra set to star before being put on indefinite hold back in 2018.
The director was also rumored to be on Marvel's shortlist to helm Guardians of the Galaxy Vol. 3 before Marvel brought back James Gunn. Also, an earlier source from February revealed that Sony Pictures wanted MacLaren for its Spider-Woman movie.
It seems as if the comic book film industry is a definite fan of Michelle MacLaren's talents, and thus the idea that Marvel is throwing her name around as a possibility for Captain Marvel 2 is no surprise.
Carol Danvers' Story Stays On Track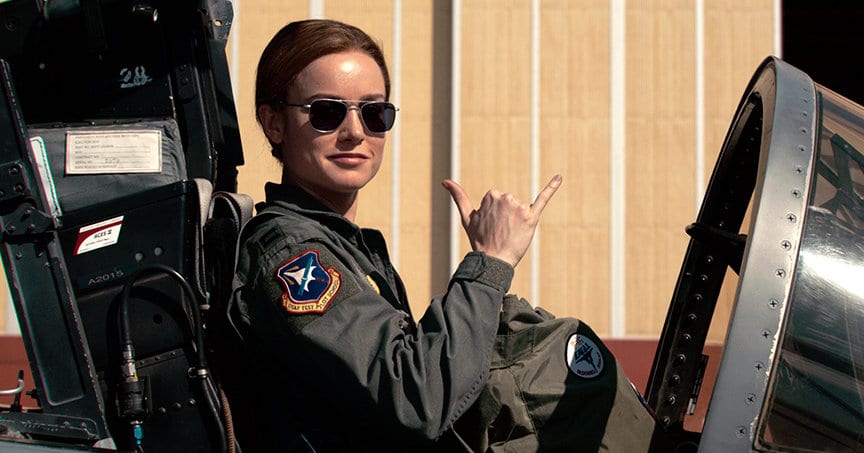 WandaVision rising scribe Megan McDonnell is attached to pen the script for the project, as it seems both Disney and Marvel Studios are very impressed with the work McDonnell has produced with her Disney+ series. It was stated back in January that McDonnell is in final negotiations to seal her deal.
Brie Larson will be back to embark on a new adventure as the Cosmic Avenger, but not much is known about the plot of the movie or when the movie will be set on the current MCU timeline. Captain Marvel takes place in 1995, so it is possible that the sequel showcases the aftermath of the first one – or it could start a new story taking place after Endgame. A new rumor seems to point to it taking place in the present day of the current MCU timeline.
Last month, it was suggested that the Captain Marvel sequel would directly lead to a 'New Avengers' movie the way that Civil War set up the status quo in Infinity War. Whoever winds up directing the sequel could also go onto helm the New Avengers movie, in that case.
In the current MCU timeline, there is no clear indication that there is an active Avengers team protecting the planet. Marvel Studios president Kevin Feige previously confirmed that Captain Marvel will lead the MCU moving forward, and what better way than to show that than to have Carol Danvers leading the next team of Avengers?
Captain Marvel already had a fair share of experience dealing with cosmic-level threats, which can come in handy whenever the team faces their next villain. So far in MCU, Carol Danvers hasn't showcased any leadership qualities, but this could present an opportunity for Captain Marvel 2 and New Avengers to focus on her development as a team player.
There has been no confirmation regarding the story of Captain Marvel 2 leading to the next Avengers movie, and there is no deal locked regarding the director yet. But we have no problem believing in Michelle MacLaren's potential, or admitting that her caliber as a director would place her high on Marvel's list for any number of projects.
As all of this makes it seem like Captain Marvel 2 will be an important film for the future of MCU. Unfortunately, fans will not only have to wait a little longer for this sequel, but also have to wait for some time to see any MCU movie in theaters.
What do you guys think about this news? What do you feel about the possibility of the New Avengers being set up in Captain Marvel 2?  Let us know your thoughts and theories in the comments below.