There are plenty of July movies are coming to streaming platforms and video on demand this month that we should not miss. This month offers loads of movies belonging to a wide plethora of genres. That includes action flicks, tense war dramas, romantic comedies, horror thrillers, and also different combinations of genres like sci-fi mixed with comedy, horror mixed with war.
Netflix is known for releasing a lot of content each month and July is looking as heavy as it normally does. Some of them include the Netflix original movies, such as: Desperados, a comedy, The Old Guard, a comic book based action film; Kissing Booth 2 a teen romantic comedy; The Hater, a thriller drama; and also a few other new movies.
The Disney+ original musical drama, Hamilton; Amazon's biographical drama, Radioactive; Apple TV+ original war action, Grey Hound; and Hulu's sci-fi comedy, Palm Springs are also coming this month.
Many films have been released digitally for the audience to view on-demand in the last three months. This trend continues July movies, with The Outpost a war drama; Relic a horror flick; Ghosts of War a horror-war thriller; A Nice Girl Like You a romantic comedy; Yes, God, Yes a coming-of-age drama; Summerland a period drama soon becoming available for VOD. Most of the VOD releases are also opening in drive-ins before, or simultaneously, launching on digital platforms in the USA.
RELATED: TENET AND MULAN VACATE JULY AND SCHEDULE AUGUST RELEASES
July is supposed to be the month that major blockbuster movies return to the theaters, but it's simply not happening considering the global pandemic situation. Planned July movies like Nolan's Tenet, Disney's Mulan hoped to make its premiere, but instead got pushed back to next month. One movie which also got pushed is Unhinged a thriller film. The movie is currently scheduled to be released in the United States at the end of July. Hopefully, Unhinged will make its release and see the return of the audience at some capacity.
Check out the synopses and release dates for each of these July movies below.
July Movies To Watch Out For
---
The Outpost
The Outpost is a war drama directed by Rod Lurie, based on a 2012 non-fiction book, The Outpost: An Untold Story of American Valor by Jake Tapper, about the Battle of Kamdesh. The screenplay is by Paul Tamasy and Eric Johnson, the writers of The Fighter.
It stars Orlando Bloom (Pirates of Caribbean), Scott Eastwood (Pacific Rim: Uprising), Caleb Landry Jones (Get Out), Milo Gibson (Hacksaw Ridge), Cory Hardrict (American Sniper), Taylor John Smith (Cruel Intentions), Celina Sinden (Reign) and Jack Kesy (12 Strong).
The film tells the story of the 53 U.S. soldiers who battled a force of some 400 enemy insurgents in north-eastern Afghanistan, during Operation Enduring Freedom. Originally built to engage the locals in community development projects, Combat Outpost Keating — located at the bottom of three steep mountains just 14 miles from the Pakistani border — faced a constant threat of being attacked by the Taliban, putting the U.S. soldiers stationed there at significant risk.
The Battle of Kamdesh, as it was known, was the bloodiest American engagement of the Afghan war in 2009 and Bravo Troop 3-61 CAV became one of the most decorated units of the 19-year conflict. The Outpost was initially scheduled to premiere at the South by Southwest Film Festival. However, the festival was canceled due to the pandemic and now the movie is making its way to be released via video on demand. The R-rated war movie is getting rave reviews so far making this a must-watch action movie.
The Outpost will be released on VOD on July 3, 2020.
---
Hamilton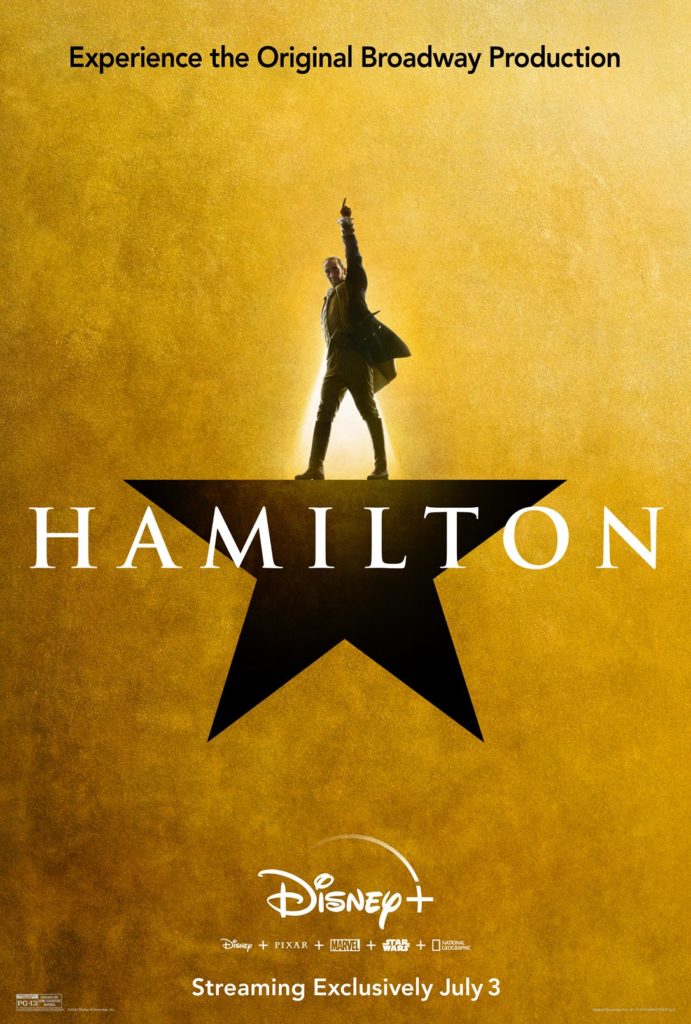 Hamilton is a musical drama created by Lin-Manuel Miranda which is inspired by the 2004 biography, Alexander Hamilton, by historian Ron Chernow. It tells the story of American Founding Father Alexander Hamilton. The Broadway show was a smash hit and won multiple Tony awards and Pulitzer Prize. Getting hands on tickets became a near-impossible feat. This famous Broadway musical sensation is now transformed into a movie.
The film is a live stage production recording of Miranda's Broadway musical edited together from three shows performed in 2016, which features the original principal Broadway cast. The movie version of this unforgettable cinematic stage experience is directed by Thomas Kail and co-produced by Miranda. It stars Miranda in the titular role of Treasury Secretary and Founding Father Alexander Hamilton.
Related: HAMILTON FORGOES 2021 THEATRICAL RELEASE TO BLAST ONTO DISNEY PLUS THIS JULY
Divided into two acts, the musical film accounts the life of Hamilton, an immigrant of the Caribbean island of Nevis, whose life is impacted upon his arrival to New York City in 1776, from becoming General George Washington's (Christopher Jackson) aide-de-camp to meeting his future wife Eliza (Phillipa Soo), later on in life became the founding Secretary of Treasury of the United States, leading to his death in a duel with Aaron Burr (Leslie Odom Jr).
Disney bought the worldwide rights for the film in February. Hamilton was originally intended to be released theatrically on October 15, 2021 by Disney, but was canceled in response to the pandemic. Instead, it's set to be released worldwide on Disney+. Hamilton is going to combine the best elements of live theater, film, and streaming, to bring the cultural phenomenon to homes around the world for a thrilling, once-in-a-lifetime experience.
Hamilton will be available to stream on Disney+ on July 3, 2020.