Director James Cameron has refused to let the current coronavirus pandemic get in the way of his vision for the expanding universe of Avatar in the still untitled, Avatar 2. While other films are being shuffled back and forth around the release date calendar, Cameron's upcoming Avatar 2 is still set for a December 2021 release, and he and his team appear to have been hard at work on the film all through quarantine. (Primarily because Avatar 2 is being filmed mostly in New Zealand, a nation that has managed to stay almost entirely coronavirus-free, Cameron will soon be able to return to set for further filming.)
Fans of the franchise have already been waiting more than a decade for this sequel. Recently, Cameron has given us some further tidbits of information about the film to tide us over and get us all excited for the next installment in his spectacular sci-fi series.
In an interview with The Toronto Sun, Cameron talked about the challenges of filming all of the upcoming Avatar sequels simultaneously, as well as the payoff. In his words:
"I deal with images in that world every single day, and there are some days when I look at those images and say "This is really amazing". I'm not patting myself on the back with that comment." He added that: "It's a distillation of some of the best designers in the world and a great cast. But if you've got the script right and the design right and you've got a great cast, then it's just an iterative process to get the whole thing shot and assembled."
WHAT WILL BE SO AMAZING ABOUT AVATAR 2?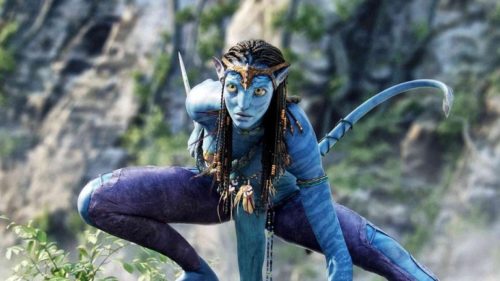 Cameron's humility is appreciated, but we've heard for months now that Avatar 2 is possibly going to be an even bigger, grander event than the first film. Could it similarly surpass the first film's massive box-office gross? Time will tell.
Much like the original, Avatar 2 will show off groundbreaking new technology, as well as beautiful landscapes on the tranquil planet of Pandora. Back in May, we learned that much of the film will follow the family of Sam Worthington's Jake and Zoe Saldana's Neytiri, as they embark on an epic road trip around Pandora, stopping in several new locations along the way, many of which will be underwater.
RELATED: NEW AVATAR 2 STORY DETAILS REVEAL FAMILY AND WATER-BASED ADVENTURE IN SEQUELS
There is good reason to believe that the underwater sequences will be the highlight of the sequel. The first film was criticized for its weak characters and story. However, few could find fault in the level of detail and attention that went into crafting Pandora's breathtaking CGI scenery and motion-capture creatures. There will almost certainly be plenty of aquatic vistas and deep sea-dwelling monsters to marvel at in the sequel.
But the story of Pandora won't end with Avatar 2. The franchise is expected to continue on for some time, with Cameron himself already working on the third and fourth films in the series. It's hard to say where the story will head next until we've seen the upcoming sequel. Presumably we'll continue to follow the Sully family as they fight to save Pandora from those who would plunder its natural riches. With the sequel heading underwater, there's a possibility the story will address topics very near to Cameron's own heart, such as the pollution of our own planet's oceans, and that each new film in the series will tackle more environmental issues.
What do you think of Cameron's comments? Do you think Avatar 2 will be as amazing as he claims, and what are you most excited to see from the sequel? Leave your thoughts in the comments below.
KEEP READING: NEW PHOTO OF MAJESTIC AVATAR 2 SET AS PRODUCTION TO IGNITE AGAIN THIS WEEK