Robert Stone and the Robert Stone Brand have picked up a destroyer by the name of Mercedes Martinez this week on NXT.
Stone has been trying to expand his brand without much luck, but he has been increasing brand awareness.  However, it has not always been in the most positive of ways.  
RELATED: KAIRI SANE'S RAW MATCH WILL REPORTEDLY BE HER LAST IN WWE
Stone's brand started with the very talented wrestler Chelsea Green and was his first big name. However, that didn't last very long and Stone was fired. He took his brand and decided to focus his efforts on the spunky Aliyah. Aliyah has been working hard to prove she is worthy of Stone's services.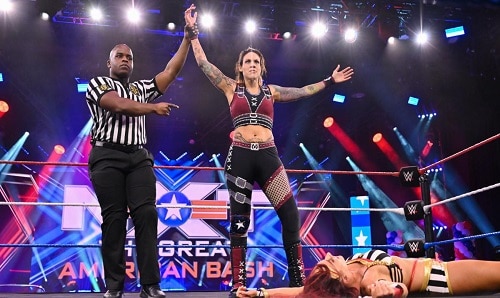 Robert Stone Needs To Expand: Is Mercedes Martinez The Way?
After a while Stone needed to add to his ranks. He began approaching Rhea Ripley to offer her his services.  Ripley for some reason declined his generous offer.  This eventually led to a match with Ripley vs Stone and Aliyah.
Not to be made to look like a fool Stone moved on and tried to offer his services to Shotzi Blackheart. Instead of accepting like a smart and sane person Blackheart viciously attacked Stone. Blackheart ran over his foot with a tank. I haven't seen the medical reports because of HIPPA laws and such, but his foot is most likely just bone dust in foot skin.
RELATED: THE GOLDEN ROLE MODELS ISSUE A CHALLENGE FOR A SUMMERSLAM DREAM MATCH
Luckily for Stone, Aliyah was there for him and attempted to defend his honor in a match against Blackheart. Blackheart came up victorious in the match, but rather than being a humble winner she attacked Aliyah and Stone. Blackheart took her tank and ran over Stone's foot yet again breaking any bones which somehow remained intact. However, Blackheart continued her rampage and wouldn't be stopped until her blood lust was satisfied.
A Tattooed Savior Enters The Fight
Luckily for Stone and Aliyah before Blackheart could run them over and kill or at the very least seriously injure them both Martinez showed up and saved them like the tattooed guardian angel she is.
While trying to recover from the near death experience Stone and Aliyah just went through, Mercedes Martinez came to make Stone an offer.  She would let Stone be her representative if he would take care of the following items.  Someone who can handle the big matches, look over the contracts and handle the crap she doesn't care about.  She basically needs someone to take care of all the boring stuff outside of the ring so she can focus on her true passion of hurting people inside the ring.
KEEP READING: GALLOWS AND ANDERSON BLAME PAUL HEYMAN FOR BEING RELEASED FROM WWE
Do you think Mercedes Martinez is the piece to the puzzle Stone needs to get the respect his brand deserves?  Is there another wrestler you would like to see join the Robert Stone Brand?  Drop some comments below and let us know your thoughts.
Source: ProWrestling