Luke Gallows and Karl Anderson blame Paul Heyman and accuse him of being untrustworthy and a liar.
In mid-April a lot of WWE Superstars and backstage personnel were released because of budget cuts because of Covid. Some of the names released were expected and others were surprising. Gallows and Anderson being released were definitely one of the more surprising names. They were just part of a very well regarded Boneyard Match at WrestleMania.
RELATED: AJ STYLES "DEVASTATED" BY THE RELEASE OF LUKE GALLOWS AND KARL ANDERSON
Ryan Satin of ProWrestlingSheet was a guest on their show Talk'N Shop and asked the pair about their WWE release. The pair put the blame straight on now former Executive Director of Raw Paul Heyman.
Gallows And Anderson's Interactions With Paul Heyman
AJ Styles recently called Paul Heyman a bold-faced liar and Gallows and Anderson echoed those remarkd and go into their past interactions with Heyman.
Gallows and Anderson had a problem with how an aspect of how creative was using them and were told Heyman would be contacting them.
Anderson had a conversation with Heyman and when the interaction was over he felt like he had a great talk with him and that Heyman was a fan of his. While Gallows had a conversation with Heyman once in which he was told to call him out if he ever lied to him.
"If I [Paul Heyman] ever lie to you, go on social media and f*cking bury me. F*cking put me under the dirt cause I f*cking deserve it and I want those guys in the locker room to know that I can't f*cking be trusted," Heyman once told Gallows.
The pair were shocked by their release and started asking around to see if they could get any more information on their release. In July 2019 they turned down an offer from AEW and seemed to have a good relationship with Heyman.
Send For Detective AJ Styles
However, they received some unexpected news about their release. They were told from someone behind the scenes at WWE that Heyman pushed for their release. Styles was told of this and confirmed it with another person. He then decided to confront Paul Heyman with this information. Heyman denied it and told Styles that his information was false. Gallows and Anderson checked back with their guy and assured them that Heyman wasn't being truthful.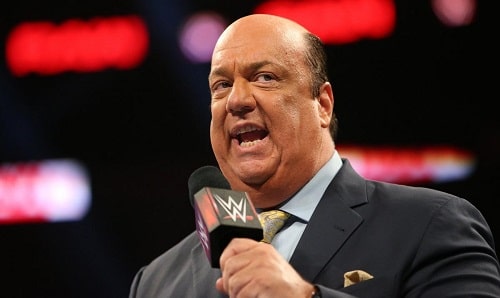 RELATED: KAIRI SANE'S RAW MATCH WILL REPORTEDLY BE HER LAST IN WWE
Detective Styles decided to go straight to the top and asked Vince about it. Vince said Gallows and Anderson were not on his list and said it "was a Heyman thing." Gallows elaborated and said, "Apparently he thought we were making too much money for what we were doing." They both know at the end of the day it was Vince's decision and he could have stopped their release if he wanted to. Not all the blame falls on Heyman, because other high ranking people could have spoken up.
"I think [Styles] felt a little guilty. I think Allen [Styles] felt like it all fell on his shoulders and that's why he publicly spoke about Paul [Heyman] a couple of times, and all that. Because, in his mind, he's like 'F*ck, I told these guys to stay and go against, not just our friends, but his other friends too. Not go against them. But, like, 'Hey, stay here with me. There's gonna be a lot of money on the table. Things are going to be great for us.' Then the bottom falls out for us and he's like, 'that couldn't have went worse,'" Gallows said.
Styles Hates Liars
After finding out Paul Heyman lied and was responsible for Gallows and Anderson's release Styles asked to be moved to SmackDown. At the time the Executive Director of SmackDown was Bruce Prichard. Prichard is now the head of both Raw and SmackDown. Heyman was relieved of his position and is now only an on-air talent. The official reason for Heyman's release was due to WWE consolidating creative teams and it's not clear if this news reached the Superstars and pushed for Heyman to be replaced.
"I have permission to speak freely on this and he said f*cking bury Paul [Heyman] and tell the truth about it. That's why he [Styles] said he couldn't work with him and that he had to be moved, because Paul's a f*cking liar. It doesn't matter that he lied to us. For his friends, yes … but, probably career-wise, he can't trust the guy either if you're AJ still in that spot and you don't want to work with a guy that you know is a f*cking liar," Gallows said.
Gallows and Anderson have signed a contract with Impact Wrestling and go by The Good Brothers. If you want to watch the full Talk'N Shop the video is below.
KEEP READING: SIGNS POINT TO EC3'S IMPACT RETURN SOON
Source: ProWrestlingSheet