WWE is set to turn the Amway Center into the ThunderDome in anticipation of SummerSlam weekend.
The COVID non-sense has made the entire world scramble and wrestling is not exempt from it. However, WWE has decided to take a new approach and a new opportunity to use state-of-the-art technology.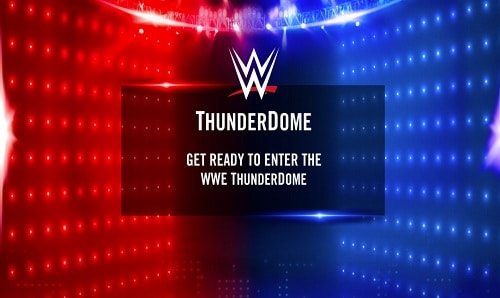 RELATED: GOLDBERG REVEALS HE'S SIGNED WITH WWE FOR ANOTHER 2 YEARS
"'WWE has a long history of producing the greatest live spectacles in sports and entertainment, yet nothing compares to what we are creating with WWE ThunderDome,' said Kevin Dunn, WWE Executive Vice President, Television Production. 'This structure will enable us to deliver an immersive atmosphere and generate more excitement amongst the millions of fans watching our programming around the world.'

With the debut of WWE ThunderDome, WWE will take residency at Amway Center in Orlando and virtually bring fans into the arena via live video on massive LED boards, in conjunction with The Famous Group and its proprietary technology, for every Monday Night Raw, Friday Night SmackDown and WWE pay-per-view event. Starting tonight, fans can register for their virtual seat to be part of upcoming shows via www.WWEThunderDome.com or at WWE's Facebook, Instagram or Twitter pages.

'As WWE takes residency at the world-class Amway Center, we have reimagined our live event experience for today's environment,' said Brian Flinn, WWE Chief Marketing & Communications Officer. 'In partnership with The Famous Group, we will virtually bring our fans back into the show and recreate the interactive in-arena atmosphere that has been a staple of WWE events for decades.'

WWE Event Schedule for August:

Friday, August 21 – Friday Night SmackDown, Amway Center, 8 pm ET on FOX
Saturday, August 22 – NXT TakeOver XXX, Full Sail Live, 7 pm ET on WWE Network
Sunday, August 23 – SummerSlam, Amway Center, 7 pm ET on WWE Network
Monday, August 24 – Monday Night Raw, Amway Center, 8 pm ET on USA Network
Wednesday, August 26 – NXT, Full Sail Live, 8 pm ET on USA Network
Friday, August 28 – Friday Night SmackDown, Amway Center, 8 pm ET on FOX
Sunday, August 30 – Payback, Amway Center, 7 pm ET on WWE Network
Monday, August 31 – Monday Night Raw, Amway Center, 8 pm ET on USA Network

WWE's Amway Center residency will continue for the foreseeable future and Raw, SmackDown and pay-per-view programming will be produced on closed sets with only essential personnel in attendance. WWE will continue to administer its health and safety protocols for talent, crew and employees in conjunction with each production, including PCR testing for COVID-19, social distancing and wearing masks."
A Way To Bring The Fans Back In
Part of WWE PPV weekends, especially the big four PPV's (WrestleMania, SummerSlam, Survivor Series and Royal Rumble), is the fan experience prior to the PPV. It allows fans to meet WWE Superstars and take part in other experiences WWE provides for the event. The ThunderDome event will give access to a lot of the same things, but so much more because of the behind-the-scenes access it can provide.  
RELATED: VINCE MCMAHON QUESTIONS THE LONGEVITY OF ALEISTER BLACK'S CHARACTER
In case you were wondering what the Famous Group is, they are a visual graphics company. You know when some of the Superstars come out and a big augmented reality thing comes on the screen like Brock Lesnar's skull? The Famous Group does that graphic.
Amway Center Will Bring Back The Scale Of WWE
The move of Raw, SmackDown and PPVs back to large arenas adds back the scale of WWE which has been missing. The crowd will still be missing to a certain extent. WWE has been using NXT and/or other behind-the-scenes talent to fill in the crowd. I would imagine this would continue in this new arena. It should be noted that NXT and the upcoming NXT TakeOver will still be held at the NXT Full Sail arena.
This will also space people out and allow for much easier social distancing. It will also take the NXT roster to remove them from contacting Raw and SmackDown Superstars.This will eliminate a NXT wrestler or staff member infecting a Raw or SmackDown Superstar or staff member, or vice versa.
ThunderDome And Amway Center May Both Add Some Spice Back Into WWE
It is unclear how far WWE will take this ThunderDome name. We could see some post-apocalyptic wrestling gear. We already have Shane's little Fight Club…wait shoot I wasn't supposed to talk about that.
WWE needs to spice things up so I am all for changes and WWE taking a chance. My major concern is that WWE will not know when to give up on an idea.
This new ThunderDome idea will start this Friday at 8 p.m.EST on FOX. NXT TakeOver XXX will air Saturday at 7 p.m. EST and SummerSlam on Sunday at 7 p.m. EST will be held at the Amway Center.
What do you think of this new ThunderDome thing? Do you think it will be an amazing new opportunity for fans or a terrible disaster? What do you think of WWE moving some of their events to the Amway Center? Leave some comments below if you can leave the ThunderDome alive.
KEEP READING: TRIPLE H AND VINCE MCMAHON DISCUSS RATINGS, SIRIUSXM AND AEW
Sources: ProWrestling, WWE