Burt Gummer is back, and this time, he is going to kick some Graboid ass. Again. For the seventh time. But, I'm not complaining, in fact, I couldn't be more thrilled.
Back in December of 2018, Michael Gross confirmed that a seventh feature length film in the beloved Tremors series had been greenlit by Universal Pictures. The sequel to2018's  Tremors: A Cold Day In Hell received an official title and MPAA rating (PG-13 for creature violence, language throughout, some gore and suggestive/drug references) earlier this month, and now, SYFY Wire has exclusively presented fans with the official trailer for Tremors: Shrieker Island. 
Tremors: Skrieker Island Trailer
As a fan of the cult classic franchise, seeing Burt Gummer's return after nearly two years of anticipation gave me chills. As Jackie Cruz' new character Freddie states in the trailer, "Burt Gummer? He's a freaking legend." Michael Gross has been the heart and soul of this horror franchise for thirty years, and he has more than earned the respect and admiration that is present on both sides of the trailer. 
Another notable addition to the cast is Jon Heder, most famous for his role as the title character in Napoleon Dynamite. While effectively nothing is known about his new character Jimmy, we can logically surmise that he will be the film's co-lead, as he appears on the DVD cover art alongside the one and only Burt Gummer. His character will fill a void left by the departure of Travis Gummer (Jaime Kennedy) who will not be returning for Tremors: Shrieker Island, though an appearance in a later installment is still in the cards. 
Jimmy carries himself as a man unsure of himself. At one point, he describes himself as "…the weakest from the herd…", but later on in the trailer, when Gummer tells him to "lead, follow, or get out of my way." Jimmy chooses to lead. It seems as though "Ramboy" will begin the film as a timid, perhaps even cowardly individual before evolving into someone stronger, braver and more confident. 
RELATED: HIS DARK MATERIALS OFFICIAL COMIC-CON SEASON 2 TRAILER SHOWS NEW WORLDS TO BE EXPLORED
Another exciting revelation of the trailer is the quality of the CGI. While the past two installments showed substantial improvement over the earlier sequels, they have always had a distinct "straight to DVD" feel to them. That is not the case here, as the Shriekers and Graboids look positively fantastic. In my humble opinion, the level of quality is almost on par with big budget monster movies like Jurassic World: Fallen Kingdom, which is genuinely astounding.
Additionally, this installment has taken a page out of it's two predecessors by introducing a new type of Graboids. In Tremors 5: Bloodlines, a new african subspecies of Graboid was introduced, a  slimmer, faster breed with detachable, sentient "grabbers". A Cold Day In Hell brought Gummer face to face with a deadly arctic breed of Graboids, though they were ultimately no match for him. In the trailer for the upcoming film, Gummer specifically mentions that these Graboids were genetically modified, though it's unclear exactly what was done to the beasts.
Director Don Michael Paul is returning to the directors chair, having helmed the franchise since the fifth installment, and he seems to have cooked up a visual feast for us this time. The set design, and VFX look better than they ever have in this trailer, and the jungle setting ties it all together nicely. One can only imagine the sleek design of the entire film, which arrives on DVD, Blu-Ray, and digital on October 20th.
RELATED: SNEAK PEEK INTO DC FANDOME AQUAMAN 2 PANEL: JAMES WAN WANTS TO ADD MORE HORROR IN THE SEQUEL
The legend of Burt Gummer continues in less than two months, and I couldn't be more excited. Stay tuned to us here at The Illuminerdi for updates and coverage on Tremors: Shrieker Island, which features the talents of Michael Gross, Jon Heder, Jackie Cruz, Richard Brake, and Caroline Langrishe.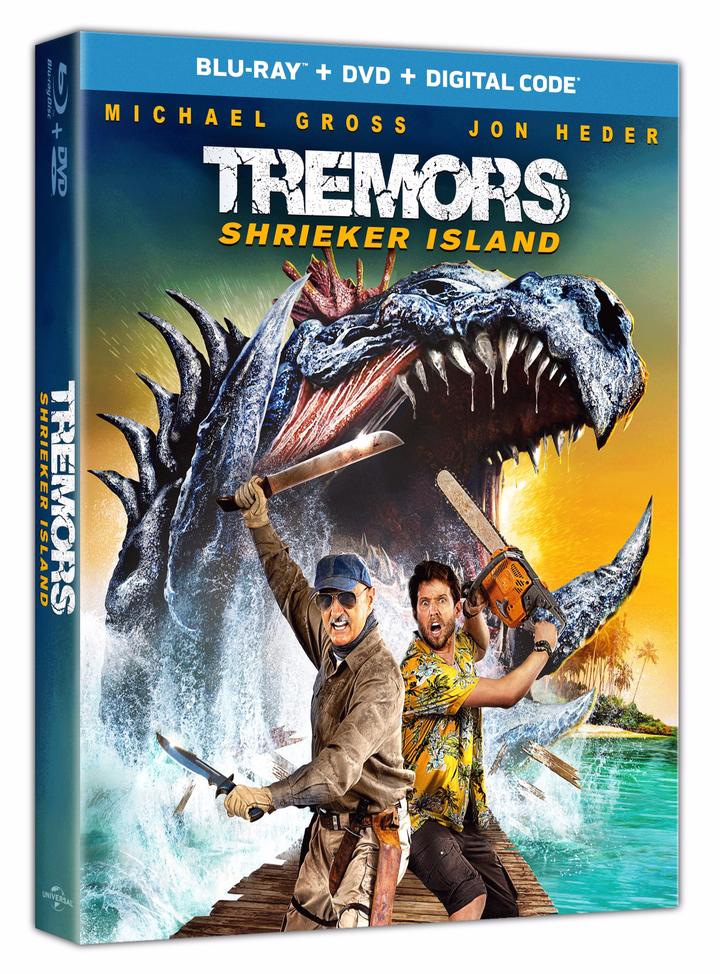 What did you think of our first look at Tremors: Shrieker Island? Are you excited to see Jon Heder join the franchise? Let us know your thoughts in the comments below or on our social media! 
KEEP READING: THE DEVIL ALL THE TIME: NETFLIX RELEASES 1ST TRAILER FOR STAR-STUDDED THRILLER