Robert Roode is open to returning to NXT, but right now he's looking to capture some tag titles.
Roode sat down for an interview with ComicBook and talked about his return and what he sees in his future.
RELATED: ROAD WARRIOR ANIMAL DIES AT AGE 60
It has been seven months since we had last seen Robert Roode. He along with other wrestlers were forced to stay in their home country due to the COVID pandemic. Roode was finally able to leave his home country of Canada and once again wrestle in a WWE ring.
"It's great actually to be back," Roode said. "It's a long layoff, now almost seven months being away. So when you're in this business for two decades and it becomes a part of your life every week and it's just something that's a passion of mine that I've had since I was a kid. And you get into the business and you get into a certain routine and that routine is just kind of taken away from you suddenly. It's a hard adjustment. So last week I was just very, very excited to be back on Monday Night Raw."
Roode And Ziggler Tag Champions Once Again?
This past Monday Roode teamed up with Dolph Ziggler and Randy Orton to take on Drew McIntyre, Montez Ford and Angelo Dawkins. Roode spoke about what he sees in his future. He hopes to stay with Ziggler and win the tag titles. The problem is Friday's SmackDown will be the first night of the 2020 Draft. Splitting the pair would really hurt their chances of winning the tag titles together.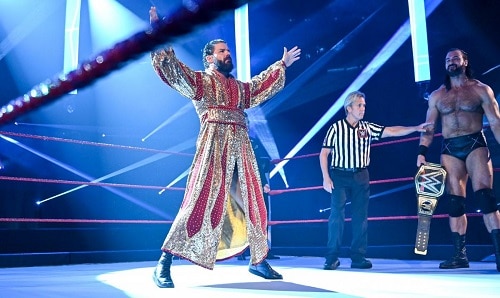 "Whether that means we stay on Raw or we get traded to SmackDown," Roode said. "Look, over the past year, starting [with the] last Draft, Dolph and I were on Raw and then we were both traded to SmackDown and then we were traded back to Raw during the pandemic. So we've been on both sides of the fence, both on Raw and SmackDown over the last year or so. Being traded back to SmackDown, wouldn't surprise me. But if we do or if I do I hope that Dolph comes back with me because I'm really looking forward to getting the band back together and having that chemistry back with Dolph and chasing after some tag team gold."
The Reunion Of Beer Money Inc?
Roode made his name in TNA/Impact Wrestling before coming to the WWE. He was most well known for his work with James Storm and the tag team of Beer Money Inc. Storm has been talking about WWE recently reaching out to him to try to sign him and reforming Beer Money Inc.
RELATED: NXT HALLOWEEN HAVOC COMING LATER THIS MONTH
This is completely new to Roode and hasn't heard anything about Storm coming in. This could be completely kayfabe and Roode is trying to hide future plans. Right now it seems Roode is looking to get those tag titles with Ziggler if they stay on the same brand. However, if Roode and Ziggler are split up then team up with Storm would make a lot of sense.
"James can do the interviews and he can say what he wants, but I mean, that's above my pay grade," Roode said. "I haven't heard a word about James Storm coming in. Nobody ever approached me about the idea of getting us back together or him even being hired. So whether that's true or not, I have no idea, but as far as I'm concerned, I'm happy doing what I'm doing. I have a great tag team partner in Dolph Ziggler. I think we have some amazing chemistry together. We were former tag teams champions and looking forward to being tag team champions again."
NXT AKA The Place To Be
Roode was asked about what he would think about making a return to his former home of NXT. Many wrestlers have gone back to NXT including Tyler Breeze, Ember Moon and Finn Balor. Breeze and Balor have had a lot of success in NXT. Balor is the NXT champion and Breeze won the tag titles with Fandango.
Going back to NXT can and has reinvigorated wrestlers and their careers. This may be exactly what Roode needs after being out of the WWE spotlight for so long and fans forgetting just how glorious he is.  
"NXT was a great spot for me. When I first came to WWE, I was able to be a part of that brand early on and do my part and try to really grow that brand and had the opportunity to be their champion and to be on top and to main event TakeOvers," Roode said. "That was just a great experience and the brand itself has now grown even larger. So wherever the job takes me, I'm going to be there and I'm going to do everything I can to be a guy that the brand can lean on and to be in the mix and to take every opportunity that is given to me and make the best of it. So whether that's on Raw, whether that's on SmackDown, or whether that's on NXT, I'm going to do everything I can to stand out and to work my way towards being a champion again."
What do you think of Roode's return? Do you think he and Ziggler should be the next tag champions on whatever brand they end up on? Do you think Roode can climb up the ranks and become WWE or Universal champion? Go ahead and leave your glorious comments below.
KEEP READING: VINCE MCMAHON QUESTIONS THE LONGEVITY OF ALEISTER BLACK'S CHARACTER
Sources: WrestleZone, ComicBook