Classic WCW PPV, Halloween Havoc, is being revived by WWE later this month for the NXT brand.
WWE has a history of bringing back old WCW PPVs and have used the names for the NXT brand. Recently we've had Starcade, Great American Bash, and Clash Of Champions on the main roster.
RELATED: WRESTLEMANIA WEEKEND HAS A HUGE SCHEDULING CONFLICT
However, the one I've wanted for years and years is being brought back. Halloween Havoc was as cheesy as can be and very gimmicky with the Halloween theme, but that's what made it so much fun. This year we get the special guest host of Shotzi Blackheart. She is goofy and will lean into the campy side of Halloween. Another direction WWE could have gone in is Scarlett who would have an Elvira feel, but more serious.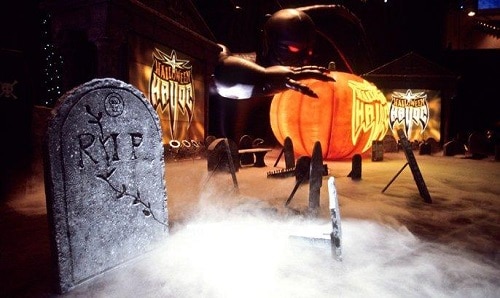 Silly Set And Concept For A PPV But Serious Matches
The Halloween Havoc PPV originated in 1989 as an NWA PPV and continued in WCW. The PPV ended in 2000 because WWE bought WCW in early 2001 and hasn't been heard from since. That is until Sunday at NXT TakeOver when we saw a promo for the PPV.  
Halloween Havoc was considered one of WCW's big four PPVs. The first year it was held saw Ric Flair and Sting vs The Great Muta and Terry Funk, with Bruno Sammartino as the special guest referee. If that isn't a star studded match I don't know what is.  Everyone in that match but The Great Muta is in the WWE Hall of Fame.
Despite the campy nature and set of Halloween Havoc ,the matches were legit matches without stupid gimmicks like wrestling in a Halloween costume or something. We did have a monster truck match in 1995, but that was an exception.
WWE May Lean Into The Campy
Even though Halloween Havoc is traditionally straight forward and devoid of heavy gimmicks, I don't think WWE will go that route. I think they will have small skits and goofy segments like someone pinning R-Truth while wearing a Halloween costume. We then find out the costumed wrestler is Pat Patterson. Blackheart will have goofy segments where she is driving her tank around and trick-or-treating. Wrestlers will be in costumes and Velveteen Dream will be dressed like either Vince, Triple H, or HBK. My guess is HBK.
RELATED: AJ STYLES WAS ALMOST AN ALL ELITE PART OF AEW
However, the match card will be solid and the set will be really cool even with the COVID precautions. As a whole, the PPV will be really good as TakeOver events typically range from good to amazing.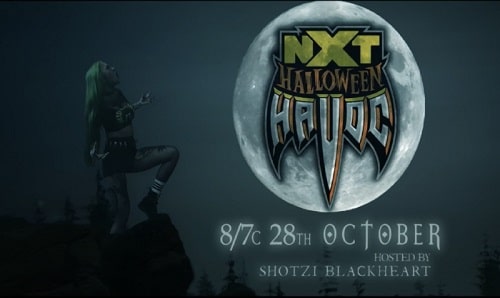 My Favorite PPV Is Being Brought Back
I am super excited for Halloween Havoc being brought back. The COVID restrictions will hold it back which really sucks, but it will still be really cool. Next year the COVID pandemic will hopefully be over and we will get a full on Halloween Havoc. Maybe they will do some outdoor matches like the Boneyard match from WrestleMania or the Backlot Brawl that Dream and Adam Cole had. However, the match will be at a graveyard; it has to be at a graveyard to make it real spooky.
Halloween Havoc Returns
NXT Halloween Havoc will take place Wednesday, Oct. 28 at 5 p.m. PST on USA Network.
Are you as excited for Halloween Havoc being revived as I am? What is your favorite Halloween Havoc memory? Is there any other WCW or even ECW PPVs you want revived? Drop a comment below if you dare.
KEEP READING: ROAD WARRIOR ANIMAL DIES AT AGE 60
Sources: ProWrestling, WWE