A new supervillain to be featured in the upcoming DCEU film, Black Adam, has been revealed to be Ishmael Gregor, aka Sabbac.
For those unfamiliar with Ishmael Gregor, don't feel bad. The character only appeared in a handful of issues in the early 2000's, primarily as an antagonist to The Outsiders and Freddy Freeman, AKA Shazam Jr. (or Captain Marvel Jr. for the old school readers.) In the comics, Gregor derives his powers from Satan and brandishes a sizable pentagram on his chest.
Ishmael Gregor was a Russian mob boss who stole the powers of Timothy Karnes, aka Sabbac, becoming a powerful demon with powers akin to Shazam's, along with the added bonus of a lingering stench and the ability to breathe fire. He transforms into his demonic form by speaking the word "Sabbac", an acronym for Satan, Aym, Belial, Beelzebub, Asmodeus, and Crateis.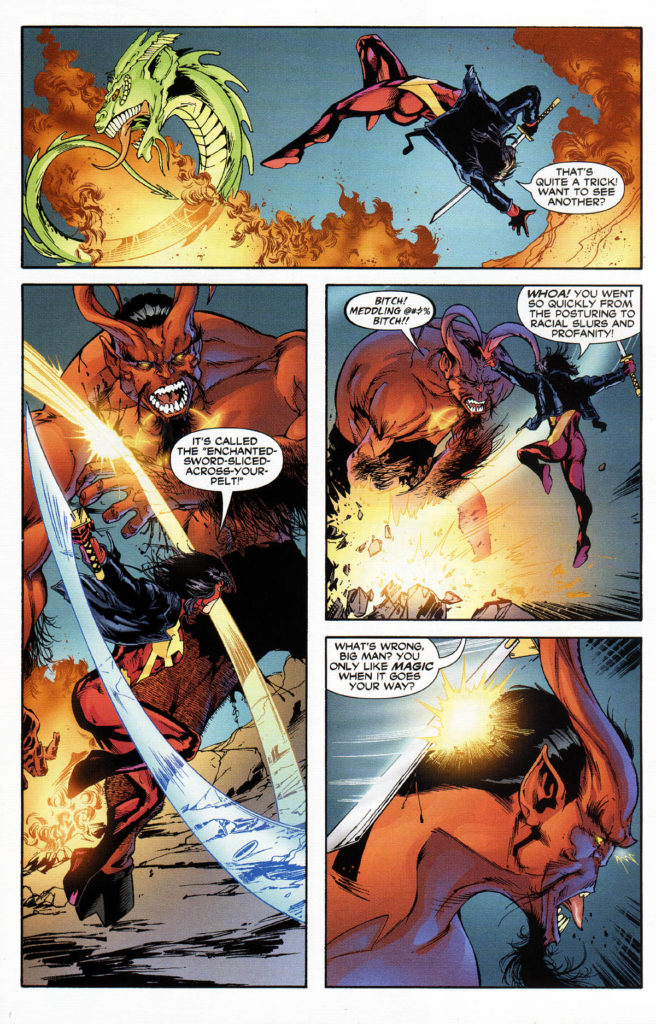 While he has no strong connection to Black Adam specifically in the source material, his connection to Freddy Freeman directly ties him to the larger Shazam family. Additionally, he once absorbed the Seven Deadly Sins, growing large and incredibly powerful, only to end up trapped inside Katana's soultaker sword. While the DCEU version of Ishmael will be drastically different from his comic book counterpart, there are three pre-existing DCEU characters he could encounter as a fun acknowledgement of his history in DC Comics.
Black Adam's New Nemesis
Through casting information available to The Illuminerdi, we can confirm that the Black Adam production is searching for a male in their forties to play a strong supporting role as a villain named Ishmael. There is interest in Tunisian-Dutch actor Marwan Kenzari (Aladdin, Wolf, The Old Guard). Keep in mind that while their "interest" may mean that Kenzari is in contention to play our villain, it's still quite possible that another actor will ultimately be cast as "Ishmael".
What it does tell us is that the writers are not concerned about maintaining Ishmael's Russian heritage in Black Adam, which is probably for the best, considering how deeply stereotypical it is. Additionally, he's described as the descendant of a "murdered pharaoh", so casting a person of color in the role is undoubtedly the right decision.
Additionally, the casting information specifically describes Ishmael as attempting to harness the secret magical powers of the crown of "Sabaac". This appears to be a strong deviation from the source material, as Sabbac's powers have never involved a crown in the past, however, there may be a simple explanation.
RELATED: BLACK ADAM MOVIE ADDS CYCLONE TO ITS JSA ROSTER: EXCLUSIVE
While Black Adam and Shazam need only say their name in order to transform into their powered forms. Adrianna Tomaz, aka Isis, uses the amulet of the Goddess Isis to transform into her enhanced state. The crown of Sabaac may be nothing more than the writers changing the source of Sabbac's powers from a man into an item. While that is purely speculation, it would be a simple and effective way to cut Timothy Karnes out of Ishamel/Sabbac's origin story.
As for the change in the spelling, I figure the answer is one of two things: Either they changed it on the document to confuse reporters such as myself, or someone high up at Warner Bros. has a thing against Beelzebub. It's also possible that whoever wrote the document simply made a spelling error. Regardless, fans can safely expect to see a somewhat retooled version of Sabbac/Ishmael Gregor appear in Black Adam. Since the film currently lacks a release date, rewrites are always a possibility, but if the script remains unchanged in regards to the antagonist, Black Adam and Isis have a hellish battle ahead of them.
Would you like to see Marwan Kenzari portray Sabbac in Black Adam? Should Karen Fukuhara return as Katana to take him down? Let us know your thoughts in the comments below or on our social media!
KEEP READING: HAWKGIRL'S ROLE IN BLACK ADAM GROUNDED ACCORDING TO THE ROCK'S DEVASTATING TWEET