The upcoming DC Extended Universe film, Black Adam has found their leading actress and Isis. While nothing is finalized at this time, an offer from Warner Brothers is on the table.
Black Adam is one of the most exciting superhero movies in development right now, although it is still relatively early in the developmental process, with casting beginning to trickle only recently. Dwayne Johnson will play the title character, also known as Teth-Adam. He will be joined by Aldis Hodge as Carter Hall, AKA Hawkman and Noah Centineo as Albert Rothstein, AKA Atom Smasher. Other characters confirmed for the film include Maxine Hunkel, AKA Cyclone, Doctor Fate, Adrianna Tomaz, AKA Isis, as well as her son.
Who Is Isis?
The film will tell the origin story of Teth-Adam, while bringing the Justice Society of America into the DCEU. Additionally, it will tell the story of Adrianna Tomaz, a Middle Eastern woman who would become the superhero known as Isis, and eventually Black Adam's partner and wife. Tomaz was a slave traded to Black Adam, ruler of Kahndaq. He killed her slavers, freed her, and ultimately fell in love with the strong, compassionate woman. She eventually came to possess the amulet of the Goddess Isis, which granted her powers akin to Black Adam's, with some control over nature thrown in for good measure.
The Arrowverse TV show Legends Of Tomorrow featured a character named Zari Tomaz, who was very loosely based on Adrianna Tomaz. Tale Ashe portrayed the Muslim-American hacker from the future. The DC comics version of the character was largely based on the television character Andrea Thomas, AKA Isis, the main character of The Secrets Of Isis. Secrets Of Isis actually crossed over with the original Shazam! Television series. While Andrea Thomas and Adrianna Tomaz do have some distinct differences, in a sense, this means that Shazam and Isis met in live action decades before meeting again in Black Adam sequel or potentially a sequel to Shazam: Fury Of The Gods.
Tomaz will play a pivotal role in Black Adam, serving as both the female lead and love interest to the title character. DC has offered the role to Sarah Shahi (Person Of Interest, Reverie, The Rookie). Shahi is an actress and former NFL cheerleader, and actually has a bit of experience in the superhero genre. She voiced Killer Frost in the Young Justice episode "Terrors". Whether or not she takes on the role remains to be seen, however, one must consider that this would be easily her biggest role yet.
The role will require an actress with the chops to play a mother, a hero, and partner to a brutal antihero. In the source material, Black Adam, Isis, her brother Amon Tomaz, AKA Osiris, and his best friend/ anthropomorphic crocodile, Sobek, made up the Black Marvel family. While she is depicted as a mother as opposed to a sister in the film, I suspect that her son could become the DCEU's incarnation of Osiris. As for Sobek, while I wouldn't expect him to appear in this film, if Osiris does appear in the film, his best buddy likely won't be far behind.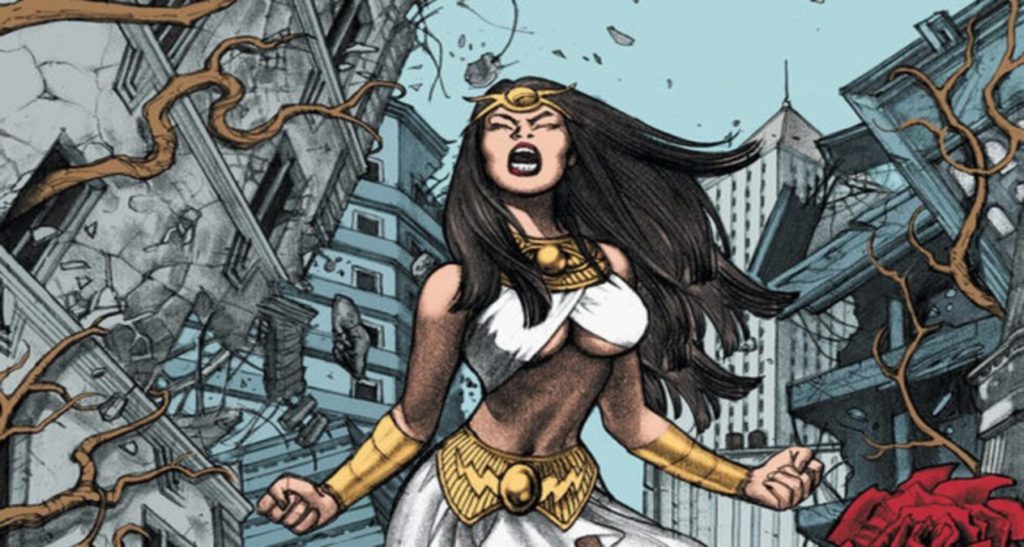 We here at The Illuminerdi have a lot of exciting Black Adam news to share with you in the future, so stay tuned. Always remember, we are everywhere and we are nowhere. We are The Illuminerdi.
Would you like to see Sarah Shahi take on the role of Adrianna Tomaz, AKA Isis in Black Adam? Let us know your thoughts in the comments below or on our social media!