Black Panther star Letitia Wright has been up and coming actress ever since her debut in the Marvel Cinematic Universe. Her character Princess Shuri has been a favorite among fans and audiences across the world from the moment Black Panther came out in 2018. After the final climactic battle in Avengers: Endgame, where the heroes assembled, Shuri has officially become an Avenger.
In a recent interview with Yahoo Entertainment, Letitia Wright explained that we should expect an all-out female led Avengers team movie being made by Marvel in the near future. She also explained in the interview what her dream scenario would be for said female-led Avengers lineup.
Letitia Wright Shares Shuri's Picks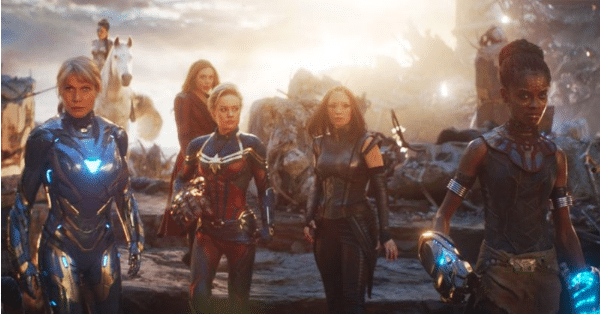 A female led Avengers team film should not be as much of a surprise. Many fans got that small tease during Avengers: Endgame when all of its female heroes had a scene where they all took on Thanos' army. It was awe-inspiring, empowering and uplifting scene that will be forever remembered by many.
RELATED: CHRISTIAN BALE ARRIVES IN THE LAND DOWN UNDER TO START PREPARATION FOR THOR 4
Wright explained in the interview that "I don't think we have to fight for it." She added that:
"Victoria Alonso is very strong about spearheading it, alongside Marvel Studios President Kevin Feige. It's only a matter of time before they do it."
Marvel's female stars have also supported the idea of the female led avengers team film. Actress Brie Larson (Captain Marvel), Elizabeth Olsen (Wanda Maximoff), and Scarlett Johansson (Black Widow) have spoken their desire for Marvel to pursue in creating a female led Avengers film. With the support from fans and the Marvel's stars it won't be surprising if they make a film about their female heroes.
During the interview with Yahoo, Wright also gave her own lineup take of a female led team. In Letitia's team she included Captain Marvel (Brie Larson), Valkyrie (Tessa Thompson), her co-stars from Black Panther, Danai Gurira as General Okoye and Angela Basset as the Queen Mother. Wright's female team is a great mix that we could hopefully see on the screen in the future.
Wright also spoken out that she was proud in being able to star in Black Panther, directed by Ryan Coogler and led by the late T'Challa himself Chadwick Boseman. She explained that she felt like she contributed something positive to the world, and that "it was always a dream of mine to play someone that can be impactful not only for Black women, but also just for women around the world and young people, too."
With Wright's statement, we can see how she hopes to inspire audiences for years to come.
The future of the Black Panther film franchise as of now is unknown due to the passing of star Chadwick Boseman. Wright played Boseman's sister beautifully, and their chemistry was top-notch. Wright was one of the many that gave a heartfelt tribute to Boseman, as well. In Wright's tribute on her Instagram, she wrote "a soul so beautiful, when you walked into a room, there was calm. You always moved with grace and ease."
Chadwick Boseman was diagnosed with colon cancer in 2016, keeping it private. But during his final years, he was able to film three Marvel Cinematic Universe movies and a several more incredible films. His perseverance and talent will forever inspire his fans, and the whole world at large will always be remember as a legend, a king, and a hero.
Source: Yahoo Entertainment