WWE Superstars have suspended their Twitch and/or Mixer accounts in response to WWE's third-party companies ban.
Last month WWE announced that all WWE Superstars must shut down their third-party affiliated services like Twitch, Cameo and YouTube. They were given 30 days to do so, but WWE extended the deadline it would seem.
However, WWE relaxed their guidelines a little bit immediately following the announcement according to Essentially Sports. Superstars are allowed to maintain their accounts if they use their real names, as opposed to their character's name. However, most don't know the wrestler's real names and would put a drastic halt to new followers. Also in chat no one would use their real names and would defeat the purpose of the real name only use.
RELATED: RAW UNDERGROUND REPORTEDLY "SLAPPED" OUT OF EXISTENCE
WWE justified their decision to ban third-party companies by comparing themselves to Disney and stating they own the character's name, which is true.
"Much like Disney and Warner Bros., WWE creates, promotes and invests in its intellectual property, i.e. the stage names of performers like The Fiend Bray Wyatt, Roman Reigns, Big E and Braun Strowman. It is the control and exploitation of these characters that allows WWE to drive revenue, which in turn enables the company to compensate performers at the highest levels in the sports entertainment industry. Notwithstanding the contractual language, it is imperative for the success of our company to protect our greatest assets and establish partnerships with third parties on a companywide basis, rather than at the individual level, which as a result will provide more value for all involved," WWE stated.
Goodbye To Streaming Forever?
Unfortunately for the WWE Superstars, the deadline has expired and has forced them to shut down or suspend their Twitch accounts. Some of the big names who had Twitch accounts were AJ Styles, Paige, Aleister Black, Zelina Vega and Mia Yim.
Reports state WWE Superstars made one last attempt to convince Vince to not follow through with the ban. However, it doesn't seem like that was a successful attempt as the ban is currently underway.
Most WWE Superstars have chosen to suspend their Twitch accounts and hope to restart their streams at some point.
Styles released a statement to his community and made it clear that this isn't a goodbye message but a see you later.
"I want to thank you all for the great memories on Mixer and Twitch. I will cherish these memories and I love everyone of you that have made this possible and supported me. As many of you [have heard] WWE is making some changes that involve streaming. We will see what the future holds in that regard.

With that being said I will be suspending Stylesclash stream. This isn't good bye, but this is see you sometime in the future. We will leave discord open, but it won't be monitored we will be making changes. Chris or I will let you know what that looks like once we figure it out. If you see me at the arenas or whatever be sure to let me know you're part of the phenomenal family. Again this isn't the end it's just a pause. Thank you again for your support," Styles said.
On married couple Black and Vega's final stream they stated that they "haven't been told anything from the office" and are looking for a middle ground solution so they can continue to stream.
Styles, Black and Vega have kept a positive point of view on the suspension of their streaming. They are hopeful that they can return to it in the near future. However, one Superstar is not taking the ban very well.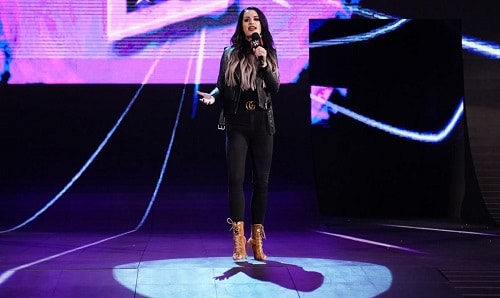 Paige Is Less Than Happy With The Ban
Paige went on a tirade about how upset she is with the ban. She shared a heartfelt message about what streaming has meant to her during a difficult time in her life and is apparently meeting with a unionization lawyer.
"I'm f**ing tired, man. I broke my f***ng neck twice, twice for this company man, over f***ng worked. I broke my f***ing neck twice for this company. They don't realize that this community isn't f**king…about f***ing subs, man. We build a community and a wonderful f***ing family where this is an escape for a lot of people, including myself.

I can't wrestle anymore. I always worked so hard in WWE that I can't wrestle anymore….my neck is f***ed. My whole f***ing dreams got taken away from me dude and I had to have something that fulfilled even a small….that huge f***ing void that I lost with wrestling…that huge f***ing voice.  I couldn't wrestle anymore, something I lived and breathed, sh**n wrestling since I was a f***ing fetus dude, and it got ripped away from me. I had to find something that could even fill a little bit of that and Twitch was doing such a wonderful thing for me. It's such a wonderful place for me," Paige said.
WWE Superstars Unionizing?
Okay, first wow, Paige is meeting with a unionization lawyer. It would seem by her statement that she is looking to unionize WWE. That is huge news, I mean huge news. It has tried to be done before, but it has always failed. Paige's statement would suggest that she is trying to get better working conditions, support post-injury and more control over how she can make money outside of WWE. This is something I need to keep my eye on.
RELATED: VINCE MCMAHON QUESTIONS THE LONGEVITY OF ALEISTER BLACK'S CHARACTER
Paige has had a hard couple of years. There are just too many things to list them all here. If Twitch really has been such a helpful thing for her it is sad that she will no longer get that support.
Give Poppa Vince A Cut Of That Twitch Money
The rumors are that WWE wants to have their Superstars use these third-party companies, but they want a cut. They also want to have control over what sponsors they have on their channel. WWE owns the Superstars' name and likeness so they have every right to want control over what they do and say. If they say something offensive during a stream it reflects poorly on WWE.
It also makes a lot of sense to try to control sponsors because for example say WWE is sponsored by Coke, but X Superstar says Coke sucks and Pepsi rules. Then Coke could say "X just said Coke sucks, but we paid you for a sponsorship deal."
What do you think about WWE banning WWE Superstars from using these third-party companies to make money outside of WWE? Do you think WWE can find a solution to allow Superstars streaming?  Let us know if you have an opinion in the comments below.
KEEP READING: BRAUN STROWMAN'S PROFOUND INSIGHT INTO WRESTLERS' MENTAL HEALTH AND WRESTLING SOLELY FOR WWE
Sources: ProWrestling, PWInsider, Essentially Sports