Joe Hill's short story "The Black Phone" will be adapted into a feature film. Scott Derrickson who directed horror films such as The Exorcism Of Emily Rose, Sinister, and Deliver Us From Evil will be directing the project. Blumhouse and Universal will be producing the film adaption.
Blumhouse and Universal also announce that Crooked Highway Productions will be the production team. The film adaptation will also have Robert Cargill as a collaborator. Derrickson, Cargill, and Jason Blum (for Blumhouse) will also serve as producers. Then finally the author of the novella itself Hill will serve as Executive Producer.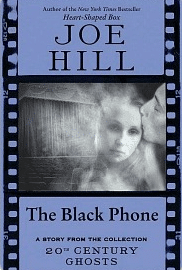 "The Black Phone" is one of the stories based on Hill's novella 20th Century Ghost. 20th Century Ghosts is a collection of horror and paranormal based short stories.
The Story Behind Black Phone
The plot synopsis of the Black Phone is about a thirteen year old boy who gets kidnapped. The boy is then locked in a basement alone. In the basement, the boy is left with a disconnected black phone with paranormal and sinister properties. Actors Mason Thames and Madeline Mcgraw will star in the film adaptation.
Joe Hill's 20th Century Ghost is a very popular novella with horror fans. If the film becomes successful both critical and commercially, don't be surprised if they adapt the other short stories. Stories in the novella such as "My Father's Mask", "The Cape", "Abraham's Boys", and "You Will Hear The Locust Sing" are one of the many that could get adapted. But only time will tell and it depends if Derrickson's Black Phone film adaptation becomes successful.
Do you like this move for Scott Derrickson? Are you familiar with the story Black Phone is based on? Let us know below in the comment section!
KEEP READING: RAMI MALEK REVEALS NEW DETAILS ABOUT HIS BOND VILLAIN IN NO TIME TO DIE
Source: Deadline