There are plenty of November movies that are coming to theaters, streaming platforms, and video on demand this month that we should not miss. This month offers loads of movies belonging to a wide plethora of genres. That includes action flicks, dramas, comedies, horror, adventure, sci-fi, and thrillers.
Netflix is known for releasing a lot of content each month and their November movies' release schedule is looking as heavy as it normally does. Some of them include Netflix original movies, such as: Jingle Jangle: A Christmas Journey a family musical; The Princess Switch: Switched Again a romantic comedy; Hillbilly Elegy a drama; The Christmas Chronicles 2 a comedy, and also a few other new movies. Netflix is certainly gearing up for the Holiday season.
HBO Max original, Superintelligence an action-comedy; Disney+ original, Black Beauty a drama; Amazon's Uncle Frank a comedy-drama and Life in a Year a drama; Hulu's Run, a suspense thriller and Happiest Season, a romantic comedy are also coming this month.
Many films have been released digitally for the audience to view on-demand in the last seven months. There are a ton of VOD releases in November, those are Possessor: Uncut a sci-fi horror-thriller; The Dark and the Wicked a horror; Kindred a psychological horror-thriller; Jungleland a drama; Come Away a drama; Dating Amber a comedy-drama; The Nest a thriller; Dreamland a drama thriller; Fatman a dark comedy/action; Jiu Jitsu a fantasy action film all soon becoming available for VOD. Most of the VOD releases are also opening in select theatres before, or simultaneously, launching on digital platforms.
In the last three months, many theatres across various countries are reopened and new movies are getting released wherever theaters are available, instead of waiting for other theaters to come back in full form. But in the next two months, many are planning to close once again. Some November movies have a limited release in select theaters before they head to streaming, while others are having as wide a release possible. Those are Let Him Go a drama, Freaky a comedy thriller, Ammonite a romantic drama, and DreamWorks Animations' The Croods: A New Age an adventure comedy film.
Check out the synopses and release dates for each of these November movies below.
November Movies To Watch Out For

---
Let Him Go
Let Him Go is Focus Features' drama film produced, written and directed by Thomas Bezucha, based on the 2013 novel of the same name by Larry Watson. It stars Diane Lane (Unfaithful, Man of Steel), Kevin Costner (Molly's Game), Lesley Manville (Phantom Thread, Ordinary Love), Will Brittain (A Teacher), Kayli Carter (Private Life), Booboo Stewart (The Twilight Saga), and Jeffrey Donovan (Sicario).
Following the loss of their son, a retired sheriff (Costner) and his wife (Lane) leave their Montana ranch to rescue their young grandson from the clutches of a dangerous family living off the grid in the Dakotas.
This film sees Kevin Costner and Diane Lane reuniting after they played Superman's parents, Jonathan and Martha Kent in DCEU. This R-rated film is scheduled to be theatrically released in the United States.
Let Him Go release date: November 6, 2020
Possessor: Uncut
Possessor: Uncut is Neon Pictures' sci-fi horror-thriller film written and directed by Brandon Cronenberg (Antiviral). The story follows an agent who works for a secretive organization that uses brain-implant technology to inhabit other people's bodies- ultimately driving them to commit assassinations for high-paying clients.
The film stars Andrea Riseborough (Oblivion, Birdman), Christopher Abbott (Catch-22, First Man), Rossif Sutherland (River), Tuppence Middleton (War & Peace, Sense8), Sean Bean (The Lord of the Rings), Hanneke Talbot (Ready or Not), Gabrielle Graham (Twenties), and Jennifer Jason Leigh (The Hateful Eight).
Possessor had its world premiere at the Sundance Film Festival on January 25, 2020, and had a limited release in the US and Canada on October 2. It is scheduled to be released in the United Kingdom on November 27, 2020. It holds a 92% RT score based on 130 reviews. The film was particularly praised for its originality and the performances from Riseborough, Abbott, Leigh, and Graham. This complex, brutally captivating body-horror is headed for a digital release.
Possessor: Uncut VOD release date: November 6, 2020
The Dark and the Wicked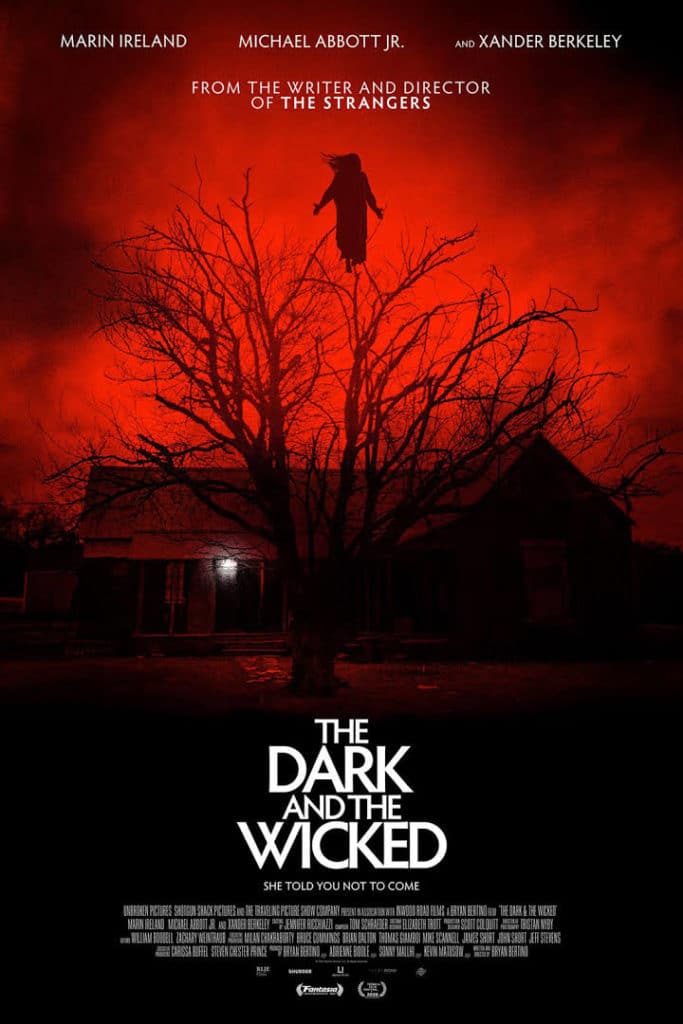 The Dark and the Wicked is RLJE Films' horror film written and directed by Bryan Bertino (The Strangers). It stars Marin Ireland (The Umbrella Academy, Hell or High Water), Michael Abbott Jr. (Mud), and Xander Berkeley (24, The Walking Dead).
Synopsis: On a secluded farm in a nondescript rural town, a man is slowly dying. His family gathers to mourn, and soon as the darkness grows, plagued by waking nightmares and a growing sense that something evil is taking over the family.
The film had its world premiere at the Fantasia International Film Festival on August 28, 2020. The film holds a 96% RT score based on 48 critic reviews. It was praised for its nightmarish atmosphere, great cinematography, and execution. This unsettling and terrifying horror movie is scheduled to be released digitally.
The Dark and the Wicked VOD release date: November 6, 2020