In the time of reboots galore in both film and television, it looks like Disney Plus is looking to give Darkwing Duck, the 1991 animated series, the reboot treatment. It isn't a surprise that Disney reportedly has the reboot in the works, especially given the success of the Ducktales reboot.
According to Variety, the Darkwing Duck reboot is in early development for Disney Plus and the series will be executive produced by Seth Rogen, Evan Goldberg, James Weaver and Alex McAtee of Point Grey Pictures with McAtee overseeing the project.
RELATED: LILO AND STITCH LIVE-ACTION FILM FINDS NEW DIRECTOR IN CRAZY RICH ASIAN'S JON M. CHU
Darkwing Duck ran for three seasons from 1991 to 1992. The series focused on Drake Mallard aka Darkwing Duck, his adopted daughter Gosalyn, and Launchpad McQuack. The series was a parody on the superhero genre that may have been a bit ahead of its time. This seems like the perfect time for a reboot of the superhero series given the popularity of superheroes and comics.
2017 DUCKTALES REBOOT AND THEIR SPIN ON DARKWING DUCK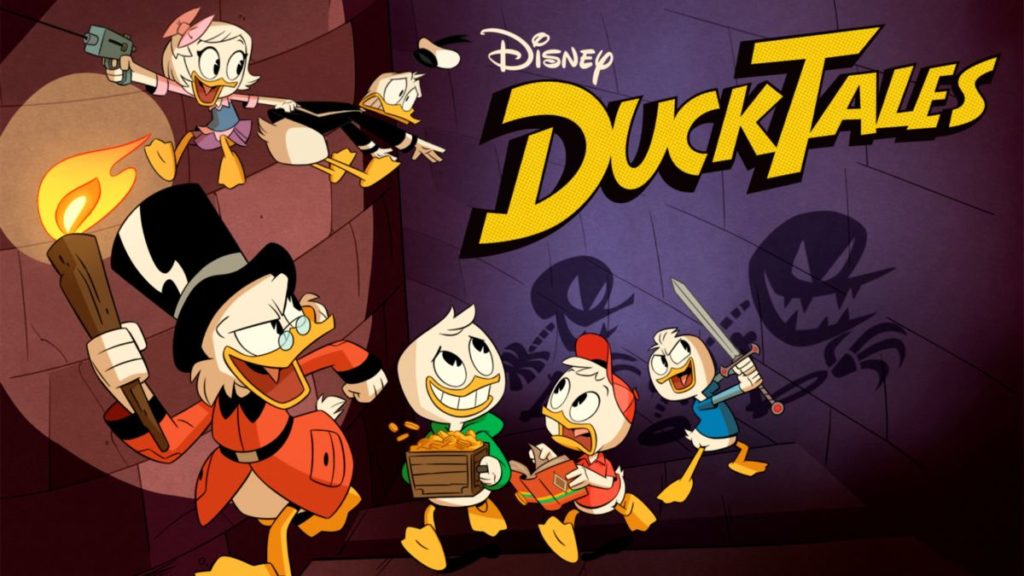 Ducktales was rebooted in 2017 with a star-studded cast which includes David Tenant, Ben Schwartz, Danny Pudi, Bobby Moynihan, Kate Mucci, Beck Bennet and a number of others. The reboot has won over fans and critics alike holding a 100% on Rotten Tomatoes. Ducktales has been nominated for a Daytime Emmy Award for Outstanding Special Class Animated Series in 2018 and 2019. In 2019 Ducktales was also nominated for a Daytime Emmy in the Outstanding Casting for an Animated Series or Special.
There is no word on if the Darkwing Duck reboot will be connected to the popular Ducktales reboot. It would make sense if it turned out to be given that the third season, which is currently airing on Disney XD, featured an hourlong episode "Let's Get Dangerous" which focuses on the Ducktales version of Darkwing Duck and his becoming the hero of St. Canarad. You can watch the full episode below.
RELATED: THE WONDERFUL WORLD OF MICKEY MOUSE TRAILER: THE LEGENDARY RODENT MAKES HIS LONG-AWAITED RETURN
In Ducktales, Darkwing Duck was a television show that is a favorite of the character Launchpad McQuack. In Ducktales Darkwing Duck was played by "Jim Starling" voiced by Jim Cummings who voiced Darkwing Duck aka Drake Mallard in the 1991 Disney Channel series. In the season two episode "The Duck Knight Rises" a reboot movie of Darkwing Duck is being made, but the movie does not star Jim Starling instead the titular character of the film is being played by mega fan Drake Mallard. After Starling sabotages the movie and tries to kill Drake Mallard, Launchpad McQuack convinces Mallard that he can still make a difference by taking on the mantle of Darkwing Duck and becoming an actual superhero.
In the season three episode "Let's Get Dangerous" Launchpad visits Drake Mallard in St. Canard. The episode also introduces Gosalyn Waddlemeyer and Darkwing Duck villain Dr. Taurus Bulba. This is a new take on not only Darkwing Duck, but a number of other characters from the original series. Ducktales has given this superhero a new spin and introduced a new version of some fan favorite villains including not only Dr. Taurus Bulba, but Negaduck in the form of Jim Starling driven mad by being replaced by Drake Mallard. Although it seems like Dawrking Duck is primed to be a spin-off directly tied into the Ducktales reboot it could very well be a completely new take on the series.
Are you excited about a Darkwing Duck reboot for Disney Plus? Are you a fan of the Ducktales reboot version of Darkwing Duck? Do you want it to be a Ducktales spin-off, or a completely new take on the show? Leave your thoughts in the comments below or on our social media.
Source: Variety
KEEP READING: DISNEY RELEASES FIRST FILIPINO-THEMED ADVERT FOR CHRISTMAS 2020, FROM OUR FAMILY TO YOURS