In the first season of Big Shot Marvyn Korn (John Stamos) becomes the new basketball coach at the private all girls high school Westbrook after being fired from his coaching job at a NCAA Division 1 university for throwing a chair at a ref. Over the course of the season Marvyn bonds with his daughter, assistant coach Holly Barrett (Jessalyn Gilsig), and the team. The girls grow as people, players and a team and by the end of the season Westbrook moves up to become a Division 2 school.
The Illuminerdi had the opportunity to speak with some of the stars of Big Shot about what fans will see in the new season, including Mouse's relationship with Harper and boys coming to Westbrook. As boys join the ecosystem of Westbrook it causes a shift especially for the students. While the girls basketball team were the stars last season they'll soon learn that the boys basketball team will take the spotlight whether they deserve to or not.
TIANA LE REVEALS HOW BOYS COMING TO THE SCHOOL CHANGES EVERYTHING IN BIG SHOT
Tiana Le, who plays Destiny Winters, talked about how this sheds light on the inequality on men's and women's sports:
"Destiny does definitely take a little bit to the principal's son Trevor, who's an amazing actor, Sam. But the boys coming in general definitely stirs things up, and I think that their dynamic not only shows the inequalities of men's and women's sports, the girls, become second-class citizens at their own school, which is something they had never been subjected to before because it was an all-girls school.

I think that in itself demonstrates for the girls a whole new dynamic shift. Then the way that they kind of react to the girls outside of the court and in the school definitely tests a lot of our relationships. The girls are kind of forced to grow and change and question the way they do things. There's definitely a new side to Destiny because of that with someone's son.
Big Shot is tackling a very real issue that continues to plague schools at every level with men's sports often getting more funding, attention, and equipment. What's fascinating about Big Shot is that it will show how quickly this happens in what was an all girls school. It will likely be a harsh reality check when the team is treated as second tier in their school. However, this change does seem to open up some intriguing story possibilities. Cricket Wampler, who plays Samantha "Giggles" Finkman, talked about how this new dynamic reveals a deeper side of her character.
RELATED: MIGHTY DUCKS GAME CHANGERS STARS REVEAL HOW THE DUCKS GROW THIS SEASON: EXCLUSIVE INTERVIEW
"I think bringing the boys into the dynamic is very interesting there. You get to see a darker, just a deeper side to Samantha. You just kind of see that not everyone can be sunshine and rainbows all the time. I think she does a good job of covering everything up, but that's exhausting."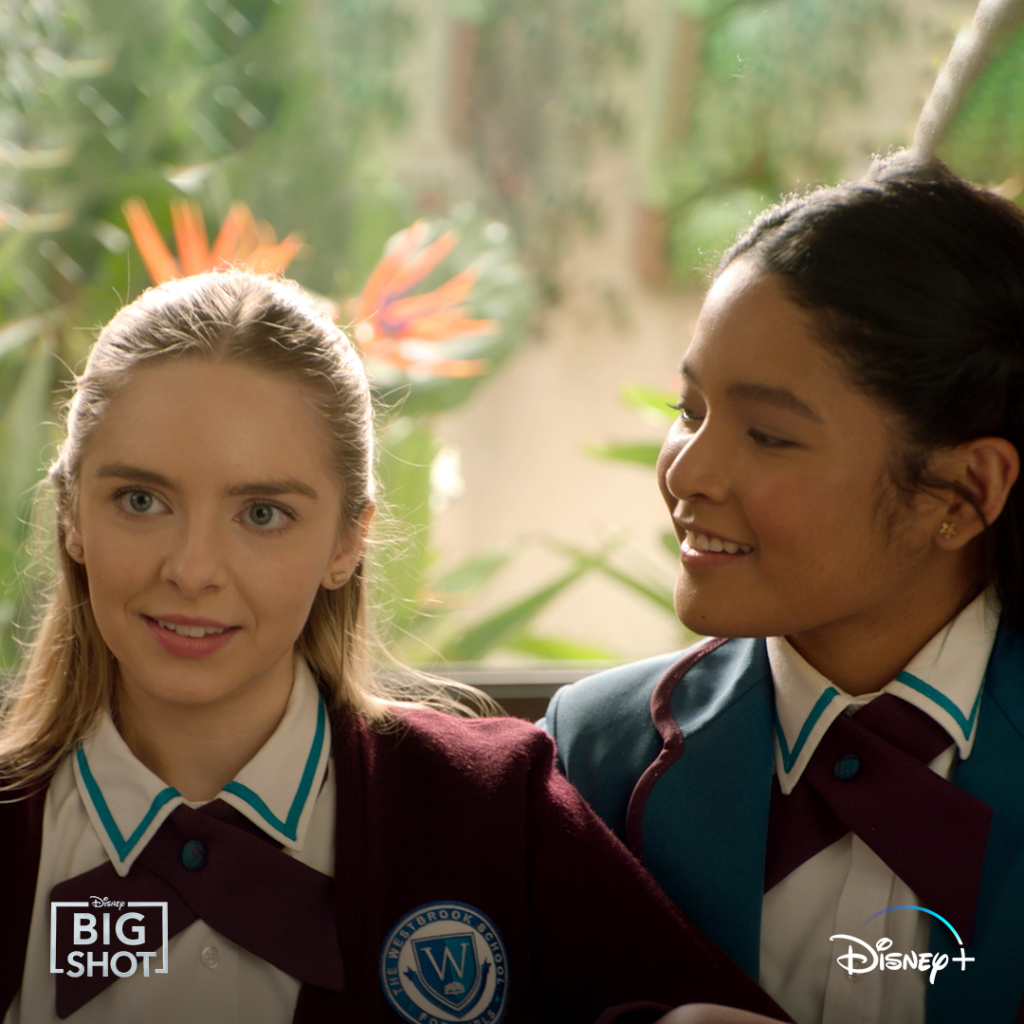 While boys coming to Westbrook will set up a number of potential romances there is one that will continue from season one. Big Shot also explored a LGBTQ storyline in the first season with Carolyn "Mouse" Smith and her love interest Harper. It looks like this will be further developed in the new season as will Mouse's home life. Tisha Custodio teased what fans can expect from Mouse in season two.
"We'll definitely see a glimpse into her home life. I'm very excited for everyone to see what her parents look like and what they are, what they represent. And I'm just really glad to continue the storyline with Mouse and Harper because Mouse gains confidence in this relationship, and she does things that she doesn't necessarily want to do, but it's very important for her to do in order for her to be the authentic person that she wants to be."
RELATED: MIGHTY DUCKS GAME CHANGERS STARS ON "INTENSE" COACH COLE AND THE NEW "OUTSIDER" IN THE DUCKS FAMILY: EXCLUSIVE INTERVIEW
It will be interesting to see Mouse's growth individually and in her relationship with Harper. Big Shot digs into the realities that teenagers deal with today through compelling and engaging storylines. Whether that be parental pressure, romantic hiccups, acceptance, and friendships Big Shot leans into how these can impact young women today. It will be interesting to see how these characters continue to grow and develop in the new season as big changes come to their school and personal lives.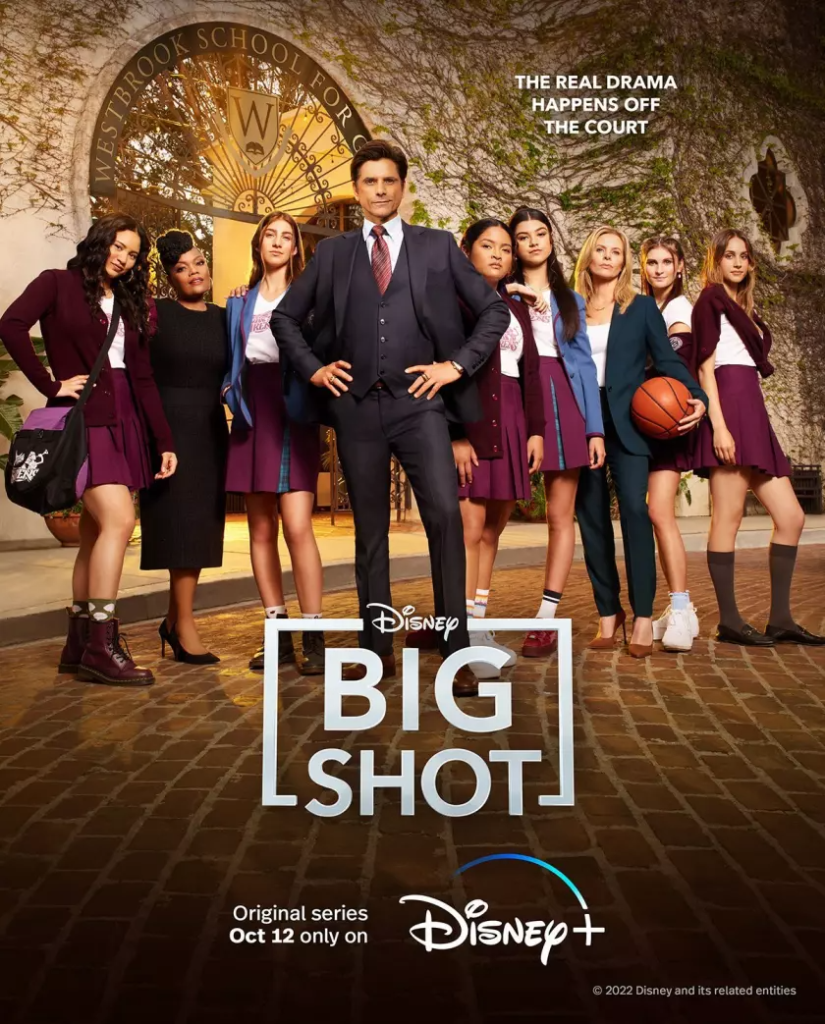 Big Shot season 2 premieres on Disney Plus October 12, 2022. Are you excited to watch the new season of Big Shot? What do you think about boys coming to the school? Are you excited to see more of Mouse and Harper? Leave your thoughts in the comments below or on our social media and check back with The Illuminerdi for more.
KEEP READING: MIGHTY DUCKS GAME CHANGERS LAUREN GRAHAM AND JOSH DUHAMEL REVEAL HOW THEIR CHARACTERS DIFFER AS COACHES AND PARENTS: EXCLUSIVE INTERVIEW