It's been a month since NBA Superstar Lebron James led the Los Angeles Lakers to their 17th championship title in franchise history. After his run in Walt Disney World's Orlando Bubble many thought the NBA Superstar would rest and bask in his historic championship journey. But it looks like that isn't the case, as James is already back to work on his upcoming movie, Space Jam: A New Legacy.
James recently shared that he was in a recording studio for Space Jam 2 in a recent Instagram story. In the post, he reveals that he's finishing up some voice work for Space Jam 2, and by the looks of it, is nearly done with production on the upcoming film. Lebron James also reveals the script for Space Jam 2 and a recording mic. The NBA superstar has been filming and shooting the project since 2019, so it's good to know the long awaited sequel to the original 1996 film will come into fruition.
Remembering The Past
Space Jam: A New Legacy, or Space Jam 2, will be the sequel to the 1996 film that starred NBA Hall Of Famer Michael Jordan. The original Space Jam featured the NBA superstar teaming up with Bugs Bunny and the Looney Tunes for a basketball match against an intergalactic alien team called The Monstars. The Monstars stole the talent of NBA stars during that time including Charles Barkley, Shawn Bradley, Patrick Ewing, Larry Johnson, and Muggsy Bogues.
The original film followed the animation live-action hybrid format of Who Framed Roger Rabbit. The film became a huge success with audiences and received warm reviews from critics. Space Jam became a pop culture classic and is currently the highest grossing basketball film of all time. With Lebron James as the star of its sequel and production almost wrapping on Space Jam 2, fans should be excited.
Space Jam: A New Legacy Plot Rumors
Development of Space Jam 2 started in February of 2014, while Warner Bros. announced that NBA superstar Lebron James would star in the sequel. It was also announced that Creed and Black Panther director, Ryan Coogler, would serve as a producer on the film. So far the plot of Space Jam 2 is vague with minimal information coming out.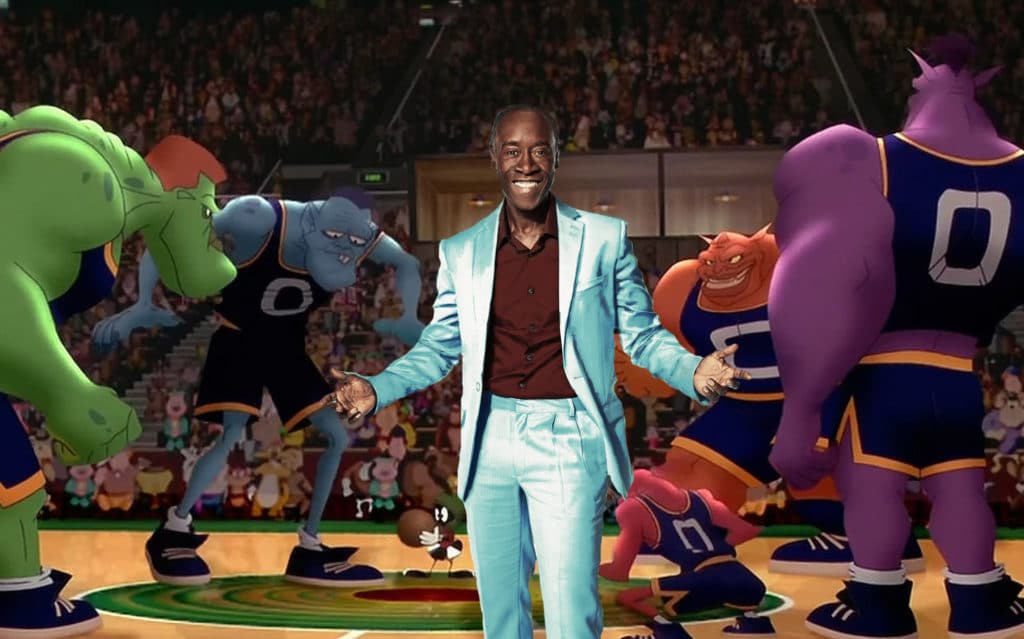 However the synopsis of the upcoming film was seemingly leaked online recently. The plot according to the leak will feature Lebron James and his son (played by another actor) would get trapped in a world that would feature many of Warner Bros Studios' characters throughout their history. The plot would revolve around a powerful villain called Al G, who has wrecked havoc and controled all of Warner Bros characters to do his bidding.
According to the plot leak, Lebron's son would be lost in that aforementioned world. That's where Lebron James would team up with Bugs Bunny and the Looney Tunes to rescue his son. But in order to come back home to our world, Lebron and the Looney Tunes would have to play an epic basketball game conducted by Al G.
RELATED: DON CHEADLE'S CO-STAR LEAKS HIS VILLAIN REVEAL FOR SPACE JAM 2
This basketball game would consist of James and the Looney Tunes against digital versions of star basketball players. These players would be based on stars in the NBA and WNBA. We will see the return of the Looney Tunes characters including Bugs Bunny, Daffy Duck, Tweety Bird, Pepe Le Pew, Marvin The Martian, Sylvester The Cat, Foghorn Leghorn, Yosemite Sam, Lola Bunny and presumably many more. NBA stars that are reported to appear in Space Jam 2 include Klay Thompson, Chris Paul, Kyle Kuzma, Damian Lillard, and Anthony Davis, along with WNBA stars Diana Taurasi, Nneka Ogwumike, and Chiney Ogwumike.
Finally its also reported that star actor Don Cheadle, will play Al G the main antagonist. By the looks of this reported plot leak and the amount of characters we can expect, this film looks to be very ambitious. We can only hope that Space Jam 2 will live up to the hype and legacy of its predecessor.
Lebron James Leaving A Legacy
Space Jam 2 is looking to be a film about legacy. The film will not be the first film or media project Lebron James has been a part of. James first exposure to Hollywood was when his hit documentary More Than A Game was released to acclaim. The documentary chronicled James youth and his high school playing days at St. Vincent Saint Mary. The documentary was a success and was well received critically.
After the documentary, he continued to become a media figure and appeared in multiple commercials, TV shows, and two feature film projects, Trainwreck and the animated film Bigfoot. James also became a producer and produced Disney's sport documentary Becoming, the comedy sitcom Survivor's Remorse, HBO's The Shop, and his web animated series The Lebrons.
When Lebron James signed with the Los Angeles Lakers in 2018 many analysts and media criticized his move and said that he came to L.A. for Hollywood, not his basketball career. To contrast that statement, James was already making movies and media projects before he came to Los Angeles. James fortunately did keep his promise to Lakers fans and delivered a championship this year, while honoring the late Los Angeles Lakers legend Kobe Bryant who tragically passed away with his daughter Gianna. James media legacy is still growing and we can't wait to see what projects he has in store.
Space Jam: A New Legacy is scheduled to release in theatres on July 16, 2021. The film will star Lebron James, Don Cheadle, Sonequa Martin-Green, and Ceyair J. Wright. NBA Stars Klay Thomspson, Anthony Davis, Kyle Kuzma, Chris Paul, and Damian Lillard are set to appear. WNBA Stars Diana Turasi, Nneka Ogwumike and Chiney Ogwumike are also set to appear. Then the film will have veteran voice actors Eric Bauza, Kath Soucie, Bob Bergen, Jeff Bergman, and Fred Tatasciore.
The upcoming film will be distributed by Warner Bros Pictures. Space Jam: A New Legacy will be directed by Malcolm D. Lee. The film will be produced by Ryan Coogler, Duncan Henderson, Maverick Carter, and Lebron James himself. Ryan Coogler and Sev Ohanian will serve as writers. Award winning composer Hanz Zimmer and Kris Bowers will compose the film. What do you think of the upcoming movie? Let us know in the comment section below or over on Twitter!
KEEP READING: SPACE JAM 2 OFFICIALLY HAS A TITLE, AS REVEALED BY LEBRON JAMES
Source: HotNewHipHop