With the announcement that Space Jam: A New Legacy will be streaming in HBO Max and releasing in opened theatres worldwide on July 16, 2021, let's just say fans are very excited.
Star of the movie and NBA Superstar Lebron James was recently a special guest for an interview on Spectrum's Sportsnet special show, Road Trippin. The Road Trippin show is hosted by spectrum announcer Ali Clifton, along with retired former NBA players Richard Jefferson and Channing Frye. Both Jefferson, Frye and James won an NBA Championship for the Cleveland Cavaliers in 2016.
During a segment in the interview Jefferson asked James the status and some details on Space Jam: A New Legacy. James stated that New Legacy will not be a sequel to the original 1996 Space Jam film, but rather a standalone. James however did give some specifics on the film's story plot.
KING JAMES TALKS ABOUT SPACE JAM: A NEW LEGACY
In the interview James explained that the film will be a family movie. James explained New Legacy's story would be focusing on him trying to make his son (who will be played by another actor) to be a successor to his basketball legacy. In the original Space Jam the story was based on a fictionalized account of NBA Hall Of Famer Michael Jordan's first retirement.
With this upcoming film, it looks like it will focus on the relationship between James and his son. James also of course mentioned that notable Looney Tunes characters will be starring in the film. James explained that:
"It's a parenting movie between me and my son and me trying to demand my son to do something because I was taught that way growing up, demand my son to play basketball".
James also added that:
"This is all you're gonna do, this is how you do it, and me as a parent not listening to my son and not believing in what my son is actually great at… It's a tackling between me being a parent and supporting my son, and my son basically turning off at some point and me trying to regain that trust throughout the movie."
James then ended his statement by saying that he had fun working with "the great Bugs Bunny, and Lola, and Taz, and Tweety, all of them". Given this statement, we might see the Looney Tunes or The Tune Squad trying help strengthen the bond between James and his son.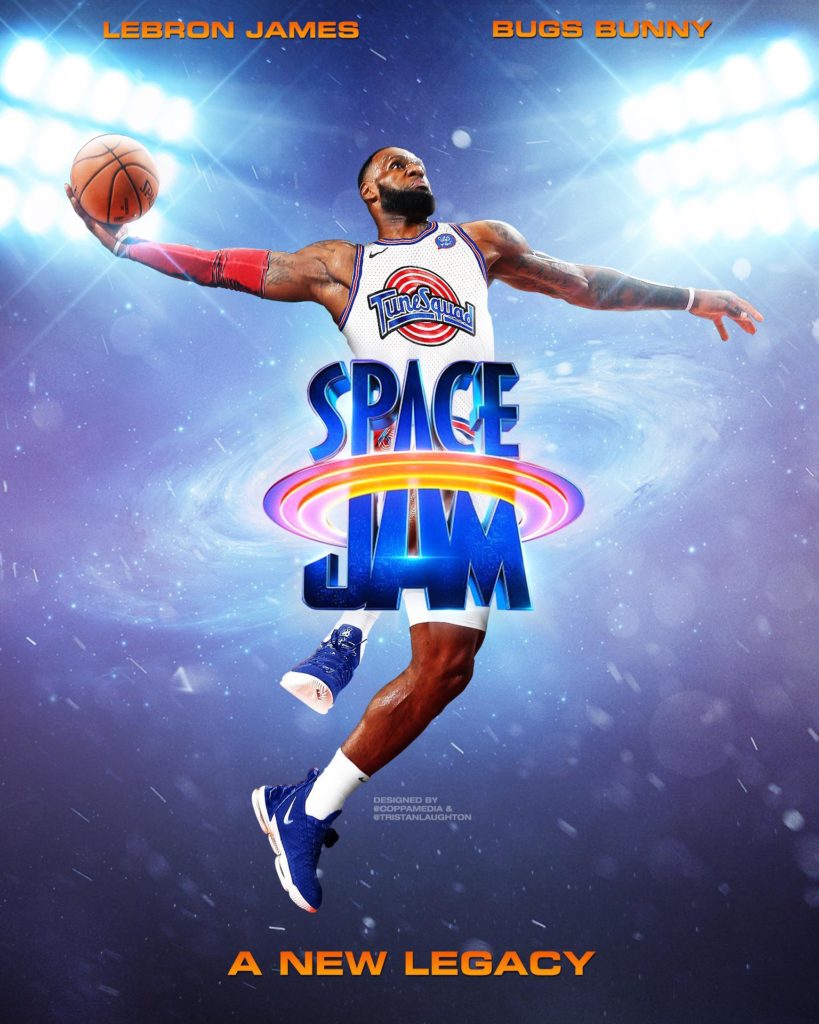 In the interview, James also explained like in the first Space Jam film that him and the Tune Squad will also be playing a basketball game. However he did not clarify or state what kind of opponents him and the Tune Squad will face. In the original Space Jam the Looney Tunes and Michael Jordan faced the Monstars in a high stakes basketball game.
The Monstars were alien creatures that stole the talents of that era's NBA Star Players. Those star players were Shawn Bradley, Muggsy Bogues, Larry Johnson, Patrick Ewing, and Charles Barkley. James did state that the Monstars will not be opponents and enemies of A New Legacy but other otherworldly beings. James explained that, "There will be a basketball game, I'll say that.
James then added that "there will be some people that are a little bit out of this world, that we're competing against." Only time can tell who Lebron and the Tune Squad will be facing, but according to reports and leaks, these opponents might be characters based on Warner Bros' IPs, WNBA Players and current NBA Star Players. The star players that are suppose to appear are: Kyle Kuzma, Chris Paul, Damian Lillard, Klay Thompson, and Anthony Davis. Meanwhile, the WNBA stars that are suppose to appear are: Diana Turasi, Chiney Ogwumike and her sister Nneka Ogwuimke.
It's also reported that Don Cheadle will play as the film's main villain. With James stating earlier that the film won't be a sequel, its highly unlikely the Monstars will make an appearance or return. With this new information from James the reported cast of this film is looking to be very ambitious.
WHATS NEXT FOR KING JAMES
Lebron James is a man of many talents. He also recently won sportsperson of the year in Sports Illustrated, making him the first athlete winning this award three time. Having just won his 4th NBA Championship with the Los Angeles Lakers, the future NBA Hall Of Famer is still working hard both on and off the court. From his production company SpringHill Entertainment (Which co-owns with Maverick Carter) to his influential activism and charity work, James has become an inspirational figure. Even when he is training hard to be one of the greatest of all time, he still has time to show his artistic side.
We all knew James had a huge interest in making movies and producing other projects. His documentary More Than A Game is one of the most successful documentaries of all time, and that's not including his other projects. TV projects that James was involved include Disney's Becoming, HBO's The Shop, Starz's Survivor's Remorse and many more. That's also including film projects such as Trainwreck, Smallfoot, and of course the upcoming Space Jam: A New Legacy. With James' legacy and influential inspiring persona he is more than an athlete.
Space Jam: A New Legacy is scheduled to premiere on HBO Max and theatres on July 16, 2021 The film will be directed by Malcolm D. Lee. The film will be produced by Ryan Coogler, Lebron James, Duncan Henderson, and Maverick Carter. The film will also be written by Ryan Coogler and Sev Olhanian. The music will be done by award winning composer Hanz Zimmer and Kris Bowers. Then finally the film will star Lebron James, Don Cheadle, Sonequa Martine-Green, Eric Bauza, Kath Soucie, Bob Bergen, and Jeff Bergman.