After her triumphant and epic appearance in live action during The Mandalorian Season 2, beloved Star Wars character Ahsoka Tano is returning in a big way.
Lucasfilm and Disney just announced they have greenlit and started development on a live action series based on the character. This is huge for Star Wars fans, as Ashoka is a very popular character in the Star Wars franchise. Ahsoka Tano first appeared and was a main character in the Star Wars: Clone Wars animated series before appearing in a supporting role in the Star Wars: Rebels animated series.
RELATED: NEW OBI-WAN KENOBI SERIES REPORTED TO BEGIN FILMING EARLIER THAN EXPECTED IN 2021
Finally, the character made her live action debut in the 13th chapter of The Mandalorian titled "The Jedi." The upcoming Disney+ series is set to star Rosario Dawson as Ahsoka, and is set during the timeline of The Mandalorian. Star Wars fans can rejoice as Anakin Skywalker's former Padawan makes a triumphant return!
WHO IS ASHOKA TANO?
Ahsoka Tano is a character who was created by Clone Wars director and writer Dave Filoni in order to illustrate Anakin's character development between Episode 2: Attack Of The Clones and Episode 3: Revenge Of The Sith. The character first appeared in the Clone Wars 2008 film that premiered in theatres. Ahsoka was voiced by veteran voice actress Ashley Eckstein, who voiced her until her final episode of Rebels.
Ahsoka's main focus in the story to help develop Anakin from being a brash undisciplined Jedi Padawan to a more grounded, humble, reserved and patient Jedi Knight. Originally Ashoka was not well received by fans and critics alike. Some called her character annoying, and just another Star Wars character that will be forgotten. However due to the excellent writing of Filoni, Ahsoka was able to develop and become more complex. This in turn made her very likeable and beloved to Star Wars fans.
Ahsoka's growth and character development was one of the key components in Clone Wars. Then when the character returned for Rebels she took a mentor and leadership role. Rebels was the biggest highlight of Ahsoka, because the series shown viewers she has became a capable and very powerful force wielder. The character then finally made her grand appearance in The Mandalorian Season 2 and she was portrayed by award winning actress Rosario Dawson. Dawson's portrayal of Ahsoka garnered critically acclaimed review from both fans and critics.
With her highly successful debut, it's not a surprise Disney and Lucasfilm decided to make a live action series based on her.
Ahsoka's appearance and style was inspired from San in the film Princess Mononoke. Her character has also made other special appearances in other forms of media. She made a brief voice cameo in Star Wars: Rise Of Skywalker with her voice provided by Eckstein. She also made an appearance in the Star Wars Forces Of Destiny Series, as video game character in Disney Infinity, and in the comic book Touching Darkness. Then finally she is the main character in the novel Stars Wars: Ahsoka.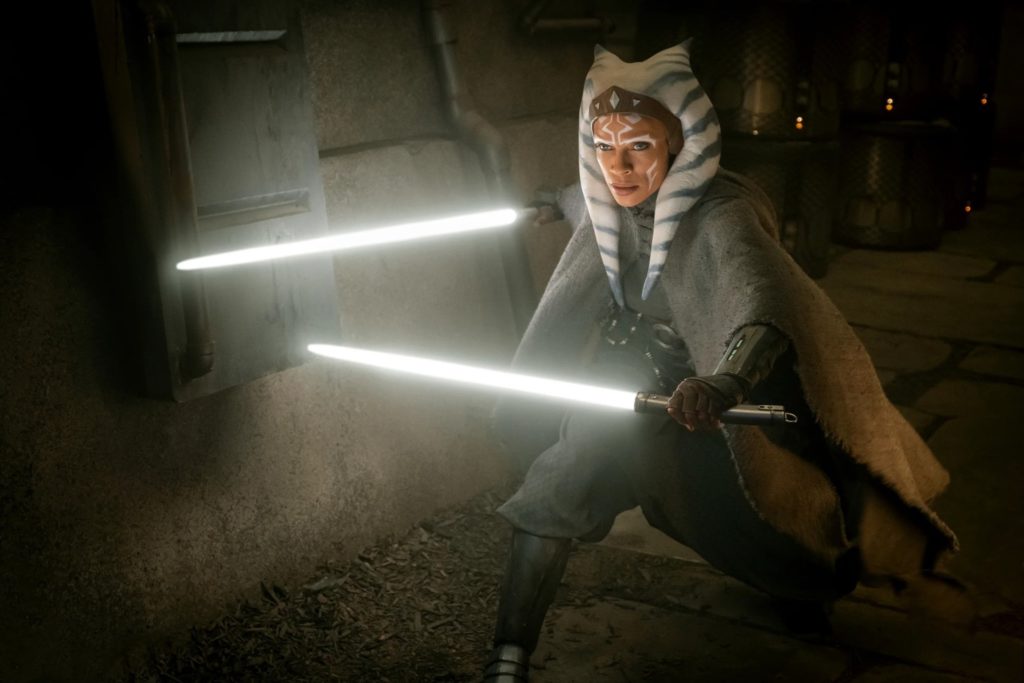 As of right now there is no release date for the Ahsoka live action TV series. We just know that it will premiere on Disney Plus, and will star Rosario Dawson in the titular role. The series will be set during the same timeline in The Mandalorian TV Series. So far Disney has not announced or confirmed who will be producing and directing the upcoming series. But we can assume and expect Filoni being attach to the project, as he was Ahsoka's creator. Hopefully Lucasfilm and Dawson can give her brand new life and more adventures to see.
KEEP READING: HOW PRINCESS MONONOKE INFLUENCED STAR WARS: CLONE WARS & THE MANDALORIAN
Source: IGN