Christmas just came early for Power Rangers Lightning Collection fans. Hasbro just announced their new Wave 8 Power Rangers Lightning Figures. Fans can now pre-order the new lightning action figures on the Hasbro Pulse website.
After many rumors and speculation Hasbro confirmed that the new Wave 8 Lightning figures will consist of SPD Pink, Dino Thunder Blue, Lost Galaxy Red, and finally Green Zeo (Zeo Ranger Four). Overall these new Lightning Figures look amazing. For Power Rangers Toy Collectors these are indeed a must-have. For the collectors wanting to add to their collection, it's now available. Let's look at each figure closely.
SPD Pink Ranger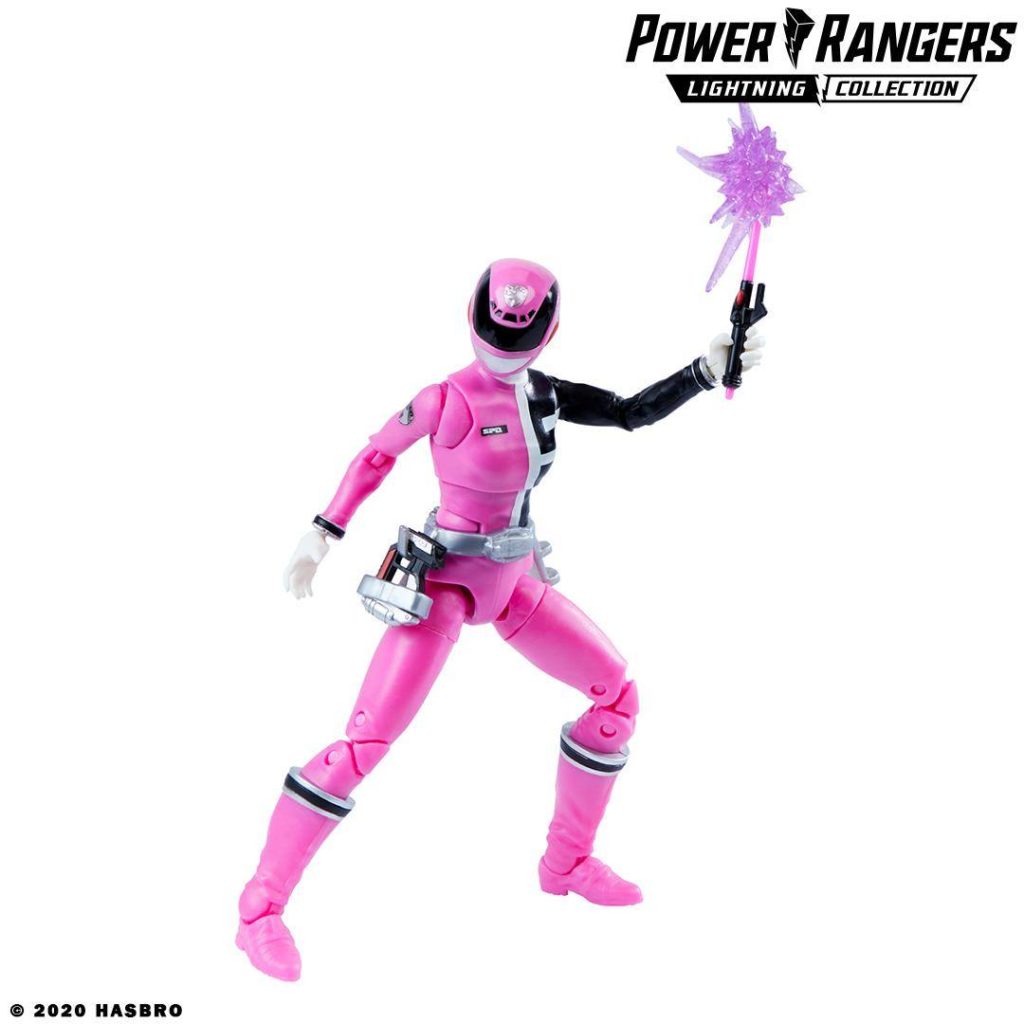 The first figure we have here is the SPD Pink Ranger. The Pink SPD Lightning figure looks amazing. Hasbro was able to get Sydney Drew's (Alycia Purrot) likeness and overall it's beautiful. So far the pink paint for her figure looks really good and very articulate.  It's also great that her figure is included with a Delta Blaster, and a Delta Max Striker just like in the show. Also, it's great that we have another Pink Ranger Lightning and hopefully, we can expect more in the near future. With SPD Pink now in the fold, we just need a figure of SPD Green and Yellow to complete the SPD Set. Also hopefully and maybe an SPD Kat Ranger Figure?
Dino Thunder Blue Ranger
The Dino Thunder Blue Ranger Lightning Figure looks really great. Again Hasbro was able to get Ethan James's (Kevin Duhaney) likeness and it looks amazing. So far the blue paint looks very accurate from the show and is also seems articulate. It's great that the figure also had the Tricera shield and a Thundermax saber from the show. Since Dino Thunder is a very popular season, maybe we can expect more Dino Thunder themed lightning figures? (Mesagog, and a fighting spirit pack?) Now with Dino Thunder Blue in the fold, we just need Dino Thunder Yellow, and Dino Thunder Black to complete the full Dino Thunder Set.
Lost Galaxy Red Ranger
The Red Lost Galaxy Ranger also looks as good and amazing. However, this is not the first time this figure has been shown. This figure was also part of a two-pack with the Red Psycho Ranger back in 2019. So for fans that wanted to get this figure in a solo box, they will be very pleased and happy.
So far the figure looks the same as its 2019 counterpart, but with a more polish and likeness of Leo Corbett (Danny Slavin). What's different from the 2019 figure is that it's included with a Quasar Launcher. It's of course included with a Quasar Saber hilt. Hopefully, with this release, we can have Lost Galaxy Blue, Green, Pink, and Yellow in the future. So that fans can complete the Lost Galaxy Set.
Green Zeo Ranger (Zeo Ranger Four Green)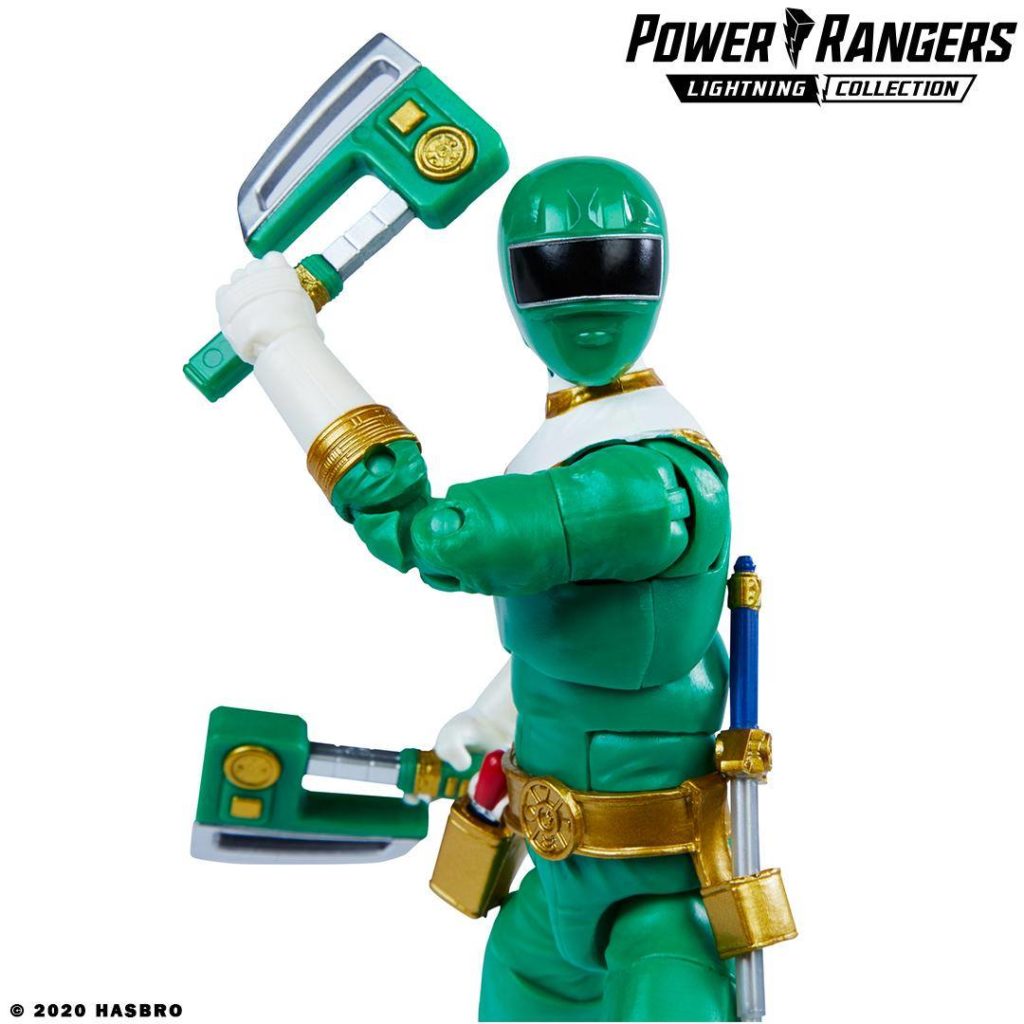 Then finally last but not least the Green Zeo Ranger (Zeo Ranger Four). So far this might be the most hype and excitement of the new wave. The main reason is that it is the first figure we see the legendary ranger Adam Park (Johnny Yong Bosch) for a lightning figure. So far the figure captures Bosch's likeness, and it looks very good.
The figure includes Zeo Green's Power Axes and a Zeo Power Pod Sword. Overall this figure looks really amazing and for fans of Adam Park this figure is indeed a must-have. Now with Zeo Green in the fold hopefully we get the two remaining Zeo Rangers, Pink (Zeo Ranger One), Yellow (Zeo Ranger Two) to complete the set.
Final Thoughts on Wave 8 of the Lightning Collection
Overall these new Wave 8 figures look amazing. Also, the fact it's multi-colored Rangers from four different seasons from Power Rangers makes it a huge plus. The Wave 8 Lightning Figures are now available for pre-order on the Hasbro Pulse website. Be sure to get your figures before it gets sold out!
Source: Hasbro, Hasbro Pulse
KEEP READING: SCORPINA ENTERS POWER RANGERS BATTLE FOR THE GRID TODAY