The epic rivalry between Miyagi-Do and Cobra Kai returns (or does it?) on January of 2021! Netflix just released a new trailer for Cobra Kai's third season, and let's just say it reveals a lot of exciting new content.
Cobra Kai is a sequel spinoff television series based on the Karate Kid Franchise. It is set after the events of the original first Karate Kid that premiered in 1984. The spinoff series also is set chronologically after Karate Kid Part 3 and The Next Karate Kid. The new series is set more than 34 years after the original Karate Kid film, and its plot follows the point of view and perspective of the original main antagonist of the first film, Johnny Lawrence (reprised by William Zabka).
Cobra Kai, A Look Back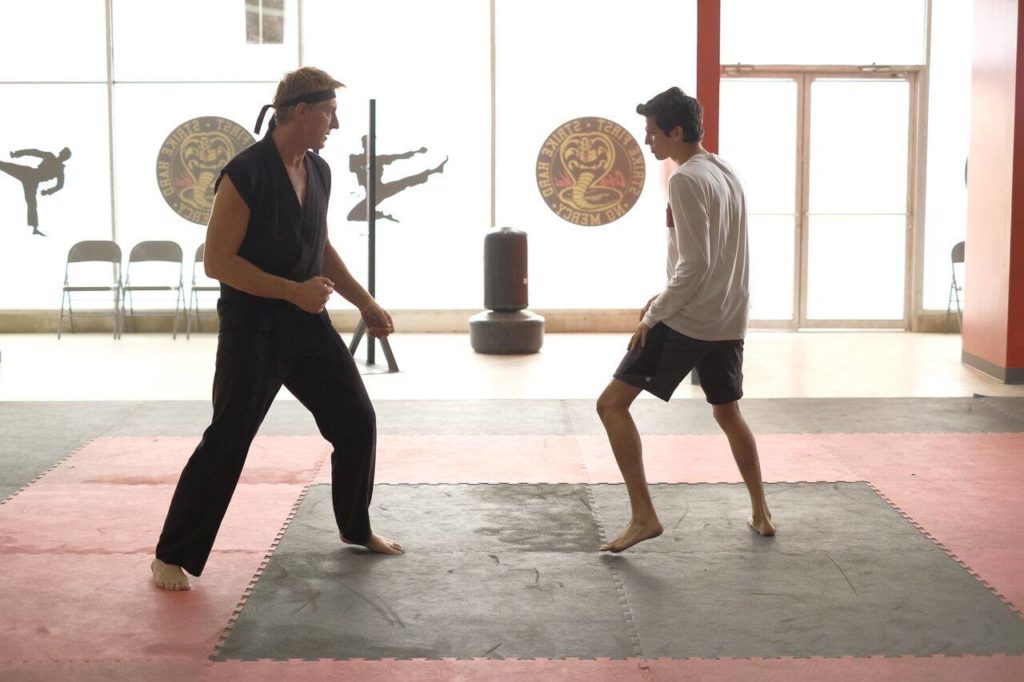 The first season's plot revolves around Lawrence now in his 50s struggling financially and trying to make ends meet by doing part time and odd jobs. We see in the first season Lawrence struggling in life after his defeat to original Karate Kid main character Daniel LaRusso. LaRusso defeated Lawrence in the All Valley Karate Tournament that took place during the 1984 film.
RELATED: DEXTER: NEW SEASON 9 CHARACTERS JOINING THE SHOW AND PROBABLE SETTING REVEALED
In the first season we see Lawrence try to get his life around by re-opening the Cobra Kai dojo and gains a student that actually becomes his best a teenage boy named Miguel. We then see Lawrence and Miguel help gather new students all over the San Fernando Valley and make Cobra Kai successful again. The first season and overall series also follows Lawrence strained relationship with his son Robby and the return of the original Karate Kid Daniel LaRusso (reprised by Ralph Macchio). We see that LaRusso has become successful in life after his last appearance in Karate Kid Part 3.
LaRusso is now married with a beautiful wife, owns a highly successful auto company, and is the father of two. Like the relationship with Lawrence and Robby, the series also focuses on the relationship between Larusso and his daughter Samantha. The first season really focuses on the dynamic of the two rivals both Lawrence and LaRusso. The drama adds on when Robby decided to join and train with LaRusso. The first season ends with that year's All Valley Karate Tournament with Lawrence's Cobra Kai Dojo and LaRusso's student Robby square off.
The second season follows the aftermath of the first, where Lawrence has gotten Cobra Kai back on top after winning the All Valley Karate Tournament. Larusso still remembering the terrible and traumatizing memories of what Cobra Kai in his early tears decides to open Miyagi-Do Dogo. Miyagi-Do was the form of Karate taught to Larusso by his former sensei Mr. Mayagi. Mr. Mayagi was a beloved, loved, and iconic character in the Karate Kid franchise.
Mayagi'a actor, the legendary Pat Morita, sadly passed away in 2005. He never got to see the huge success of Cobra Kai. But the series manages to honor his memory and legacy in Season 2. The series also brought back Lawrence former sensei and founder of Cobra Kai John Kreese. Kreese is the main antagonist of Season 2 and starts slowly taking over Cobra Kai from Johnny. Season 2 focuses on the rivalry with the students of Miyagi-Do and Cobra Kai to an epic finale, that results in a terrifying accident that involves Miguel and Robby.
Breaking Down The Trailer
In the beginning of the trailer we see Lawrence visit his student Miguel after his sustained serious injury from Robby. We then see flashbacks of the final episode of Season 2, and the high school fight between the students of Miyagi-Do and Cobra Kai. We then see Lawrence's former students go against him and Kreese becomes their sensei after overtaking Cobra Kai. Wether see a montage of the San Fernando Valley and the aftermath some of their characters are facing after Season 2.
That's including Miguel's family worrying about the condition of their son, and Robby being arrested due to causing Miguel's accident. We also see the High School where Samantha, her friends, the Cobra Kai's and Miyagi-Do students attend gains heightened police security. The main reason is because of the huge fight between the Miyagi-Do students and Cobra Kai students of Season 2.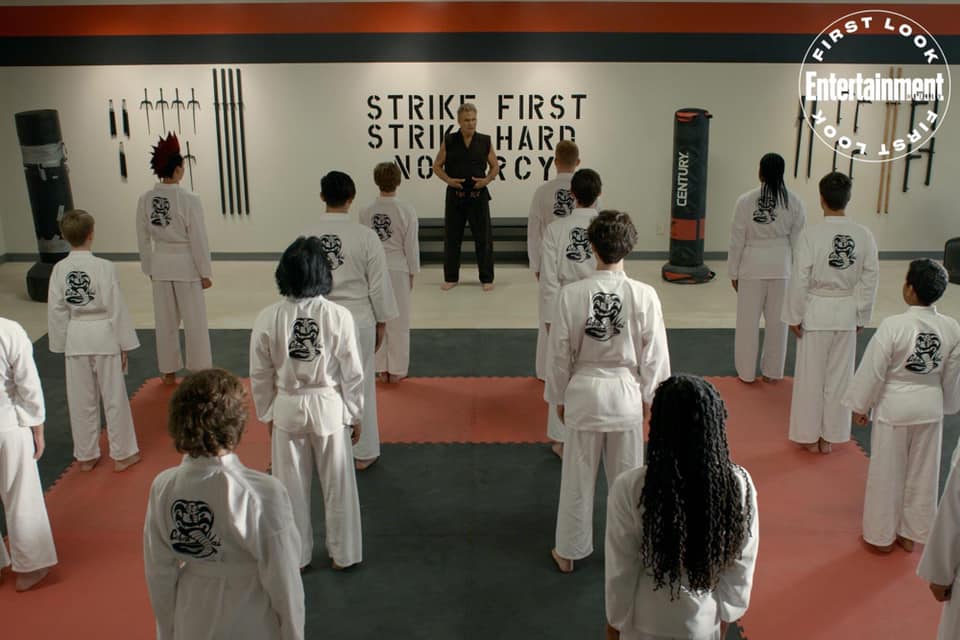 We then see shots of some the teenage kids in the series including Hawk, Demetri, and Tory. We then see Lawrence and LaRusso discussing about teaming up to take down Kreese. They do and we can expect to see the former rivals have many comical and epic interactions as partners. We then see Tory heading inside a bar and also Samantha assuming they will have another fight. We also see that Miguel has woken up from his coma and is recovering with the help of Lawrence.
We also see Robby inside a Juvenile facility visited by Kresse, and assuming trying to persuade him against his father Johnny. We also then see a main bully from season 1 Kyler return and joins Cobra Kai. We also see a shot where LaRusso's wife Amanda confronting Kreese (hopefully we can see a scene where those two fight).

However the highlight of the trailer is we get to see two former main characters from Karate Kid Part 2 appear. We see that Kumiko and Chozen (reprised again by Tamlyn Tomita and Yuji Okumoto) appear. We find out that LaRusso has returned to Mr. Mayagi home village in Okinawa. We are assuming he went back to learn the origins of Miyagi-Do and more of Mr. Mayagi's early history. Then we see in the trailer is that Chozen and LaRusso fighting and having a solo karate match. Then finally the final shot we see Miguel in a rock concert (assuming Johnny invited Miguel since he loves Rock Music) .
We then see the title card and saying Season 3 will release on January of next year. Overall this trailer was really good and showed enough to entertain the fans without spoiling much. We get to see more of LaRusso students and Lawrence's former ones and what they been up too. However the highlight of this trailer is that they finally revealed Kumiko and Chozen. For fans of the original Karate Kid Trilogy, this will excite them, especially to those who love Karate Kid Part 2. Hopefully Cobra Kai Season 3 will be memorable and exciting as its previous seasons.
Cobra Kai is becoming a cult classic phenomenon.The way how the series is able to balance nostalgia and superb writing shows how its' special. Also the fact that Macchio and Zabka were able to return as the leads and becoming senseis is what brings the show magic. But it's the overall theme of learning to let go of the past and move on.
Also by learning from it and become better, because the sins of the past could hurt in the long run. With the success of the series Netflix ordered a fourth season, so we can see more of Cobra Kai and Miyagi-Do. For now lets hope this upcoming third season is epic and as Johnny Lawrence would say it… BADASS!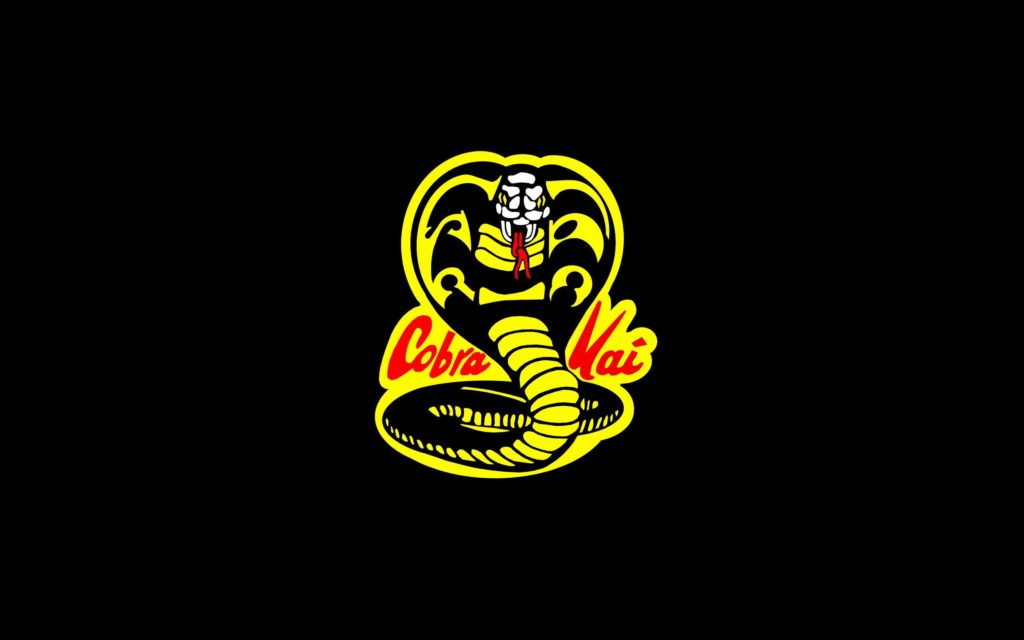 The scheduled release date of Cobra Kai Season 3 will be in January 8, 2021. The series producers are Katrin L. Goodson and Bob Wilson. The series executive producers are Will Smith, James Lassiter, Caleeb Pinkett, Susan Ekins, Josh Heald, Jon Hurwitz, and Hayden Schlossberg. The show's cinematography is done by Cameron Duncan. In charge of editing is Nicholas Monsour, Jeff Seibenick, and Ivan Victor. Cobra Kai's distributor is Sony Pictures Television.
KEEP READING: KAPAEMAHU REVIEW: AN HONORABLE AND LOVING TALE OF 4 HAWAIIAN LEGENDS FULL OF CULTURE AND STYLE