Bugs Bunny and King James have finally teamed up and showed us the Tune Squad! The hype for Space Jam: A New Legacy is real as NBA Superstar Lebron James revealed the Looney Tunes wearing their new Tune Squad jerseys.
James and Bugs Bunny did the reveal during a video game promo sponsored by XBox, which featured the upcoming film's stars. Bugs Bunny and Lebron James narrated the promo, explaining that fans will be able to create a one-of-a-kind arcade style video game inspired by Space Jam: A New Legacy. If an idea is selected, it will launch as part of the Xbox game.
RELATED: NBA SUPERSTAR LEBRON JAMES SHARES ENCOURAGING UPDATE ON SPACE JAM 2
The promo also revealed the Looney Tunes characters that will join this movie's Tune Squad. James shared more details about Space Jam: A New Legacy's synopsis during the video, which you can watch below.
Space Jam Video Game Breakdown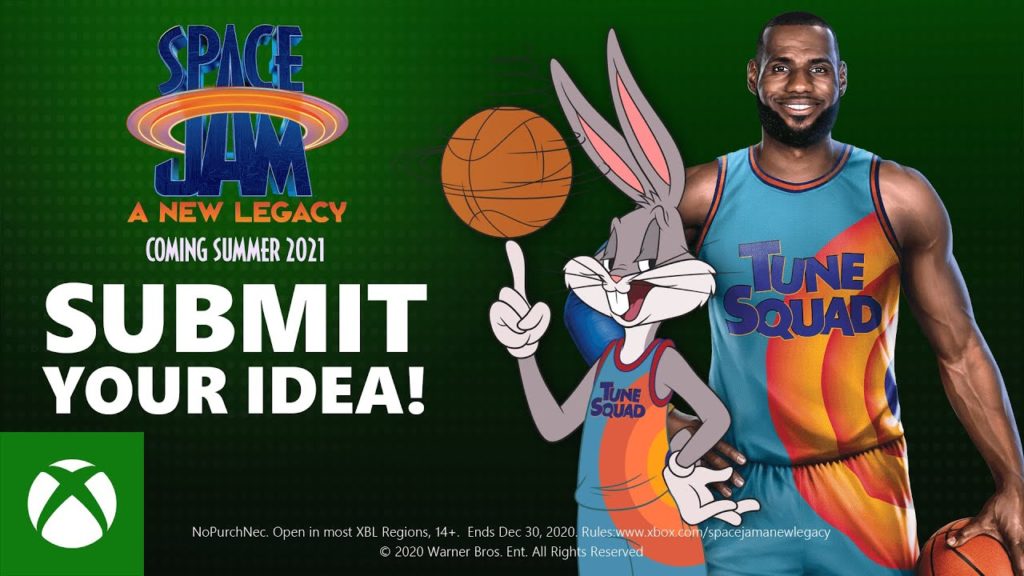 The promo starts with Bugs Bunny doing a video call with the film's star, Lebron James. The two have a playful banter and discussion until James starts the promo. In the promo James revealed that himself and the Tune Squad will face an evil A.I (reportedly being played by Don Cheadle). He also hinted that fans will presumably see other Warner Bros IP characters.
At last the promo revealed which Looney Tunes characters will be on the Tune Squad. Those Looney Tunes characters that were revealed are Daffy Duck, Tweety Bird, Sylvester The Cat, Lola Bunny, Roadrunner, Coyote, Porky Pig, Tasmanian Devil, Elmer Fudd, Foghorn Leghorn, Yosemite Sam, Penelope Pussycat, Marvin The Martian, Gossamer, Granny and last but not least Lola Bunny. So far, it looks like almost all the Looney Tunes characters from the original Space Jam film will return.
However, there's a chance we might be able to see more Looney Tunes characters make cameos in Space Jam: A New Legacy, such as except Sniffles The Mouse and Pepe Le Pew – just not as part of the Tune Squad.
The promo also showed glimpses of what the arcade game graphics and style would look like for game creators. There's a shot that looks like a monopoly style arcade game featuring James. Then there is another shot that looks like a temple run style game also featuring James. There's also what looks like a 2D fighting game featuring James and Bugs Bunny fighting a monster.
Then the promo revealed some game ideas, as well as what looks like to be a turn based RPG style game also featuring James and the Looney Tunes. The final game revealed looks like a arcade claw machine style game. Overall, it's safe to say James is the main star of these arcade games, which look very legendary and fun.
It's shaping up to be a great contest, as Microsoft will be involved and will host video game workshops on game creation. The prizes include the winner's name in the game, signed and authenticated Lebron James memorabilia, a personalized XBOX series S gaming pack, a Nike Space Jam: A New Legacy Pack, and a private screening of the film. Whoever submits and joins this exciting contest will be rewarded greatly.
Space Jam: A New Legacy is scheduled to premiere in HBO Max and Movie Theatres on July 16, 2021. Lebron James is set to star in the upcoming film. The film will be directed by Malcolm D. Lee. The film will be produced by Ryan Coogler, Duncan Henderson, Maverick Carter, and Lebron James himself. The film will also be written by Ryan Coogler and Sev Ohanian. The music will be composed by award winning composer Hans Zimmer and Kris Bowers.
KEEP READING: MORTAL KOMBAT SETS NEW 2021 RELEASE DATE AND A TRAILER RELEASE TEASE